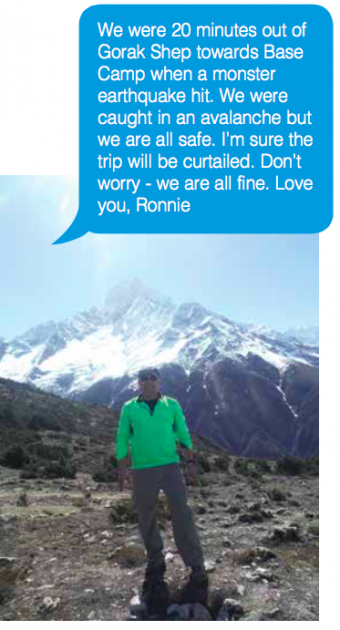 The Avalanche on Everest
"Get down! Get down!"
The Sherpas ordered the trekkers back down to the ground. When the massive 7.8 magnitude earthquake struck Nepal and shook Mount Everest, ultimately moving the world's tallest mountain more than an inch in a matter of moments, the Sherpas called for the trekkers to get down. When the earthquake stopped, they got back up and suddenly heard thunder. But, it wasn't thunder. It was the sound ice breaking loose from the 22,966-foot Mount Kumori, just a few miles from Everest. The cracking ice created the avalanche that roared through the nearby Khumbu Icefall and slammed into Base Camp, sending hundreds of climbers running for their lives and still more stranded above at Camps 1 and 2 closer to the summit.
City of Oaks Race Director Ron Wahula was only a few miles from Base Camp when he felt the gale-force wind created by the avalanche blowing towards them. He looked to the mountain and saw what appeared to be a grey and white tidal wave roaring close behind.
"Get down! Get down!"
Wahula fell to the ground with everyone else as the tail end of the avalanche dropped dirt and ice and snow on them.
"We didn't know what was coming at us," said Wahula. "But, it was coming at us hard and fast."
Not knowing if he would be swept away in an avalanche, Wahula kept his hand raised hoping to keep it above the snow to maintain his orientation and climb out. For more than five minutes the avalanche dropped hard, dirt-filled ice and snow on Wahula and his REI trekking expedition. They were just past the village of Gorak Shep at 17,100 feet, a little over 2 miles and about 500 more feet of upwards climbing to their goal of Mount Everest's Base Camp. Climbers higher up were dying. Wahula focused his thoughts on how to dig out of the avalanche.
When it calmed down, Wahula knew it was over. He was not buried! He was able to stand up and after shaking off clumps of hard, dirty, ice and snow from the avalanche he typed a text to his wife and started searching for a wifi signal.
"Up there on the mountain there is some wifi and some cell phone service, too," said Wahula. "But what there was at Gorak Shep that day just disappeared. After the earthquake, whatever lines they had, just disappeared."
Still, Wahula tried to send the message to his wife. He tried about 20 times before finally finding a signal to send off his text. And then the signal was gone. Did it send? Wahula had no idea whether his wife knew he was okay. But in fact, she received the text and read it before she heard the news. It took only a few minutes for Wahula's wife and the rest of the world to know what was going on in Nepal and on Mount Everest.
Wahula knew only that he had just survived the tail end of an avalanche and the ever-positive Sherpas' outlook was grim. The Sherpas knew that this was very bad and thousands were dead. They had to get their climbers off the mountain and find out if their families were safe. While the Sherpas were concerned about whether or not their families in and around Kathmandu were still alive their culture and attitude is one of unselfishness. They focused on helping and caring for climbers and trekkers while getting them home safely.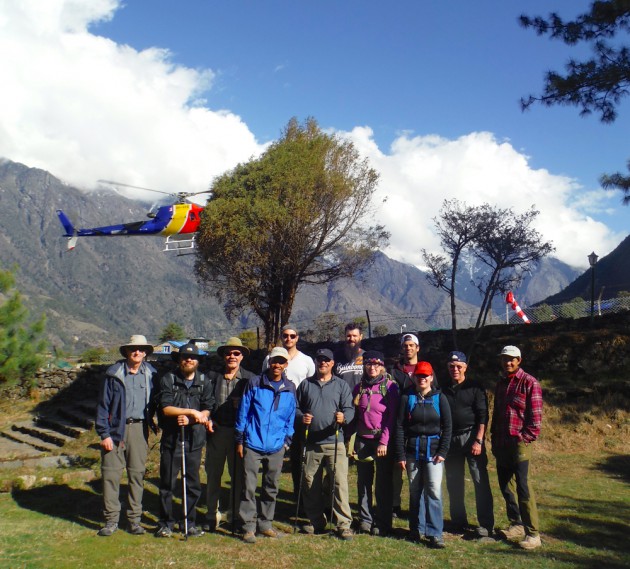 <April 17th:  Our 10  trekkers and 2 sherpa guides pose at the start of our trek at the Lukla Airport in Nepal>
"There was zero communication," said Wahula. "The Sherpas were there helping and caring for us and they didn't even know if their own families were okay. They are extremely unselfish."
The expedition spent five brutal days trekking back to the town of Lukla, not knowing if their families knew they were safe, or if their families were safe themselves. The terrain to Lukla was terrible. While Wahula and the others in his expedition bought insurance in case they needed to evacuate due to an emergency, they now realized that the helicopters and emergency crews were focused on rescue efforts. All bets were off. Safely descending the mountain was paramount.
"You don't want to get injured up there," said Wahula. "If you trip and fall and break something up there – that's an emergency in any situation. But, once the earthquake hit, everything changed."
The trek to Lukla at times was silent. Wahula and the others focused on being safe. They would often get into a groove while watching their feet.
"Things would start to seem normal," said Wahula. "Then all these helicopters would fly overhead and remind you what had happened."
# # #
Eventually, Wahula and the others would reach Lukla where they got a flight to Kathmandu and eventually home. They were able to communicate with their families. The Sherpas and porters that helped them found out that their families were okay. While Wahula and his group took some pictures of crumbled walls, the damage they saw on the way back to Lukla was nothing compared to what they saw at Kathmandu. The expedition decided to not photograph what they saw. Most of the pictures here are from before the earthquake avalanche. 
The April 25, 2015 earthquake occurred at 11:56 NST with a magnitude of 7.8. More than 9,000 people were killed and more than 23,000 injured. The avalanche it triggered on Mount Everest killed at least 19, making it the deadliest day on the mountain in history.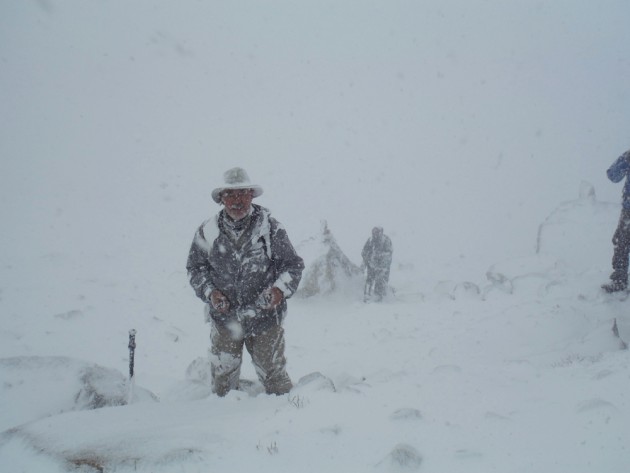 <April 25th, photo taken minutes after the 7.8 earthquake hit Nepal. The resulting avalanche dropped a foot a snow on our team in minutes. At our planned destination that day, scores of climbers at Everest Base Camp lost their lives with over 8,000 fatalities near Kathmandu>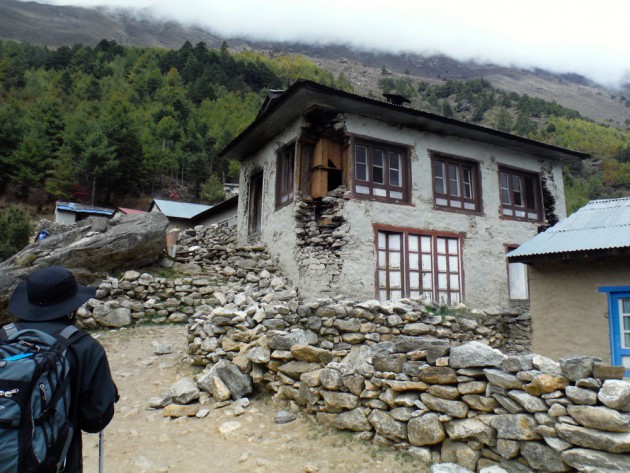 <Local villages suffered minor earthquake damage with the most serious damage taking place east of Kathmandu>