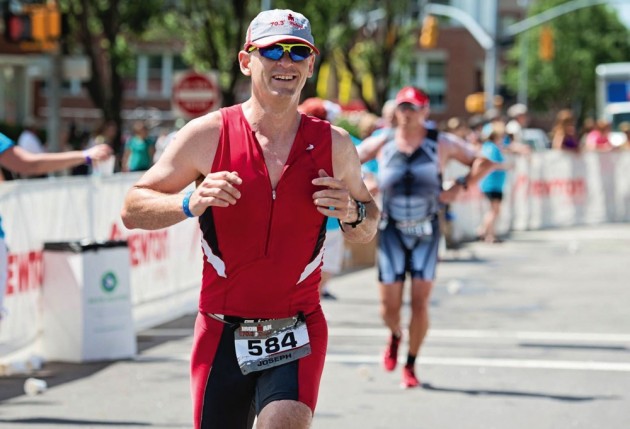 The only thing worse than unbearable summer heat is unbearable autumn heat as well. Here in North Carolina there is no guarantee the temperature will cool off in October. If you are one of those runners not already enjoying our great state and county parks for shaded trail runs you might soon be! While research often touts the benefits of trail running you might want to make sure your body is ready for it, especially if you've been running on asphalt for most of your life. In his article "Back to Nature – Adjusting to the Trail" our writer Brian Diaz points out some changes that your might need to make so you can capitalize and enjoy off-road running.
As you follow Diaz's advice and prepare your body for the trail you will likely be thinking about signing up for a fall event. Trail races in North Carolina run the gamut of terrain, distances and scenery. From beautiful greenways to rugged mountains and 5k's to 50 milers and beyond there is sure to be a race for just for you. With so many great trail races all over the state, we picked three very different but, equally great races for you to consider this fall.  Be sure to check out our "3 Great Fall Races" article to see which is best for you.
If racing isn't your thing you will definitely want to read our article about the Mountains to Sea Trail. While The Friends of the Mountains to Sea Trail and Bull City Running put on a great 12 mile and 50K spring race on the trail there is still nearly 1,000 other miles to explore. Unless your name is Scott Jurek, we recommend you explore this trail in smaller increments rather than tackling the whole thing. Each year thousands take to the trail for just a few hours, or overnighters. The trail is basically a linear state park that goes from the Great Smoky Mountains to the Outer Banks.  If you are the record-setting type, you can tackle the whole trail as a continuous "thru-hike". You could be one of the first 100 people to do it! Just a few weeks ago only the 50th person conquered the Mountains-to-Sea Trail as a thru-hike.
Hiking across North Carolina on the Mountains-to-Sea Trail would be quite an adventure but, not quite like the adventure City of Oaks Race Director Ron Wahula experienced earlier this year. Back in April an earthquake occurred in Nepal that registered a magnitude of 7.8. More than 9,000 people were killed and more than 23,000 injured. The avalanche it triggered on Mount Everest killed at least 19, making it the deadliest day on the mountain in history. Wahula was there just a few miles short of Base Camp. Read his incredible story on Page 20 in this issue.
In racing news, the leaderboard is really tightening up in our USATF-NC long distance championship series. The last race, Beat the Heat, did not disappoint competitors this year as the USATF NC 5K Championships. Read our series update and learn about the series' other big news – The Oak City Mile. Raleigh has a long-standing tradition of having a 1-mile Sunday afternoon race held Downtown in September and this year Precision Race and MS Events are keeping the tradition alive with the brand new Oak City Mile. Your favorite downtown 1-mile race has a new name and a new course that is still on Hillsborough Street. The event includes a Men's Competitive Mile Race at 2 pm followed by a Women's Competitive Mile Race at 2:20 pm. The race benefits the 501(c)3 non-profit MS Events and the fight against Multiple Sclerosis and other neurological diseases.
As always, we feature more great product reviews, event previews, trail running tips, and another delicious recipe in this issue. Also don't forget to read our inspirational athlete spotlight on Page 38.