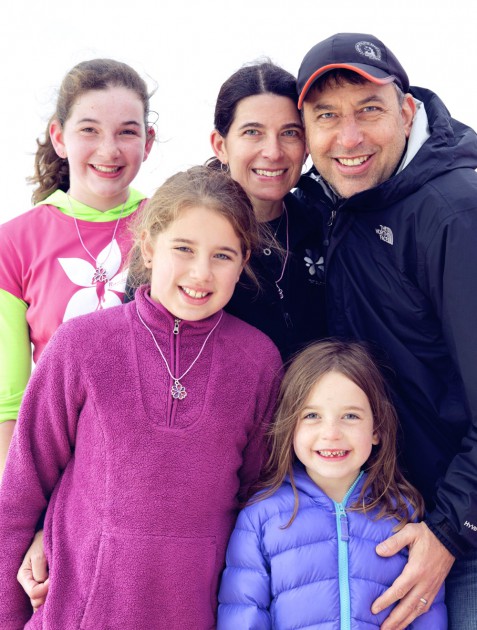 By Joe Nuss
Running Boston
Race day for the Boston Marathon starts early. You go to bed the night before not really knowing how you will feel in the morning. Then morning comes. It's usually dark and you hope you have the right energy. You hope to stay focused on the challenge ahead or maybe for some special person who is your motivation. You put on your lucky socks, shirt, or shorts and do up your race day hair.
Ramblin' Rose Race Director and Boston native Amy Charney has been doing this for 20 years. Her first marathon was Boston and her time was unofficial. In an era when security wasn't so much a concern, Amy ran Boston as a "bandit" in 1995.
No one ever told her she couldn't run the marathon.
She had no idea how long it would take her to finish that year so she gave her mom a point on the course to stand and a four-hour window to wait for her to pass. When Amy passed her mom, she passed with a smile on her face, a smile that her mom captured on a few disposable pocket camera pictures.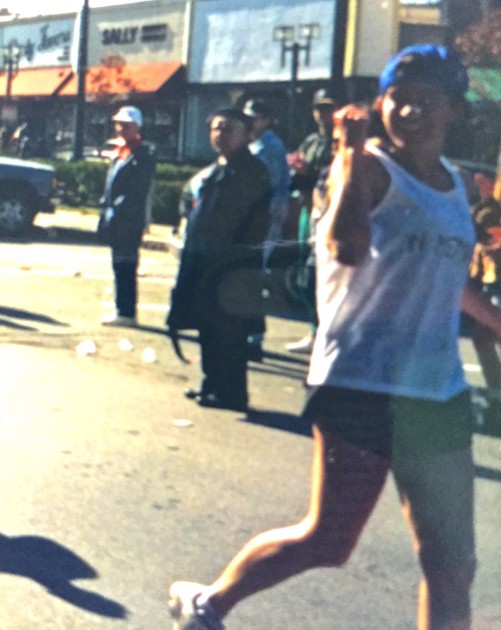 "When I ran that first marathon, I was 26," says Amy "I wanted to tell everyone that they could do this. I'm not special. I'm not bionic. I just had a mental desire to do it."
It's not hard to imagine a younger Amy (she's 46 now and a mother of three) brimming with enthusiasm and encouraging people who never once thought of running to tackle a marathon. It's not hard to imagine that because 20 years later she still has that same enthusiasm. Before working at Endurance Magazine Amy ran the inaugural Ramblin' Rose Women's Triathlon at Chapel Hill. After motivating groups of women to do the triathlon for a few years she finally began working at Endurance Magazine in 2009 directing some of the races while still persuading groups of women to move outside their comfort zones and sign up for the triathlon.
It's all mental, she says. That's what got her through her first marathon and many others. But, for Amy, Boston has always been special. It is special to her because it's also her hometown. The last three miles of the course are literally right through where she grew up, right past her elementary school and places she once worked. It is also special because her mother is buried in the cemetery a few blocks from Mile 18. In 2001 Amy's mother lost her battle with lung cancer. Passing Mile 18 has since been an emotionally special part of Amy's Boston Marathon experience.
A few years ago, Amy began planning for an even more special Boston Marathon. Amy knew that if she could qualify in 2013, she could register the following year for the 2015 Boston Marathon, which would be the 20th anniversary of her first.
"There was just something cool about the thought of running a marathon 20 years and three kids later," says Amy.
With a personal best of 3:35, Amy qualified at the 2013 Philadelphia Marathon. In October of 2014, she placed her registration acceptance card on her fridge, excited once again to be running Boston.
Do I Have to Be Different Now?
Three weeks later, while shopping for clothes and bras with her oldest daughter for her coming Bat Mitzvah, Amy discovered a small but, definite lump on her right breast. In the coming weeks, Amy would visit the UNC Lineberger Comprehensive Cancer Center for a diagnostic mammogram, an ultrasound, a biopsy, and an MRI and ultrasound of her lymph nodes. The results revealed a large ductal carcinoma in situ in her right breast. Her doctors recommended a mastectomy. Amy was shocked. With no family history of breast cancer, it was a complete surprise.
"The day that I found out I called a friend who was a nurse and asked her if I could go running," says Amy. "Can I go running? Who am I? Do I have to be different now?"
Consumed by the diagnosis, Amy worried about losing her identity to cancer. Motivation to run, much less train for Boston, during the diagnoses phase was tough. But, once Amy was running, she felt like herself again.
"From the very start of this journey, which I never expected to be on," says Amy, "I asked each and every medical person I saw, 'can I still run the marathon'?"
No one ever told her she couldn't run the marathon.
Marathon Hair Style
Amy woke early the day of her surgery.
"It was dark and I felt like I was going to do something challenging," says Amy. "I always had a plan to wear a shirt from an event. But that morning, I also did what I do before a marathon, I put two braids in my hair – my marathon hairstyle. If there was any question, I wanted everyone to know I'm not sick. I'm just here and I'm going to get through this and run the marathon."
A week after Amy's mastectomy, results showed that her lymph nodes were clean but in addition to the DCIS they also found a 6mm HER2+ tumor (human epidermal growth factor receptor 2) for which the protocol highly recommends a course of chemotherapy.
A few days later, Amy got a call from her oncologist telling her about a clinical trial for the drug TDM-1, hopefully, a better option than traditional chemotherapy because it is targeted, which makes it more appropriate for her type of cancer. It also meant less side effects. Amy signed up for the trial which would begin in early March 2015 and include 17 treatments over the course of a year. Amy would have three treatments prior to the Boston Marathon, to be held on April 20.
As Amy recovered from surgery and geared up emotionally for chemotherapy she had no idea what to expect on the day of the marathon.
"I felt determined to keep the runner and non-quitter in me alive in spite of all the anxiety I had been experiencing around this diagnosis," said Amy who began running just two weeks after her mastectomy. "It wasn't the way I normally train but, just getting out there enough to convince myself I could run 26.2 miles in my new mindset."
Still, Amy decided not to book her flight to Boston. Doubts inevitably crept in. I'm not trained. I had surgery. I'm on chemotherapy. Can I really do this? So, she decided to wait until after her second treatment to book the flight for her and her family. All the while, her Boston Marathon registration acceptance card hung there on her refrigerator. When she got it, she didn't know she had cancer. Then things went from minor to major. Now it all came down to her. Could she still run?
No one ever told her she couldn't run the marathon.
I'm Not the Kind of Girl Who Gives Up Just Like That
Boston is Amy's hometown. The people are her hometown people. She grew up by the course. Her mother is buried near Mile 18. The whole course is familiar to her. There is just something about the Boston crowd… the energy. The energy! There was only one thing standing between Amy and Boston.
"I knew that once I booked my tickets, there was no turning back," said Amy. "I thought back on my surgery, chemotherapy, and the training I was able to do. I had only one 16-mile training run. It was like an asterisk in my head. I realized it would be okay if I didn't finish. I adopted the motto 'you can't finish if you don't start'. Then I booked the tickets."
Race day came early. Amy went to bed the night before not really knowing how she would feel in the morning which was typical for any marathon. Between the surgery and chemotherapy it would all come down to how she felt in the morning. But, when she woke up that morning, she felt good. She knew she had the right energy. She put on her race day clothes and put two braids in her hair.
"In the past, I would run with a picture of my mom on the back of my shirt. Sometimes I would put my name on my shirt so people would cheer for me," said Amy. "But, this year I just wanted to be in my own bubble. There wasn't anything else pushing me this year. This year, it was about me not losing my identity to cancer. It became more of a personal run for me."
Amy knew it could be very different from her 6 other Boston Marathons, though.
"For me, Boston somewhat ends at Mile 16," said Amy. "Once I get to 16, I know I'm going to finish. I usually don't even remember Heartbreak Hill."
But, Amy knew she couldn't look at her watch and try to run fast this year. Her goal was only to finish and that wasn't even in the bag. She might run into trouble. She never runs with music but, this year Amy made a mix of songs that were meaningful to her in case things got tough.
Other than the pink ribbon on the back of her shirt, no one knew what she was going through. She stayed in her own head with a goal of finishing. She passed her family at Mile 14. Her daughters wore "My Mom is My Hero" shirts. Amy clicked on her iPod. She passed Mile 18 near where her mom is buried as her iPod shuffled through it's songs. About two miles later…
I'm not the kind of girl who gives up just like that…
Right by Heartbreak Hill, Blondie's "The Tide is High" played on Amy's iPod. It was a favorite song her mother used to dance to.
"I wished I could have told someone running next to me that this was the goofy song my mom used to dance to. I wanted to go back and replay it but, it was on shuffle."
Amy didn't give up and someone did know what she was going through. This year, Amy was given a reason to remember Heartbreak Hill.
"I stayed in my own head for the whole race," said Amy. "For 26.2 miles, I felt like me again. I felt like myself so much that I didn't want the run to end. When I crossed the finish line I was the only one there who knew what an accomplishment I had just achieved but, at the same time, I was just another runner and that's the way I wanted it. I proved to myself that in spite of this journey, I am still me."