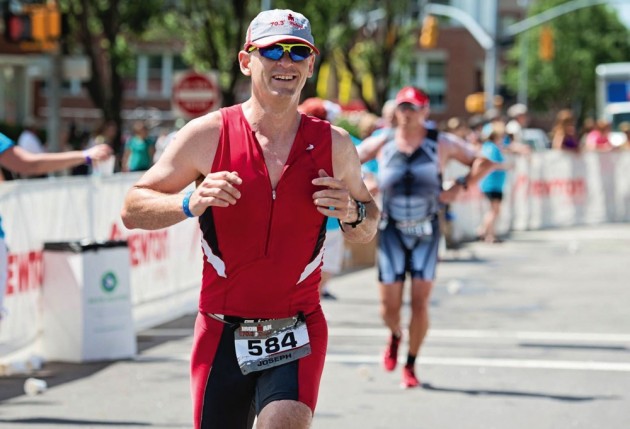 I want to give a huge shout out to Brian Beatty at Proaxis Therapy in Durham and Jamie Fiocco of Flyleaf Books in Chapel Hill for setting up the Chris McDougall fun run and book signing last month. Chris has a new book out called Natural Born Heroes, and is touring the country promoting it along with his new take on fitness. Chris is a super cool guy and great speaker. If you get a chance to catch him at another speaking engagement and fun run – don't miss it! You can read our fun interview with Chris on page 14. Flyleaf Books was a great place for the fun run and speaking engagement as it's in a shopping center right by the greenway and next to an amazing restaurant. If you are like me and still love the feel of a real book in your hands Flyleaf is your place in Chapel Hill. Go for a run, then grab some grub and check it out. I also want to thank Sean Rogers of Play Everywhere. Sean is a super cool guy who helped coordinate some cool moves for Chris to do for our shoot.
I also want to thank all the runners who came out to Endurance Magazine's Tar Heel 10 Miler and Fleet Feet Sports 4 Mile Run in April. The weather was perfect and the course, as usual, was beautiful. The race also served as the 10 Mile Championship race in the USATF NC 2015 Endurance Magazine Long Distance Running Championship Series. Competition in the series is really heating up so check out our Tar Heel 10 Miler wrap-up on page 8.  We also preview the next race in the series, the Beat the Heat 5K. With $5,000 in prize money on the table it's sure to be a great race!
If going longer is more your thing then you are in luck! This issue of Endurance Magazine is also our Relay Running Guide. Relay races are generally held in beautiful locales, have an awesome finishers' party, and give you an opportunity to run a race at night. There are lots of things to consider when you pack a team of runners in a van for 24 hours straight. So, if you're interested in trying out a relay run for the first time, or maybe looking for a new relay for you and your team to enter, check out our previews of some regional relay running events to help you get started. Packing a bunch of runners in a van also yields some humorous entertainment. For a good laugh, read D.C. Lucchesi's $#!+ You Hope to Never Hear on a Relay.
For those looking for less time on their feet and more time on two wheels we also have another great cycling column from Thomas Henson, Jr. Most cyclists I know would like to commute by bicycle but, don't. We all know bicycling to work is better for our health and the environment but, we often find ourselves making excuses why we can't. This month, Thomas dispels some common excuses in his column, "Six Excuses that Don't Hold Up: Why You CAN Cycle to Work".
Finally, I have two words for you: guacamole hummus. That's "guacamole hummus" not, guacamole AND hummus. Mind. Blown. This month's recipe is truly an awesome creation from our recipe writer Brandon McDearis. Everyone loves guacamole and everyone loves hummus. So, it was only a matter of time before some clever cook somewhere decided to experiment with combining the two to make a delicious and healthy dip. While Brendan was not the first to come up with this brilliant idea, he was happy to steal it and share his own recipe with us. Be sure to try this simple-to-prepare recipe and a few snack ideas to accompany it. Also don't forget to check out our informative gear reviews, fitness tips, and event previews in this issue.
Inspire. Peform. Endure.
Joe Nuss