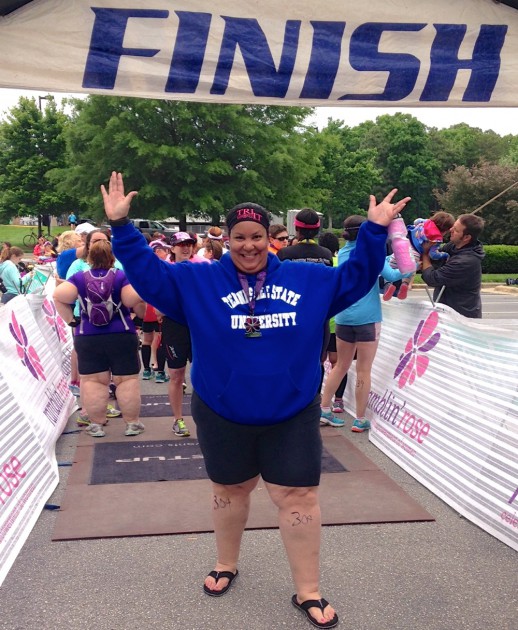 "I feel so good when I cross that finish line!  All my Tri It for Life ladies are waiting for me there as I cross.  Finally, I am a triathlete!"
Johanna Outlaw, 39 | Raleigh, NC
I had been training with Tri It For Life for 12 weeks in preparation for my first triathlon – Ramblin' Rose Raleigh at the A.E. Finley YMCA in Raleigh May 18, 2014.
My plan was to be at the race site at 6 a.m. to get a good parking spot and a good spot in the transition area. I realized I was super early when the race was still being set up. Early bird gets a good parking spot and bonus end spot on the bike rack! This was my first triathlon so I was wandering around like a lost kid in the mall until my Tri It For Life mentors started guiding me through what to do. I love those chicks! Claudio Mello helped me mount my bike properly and all the way to the end of the rack. Martha Centeno helped me attach my timing chip. Then I headed over to get body-marked with my bib number. I was familiar with being marked as we went through the same process during Tri It For Life's mock triathlon. I made my necessary pre-race potty stop and then met up Julia Reed and Erin Keener.  We call ourselves the "Three Amigos".  After the pre-race announcements, one of the Tri It For Life cheerleaders lead us into our Tri It for Life cheer:  Who are we? Triathletes! What do we do? Finish Strong! We were so loud that people could probably hear us in Durham.
With the race about to start, we filed into the Y to line up based on the Ramblin' Rose "Swim Ability" scale, 10 being the fastest level for excellent swimmers and 1 being the slowest for less experienced and beginner swimmers. Heading toward the pool I'm thinking, "Oh My God!" we are about to swim.  I'm up right after Erin and Julie.  I climb into the pool and start swimming slow and steady but, apparently I'm holding up traffic because a few women pass me.  At the end of each lane I see a Tri It for Life mentor who is calling my name and rooting me on.  Soon, I'm in the last lane and another mentor Amanda Law is pointing to the ladder.  I'm done!  At first my feet act like they can't move but, I make it out of the pool and head back to the transition area. There are spectators rooting and cheering for me and the other participants as we run to the transition area.
I make it to the transition area and wish I had brought a shirt to put on over my tri suit but, I totally didn't think about that when I was packing.  I start getting ready for the bike course with the gear I have.  Shoes and socks?  On! CamelBak?  On!  Helmet and gloves?  On! I drink some Powerade and head out for the bike course where I meet up with my other two amigos.  I'm rolling down Baileywick Road and cross into the neighborhood where I see folks headed back. Rebecca Sitton yells out "Good job Jo!" I see my fellow Tri It for Lifer Emily Harrison hauling tail back to the Y.  This bike course is not for the faint of heart. It is up and down…. up and down.  We hit Mount Vernon Church Road and get to "the hill". We all walk it along with everyone else we see. We get to the top and get back on our bikes. Turn and turn through the neighborhood. Then we make that right on Countrywood Road. I know what's next: the devil disguised as Carrington Drive but, I rock downhill. I will pass you going so fast it will make your head spin!  I'm hauling down Carrington Drive and then here comes that uphill. I don't even try to ride it, I get off the bike and walk it up. There is no shame in walking at Ramblin' Rose.  After that it really is just a few more turns back to Baileywick Road. When I ride over the bridge and see I-540 I am so excited because I know soon I will be headed back to the Y. I'm headed down the hill and I see the turn where the police and course monitor are holding up traffic.  I make that turn with ease. Less than a half mile to go! I pedal and pedal.  I see one of my amigos, Julie, in front of me.  Then, I see another Tri It For Life mentor and she yells out "you can dismount now".  The hard part is over!
As I walk my bike back to the transition area, I see people leaving which means they are done. I hear someone yell my name and it's a friend of mine who has come out to see me at the race. That just made my day! I load the phone in my armband, take off my helmet and gloves getting ready for the 2 mile run. The run at this point is a slow stroll. Slow and steady until the finish, I remind myself. I feel so good when I cross that finish line!  All my Tri It for Life ladies are waiting for me there as I cross.  Finally, I am triathlete!