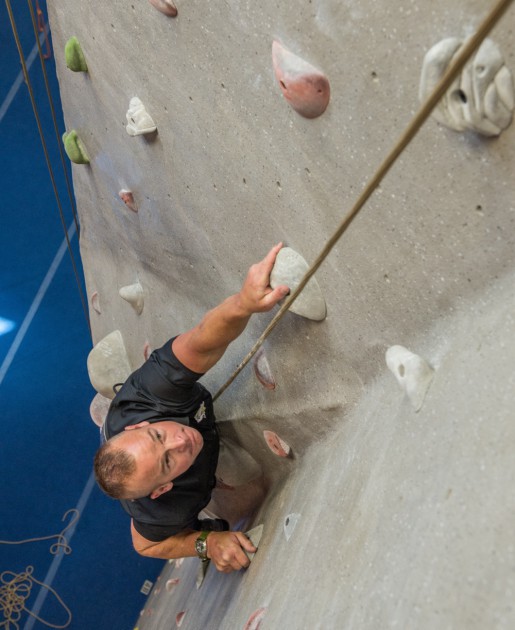 Photos by Juan Carlos Briceno for Tamara Lackey Photography
By Joe Nuss
The habits required to gain and maintain a high level of physical fitness are inherent to the Marine Corps way of life. One of the yardsticks used to measure the combat effectiveness and ultimate success of Marines, fitness is considered an indispensable aspect of leadership. Score well on your physical fitness test and you increase your chances of promotion. One former Marine, Andrew Kratz, used the passion he gained for fitness as a Marine to start one of the most successful indoor rock climbing gyms in the country, The Triangle Rock Club, with locations in both Morrisville and Raleigh.
An avid adventure racer, Kratz placed third in Oregon's Gorge Games in 2002 and earned a second-place finish in the 2006 Tidewater Traverse, Virginia. He also participated in some of the most difficult expedition distance races, like the Southern Traverse in New Zealand and the Endorphin Fix race in West Virginia. Kratz also loves to run marathons and triathlons as well as skydive, scuba dive, mountain bike and road bike. His most recent adventure was a successful ascent of El Cap via "the Nose," Yosemite's classic big wall.
Kratz is a father of five and married to Caroline Ingham, a former U.S. Rowing team member now turned triathlete. He grew up in Bucks County, Pennsylvania, where his parents dragged him around to flea markets as a child. He always gravitated to military stuff, so it was no surprise that he enlisted in the Marines when Operation Desert Storm came along in 1991. Kratz was actually in college at the time but enlisted during summer break and went to boot camp, where he became a mortarman, a role in the military responsible for tactical employment of mortars, which are portable, short-barreled, artillery pieces that fire explosive projectiles at short ranges with high-arcing trajectories.
After four years as a mortarman with the 2nd Battalion, 2nd Marines, Kratz joined a Force Reconnaissance Company, one the Marine Corps' special operation forces.  Responsible for gathering intelligence and often operating behind enemy lines, physical fitness requirements for a Force Recon Marine are demanding. Physical fitness tests in Force Recon challenge not just fitness but will power, determination, and physical courage while preparing Marines for dangerous reconnaissance missions on land or sea.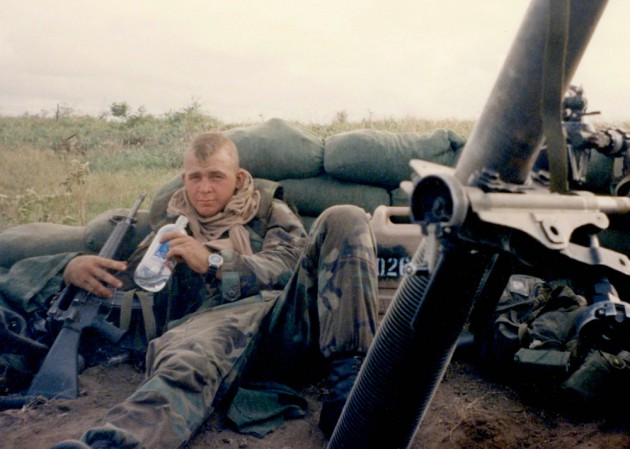 After 10 years of service, Kratz left the Marines and began his transition to civilian life. "When I left the Marines I had a limited skill set," jokes Kratz; "I knew how to shoot guns and climb rocks, and climbing was right in the wheelhouse of what I was interested in pursuing." Kratz first looked at guiding. But, while climbing with a friend in Red Rocks, Nevada, he took a nasty fall and broke both his ankles. "It was tough," says Kratz. "Guiding is 'hand to mouth.' If you get hurt, your paycheck stops."
After recovering from his broken ankles, Kratz took a three-year position with Hargrave Military Academy in Chatham, Virginia. It was during this time that he retooled his business interests and started writing the business plan for what would become the Triangle Rock Club.
"I didn't have any formal training in business," says Kratz, "but writing a business plan was no different than preparing an operation order in the military. I focused on the Marine's five-paragraph order, which is based on the keyword acronym SMEAC: Situation, Mission, Execution, Admin and Logistics, and Command and Control. It was very easy to organize my thoughts using SMEAC."
Over the next three years, he worked on his business plan bit by bit. Then one day, while visiting Raleigh, NC, Kratz knew he was ready to jump in.
"Raleigh seemed like a great place to live, raise a family, and start a business," says Kratz. "So, like Cortes, I 'burned my boats' and started looking for a building for my new business." In May of 2007, Kratz signed a lease for the building in Morrisville. Together with his friend Luis Jauregui, who served with Kratz in Force Recon, and a Veteran's Preferred Status Loan from the Small Business Association, Triangle Rock Club was born.
"We faced a thousand challenges that first year" says Kratz. "But, like we were taught in the military, indecision is worse than a bad decision. We had no idea how many critical crossroads were in front of us during the startup process. I just focused on putting one foot in front of the other. A key part in positioning for our success and future growth, though, was getting the option to actually buy the building. Only about 10 percent of rock-climbing gyms in the U.S. own their real estate.
"But the real secret sauce behind TRC's success is our incredible staff," he says. "The employees we have and our service-minded customer focus is a key component to the TRC experience."
In 2012, Andrew and Luis brought on new partner Joel Graybeal to help continue to build and grow Triangle Rock Club. In 2013, they opened a second location in Raleigh and earlier this year they completed construction (something that would not have been possible had they not owned their own building) on a 17,000 square-foot expansion of the original Morrisville location, which includes 55-foot high walls, the tallest in a five-state area. They are set to have a grand opening on their third facility, in Fayetteville, on Nov. 14, and are actively pursuing a location to better serve their Chapel Hill-Durham customers.
Kratz's advice to other veterans is to realize that all of the fundamental building blocks you need to start a business can be found in the training you received in the military. "Self-drive, motivation and discipline are not just key character traits for service members, but also entrepreneurs. Maintain your discipline, perseverance, endurance and believe you can accomplish the mission, and you will."