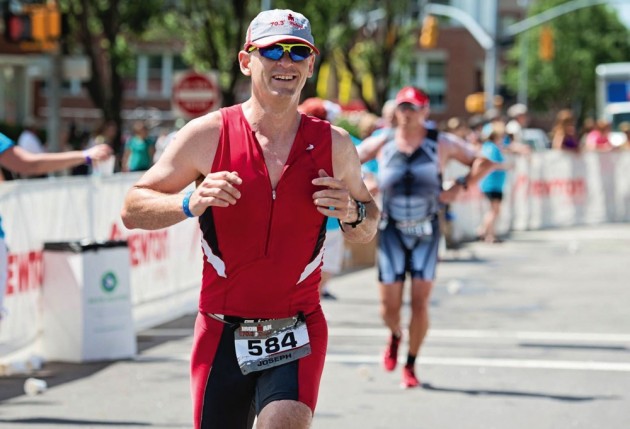 Service members transitioning to civilian life after a tour of duty in the military face myriad challenges. For some, those challenges include not just readjusting to life after the military but finding employment and overcoming post-traumatic stress. A tour of duty in the Army, Navy, Air Force, Marines or Coast Guard can leave service members, especially those who have spent a majority of their tour deployed to a combat zone, feeling like they lack the necessary skills to find employment or be a good spouse or parent. But regardless of occupational specialty, all military members share one characteristic that will help with the transition to civilian life: fitness. A key component to promotion in any branch of service, physical fitness is an essential part of the military experience that men and women need to maintain after their service.
In addition to the obvious benefits of staying healthy, studies have shown that physical fitness is also helpful in overcoming post-traumatic stress. One organization that has taken hold of this idea is Team Red, White & Blue. Founded by Mike Erwin, a major in the U.S. Army who has an MS in psychology from the University of Michigan, Team RWB's mission is to enrich the lives of America's veterans by connecting them to their community through physical and social activity. What makes Team RWB so unique, however, is that the organization is not just for veterans. Join a Team RWB weekly run or WOD (Workout of the Day) and you'll find members who are civilians with no ties to the military whatsoever; you'll find veterans like myself who served behind a desk over 20 years ago; and you'll find veterans who have recently returned from combat tours overseas. This unique approach of drawing together a blend of civilians and veterans through physical activity is, I believe, going to be monumental in helping all veterans, not just those suffering from post-traumatic stress, to readjust to civilian life and continue to stay as fit and active as they were in the military.
An important part of the transition process for veterans is, of course, finding employment. Our feature story this month focuses on Andrew Kratz, founder of the Triangle Rock Club, who is a great example of a service member who used some very basic skills learned in his combat arms roles in the Marine Corps to build a highly successful business focused on fitness. A mortarman and Force Recon Marine, Kratz built his business plan for the club using the same five-paragraph order he used to prepare operation orders in the military, keyword SMEAC: Situation, Mission, Execution, Admin and Logistics, and Command and Control. After several years of hard work and determination, the Triangle Rock Club is now one of the most successful indoor rock-climbing gyms in the United States.
In addition to our focus on veterans in this issue, we also feature a story on an inspiration runner, Tim McBride. In January 2011, McBride's brother-in-law was diagnosed with lymphoma. The very next day, McBride saw a billboard for Team In Training and before the month was over, he was registered for the Mayor's Midnight Sun Marathon in Alaska with TNT, running in honor of his brother-in-law and in memory of his parents, both of whom he lost to cancer. Currently, McBride is on a 1,000-plus day running streak and to top it all off, he's raised a whopping $17,500 (and counting) to help fund blood-cancer research.
We also feature some great gear reviews in this issue. As the days get shorter this time of year, you will definitely want to check out our review of some cycling gear to keep you visible while on your bike. You'll also want to read our review on the Hoka Cliftons to stay on top of the high-cushion running shoe trend.