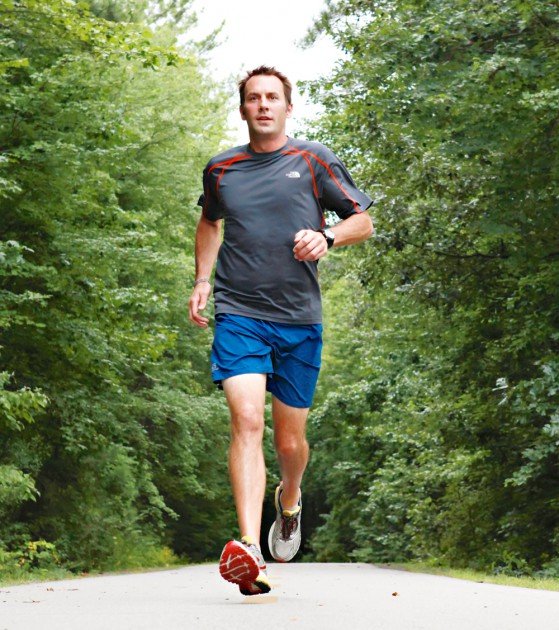 Photo by Sarah Coppola for Tamara Lackey Photography
By Tiffany Tyler
Driving through a summer rain, Jeremy Boyd thought he was just going to get a pizza for dinner; but as Coldplay's song, "Fix You," came through the stereo speakers, an idea came to him that would affect his life for years to come.
"I had always wanted to do something to give back to the families of 9/11 victims, but I was never sure how I could help," Boyd says. "The idea of Run to Never Forget came to me in July 2012 as I was going to get a pizza. I sat right there in the parking lot and wrote all my thoughts on a paper grocery bag."
The next morning, Boyd called his brother to share the idea of running from the Pentagon to ground zero.
"My brother laughed and said we could ride bikes, but I knew I wanted to run," Boyd says.
Over a year went by before Boyd decided to actively pursue the idea of making the trek on foot from the Pentagon to ground zero.  In October 2013, Boyd decided to start making his idea a reality.
"There were a lot of factors, such as time and money, that had to go into this event, so my first step was to make sure my wife was on board," Boyd says. "When she agreed, I started making strides toward preparing for the run."
Boyd mapped out his route and found it was going to be around 240 miles.  After keeping his idea to himself for several months, he finally decided to share his plans with family and friends on Facebook.
"I had never really used Facebook much before, but I got a huge response, which was really encouraging," Boyd says.
In December 2013, Boyd found himself coping with an Achilles injury and worried whether he would be able to complete the run the following September. During Boyd's recovery, he thought about tabling Run to Never Forget.
"I couldn't run much for over three months," Boyd said. "I realized I might have to put the event on hold until I could run again."
Boyd, who is also a running coach at Lifetime Fitness, found himself going to the gym every Saturday morning to sit on a stationary bike for three to four hours to continue to build his endurance.
"I'm not a big rider and I really don't enjoy it very much, so this is a huge testament to how much I wanted to complete the run," Boyd says.
By the beginning of April 2014, Boyd was back to his full-time running schedule. In May, he ran the All American Marathon in Fayetteville and qualified for the Boston Marathon.
"When I started running again in April, my main focus was the run in September," Boyd says.  "At the end of April, my running partner, Linda Hatfield, encouraged me to run the All American Marathon, which meant I had only been back to running from my injury for about four weeks. I signed up for the marathon a week before the race. I had always wanted to qualify for Boston, but I did not put much pressure on myself for time in this race, especially since I was just coming off a three-month injury. I was just trying to gauge how I felt so I could continue to train for the September run."
A month later, Boyd ran the North Face 50-miler.
"I was about three months undertrained, but the whole purpose of the 50-miler was to gauge how much of the 240 miles I was going to have to walk," Boyd says. "After I finished, I was very encouraged that I would be able to make Run to Never Forget a success."
Boyd logged onto Facebook in June to find a status from his friend, Jim Coughlin, who had a running injury, stating that since he could not run, he was going to help Boyd run 240 miles.
"People really started to respond to the idea, so I knew I had to do it," Boyd says. Several people got together and started forming teams to help Boyd promote the event – doing everything from creating a website, to fundraising and promotion.
"There is no way I would be in the position I am in with raising funds and awareness without all the time and energy my team has invested," Boyd says.
Many of Boyd's team members work full time and dedicate their free time to helping him prepare for Run to Never Forget, working together to make the event a success.
Boyd is currently using his last few weeks to train for the race, running between 80 and 100 miles a week.
"I haven't raced since June and I don't really have a plan or strategy other than focusing on intensive training," Boyd says.  "I'm running long distances back to back to get used to running on tired legs. I have to run even when I do not feel like it. I just have to make sure I listen to my body to make sure I don't get hurt again."
Boyd recently set out to drive his route to determine the exact course for the actual run.
"It took me about 16 hours to route the whole thing," Boyd says. "Most of the route from D.C. to New York is through cities, which means there are some pretty rough areas I'm going to have to run through that I was trying to find ways around. Unfortunately, two of the neighborhoods I was worried about are unavoidable so I'm probably going to have to ride in a car for about a mile or so to ensure I make it home alive."
During Boyd's routing trip, he tried to find clear places for his crew to set up along the way to provide water and snacks as he passed by.
"Most of the course is on main roads and I have some friends who are going to run various portions of the 240 miles with me," Boyd said. "There aren't too many back roads, just one country road that is pretty isolated."
Any money raised from Run to Never Forget will go to one of two charities: Tuesday's Children or the Special Operations Warrior Foundation.
"I used to work with a lot of at-risk youth and really wanted to try to do some sort of scholarship for kids of 9/11, which is how I came across Tuesday's Children," Boyd says.  "Initially, a military charity wasn't on my mind, but as I worked more on the run, I decided I really wanted to support the first responders' families too and shine a light on both sides by also providing scholarships to kids whose parents were injured or died in active duty."
Boyd has worn many hats through the process of planning Run to Never Forget. He runs, works on public relations and promotion, fundraises and coordinates with his teams.
"I think I sleep about five hours a night," Boyd says. "I wake up early in the morning to run and answer emails. There are a lot of logistics to iron out in an event like this; everything from contacting local police departments to determine the safest routes to fundraising to raising awareness for the event itself. Running 85-plus miles a week takes a lot of time, not to mention the administrative work behind it."
Boyd is keeping his focus on the present, but would like to see the event continue in the future.
"I don't know if I will have the time to invest in training for 240 miles again next year, but I would really like to see Run to Never Forget continue in some way," Boyd says. "Some people have suggested making it a relay, which I think could work. My main focus in the future would be to raise more money for the two charities we are supporting."
Boyd will leave the Pentagon in Washington, D.C., on Sept. 8, 2014 and run toward ground zero in New York City, with plans to arrive by Sept. 11, 2014.
Boyd, who was previously a soccer player, and a smoker, never thought of himself as a runner.
"I ran my first half-marathon in March of 2011 after a friend and my wife convinced me to," Boyd says. "I didn't train for it at all and couldn't walk for three days after." After Boyd completed his second half-marathon, without training, he decided he actually liked running.
"I ran the Mountain to Sea 12-miler and saw a member of Lifetime Fitness at the finish line wearing a Lifetime Fitness running club jacket and decided that I needed to learn how to train," Boyd says.
The next Thursday, as he began his journey of learning to run, Boyd found that he was outside running hill repeats. In a matter of two and a half years, Boyd went from not running at all, to being a running coach preparing to embark on a 240-mile journey.
"As a society, we put too much emphasis on speed and time," Boyd says. "If you want to succeed as a runner, throw out the 'have to' mentality and do it because you want to. I really think you have to have a very strong mind to run long distances like these.
"You really have to mentally be there to think quick on your feet and make split-second decisions about your run. If you don't have a strong mind, I don't think you will ever finish. But if you put your heart in it, your mind will follow."
# # #
Tiffany Tyler is a long-distance runner who loves to explore the greenway in Raleigh. She graduated from Appalachian State University with degrees in journalism and public relations. She currently works at The Salvation Army in Durham, where she manages PR and volunteer activities. She can be contacted at tiffanytyler20@gmail.com.
Run to Never Forget raises money for Tuesday's Children and the Special Operations Warrior Foundation.
Tuesday's Children is a family service organization that has made a long-term commitment to every individual impacted by the events of Sept. 11, 2001, and those who have been impacted by terrorist incidents worldwide. Since 2001, Tuesday's Children has promoted healing and recovery by strengthening family resilience, providing individual coping and life-management skills and creating community through programs, mental health support and family engagement opportunities.
The Special Operations Warrior Foundation is currently committed to providing scholarship grants to more than 950 children of the 866 Special Operations personnel who have given their lives for their country since 1980, including those who died fighting our nation's war against terrorism as part of Operation Enduring Freedom in Afghanistan and the Philippines as well as Operation Iraqi Freedom.
Visit http://runtoneverforget.org to donate to these organizations.