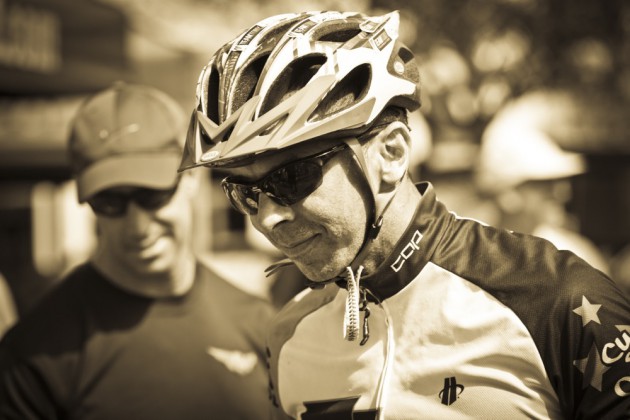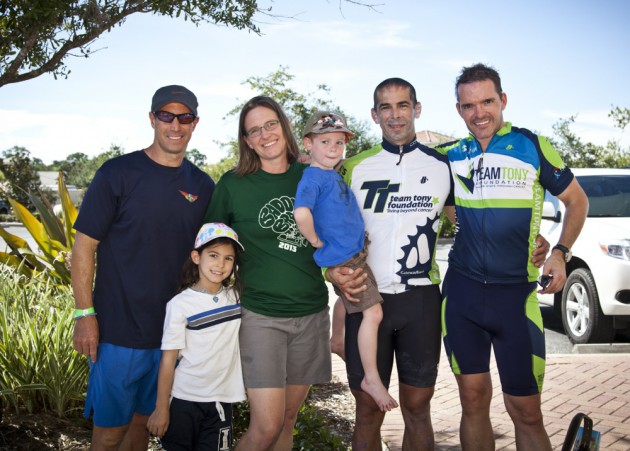 By Jennifer Kirby
On Father's Day 2012, Greg Sousa, a veteran of more than 30 triathlons, rose early to bike the 25 miles from his Durham home to Jordan Lake, where he completed a 1-mile open-water swim.
Four days later, on a work trip to Alabama, he experienced a grand mal seizure – his first and only symptom of a malignant mass inside his brain. "If that symptom had struck four days earlier – if I'd had the seizure and I'm swimming and I'm a half-mile offshore – my life is over," he says. "There's just a creepiness to think there was a 2-inch tumor inside my head when I took that swim."
Surgery to remove the tumor was scheduled right away, and Sousa and his wife, a registered nurse and an athlete herself, started digging for stories of people who'd survived what they were suddenly facing.
"In addition to handling the medical news that we got, we're looking for other examples, and we come across a person who has been doing marathons after his brain tumor has been removed. I was grateful because I used that as, 'Hey, look, this person had a brain tumor and brain surgery and look what he's doing. I can do it.' And that's like a first pin you put on the board," Sousa says.
"You can imagine," he adds," that I continued doing searches in the activities that I like – marathons or long bike rides or triathlons." That's how he first heard of the Kona Inspired program, in which participants compete for a spot in Ironman Hawaii by submitting a video explaining how they reflect the Ironman mantra "Anything is possible." "There was a brain tumor survivor in the 2012 edition of the Kona Inspired program, and boy, we watched her story," Sousa says.
With permission and support from his doctors at Duke University's Preston Robert Tisch Brain Cancer Center, Sousa started working out again in August 2012. "It was a given that we needed to reintegrate exercise – not rushed, just when it was appropriate," he says. "And trying to rebuild coming out of brain surgery … wow. The first three weeks were unlike any rebuilding I have experienced before in my athletic life. Humbling, to say the least. It was exciting because I had never had that feeling of 'I have lost so much, and it is so much fun to build it back.'"
In November 2012 – four months after his surgery, and three months into his year-long chemotherapy program – Sousa completed the notoriously difficult Shut In Ridge Trail Run in Asheville for the ninth time. The next April he finished the White Lake Half-Ironman Triathlon. And he decided to submit his own video for the 2013 Kona Inspired competition.
He didn't win an entry to Kona, but his video generated some media attention and it got him thinking. Tony McEachern, a 10-year brain cancer survivor and a former Tisch Brain Tumor Center patient, had established the Team Tony Cancer Foundation, which hosted an annual fundraising bike ride from Ormond Beach to Sarasota, Florida. Sousa told his wife, "I want to bike from the Tisch Brain Tumor Center to Ormond Beach, then switch to being in (McEachern's) event, from Ormond Beach to Sarasota."
They pitched the idea to Tisch, which was supportive and gave a "huge sendoff" to what was dubbed the Badousa Brain Bike Bonanza, or "Quad 4," on Sept. 24, 2013. Sousa hoped to raise $10,000 for brain tumor research, a goal he smashed, bringing in four times that much.
Other athletes' stories were a significant source of encouragement for Sousa and his wife from the earliest stages of their cancer-fighting journey. In addition to McEachern – who not only established the Team Tony Cancer Foundation but also once walked from Durham to Florida to raise money for brain cancer research – one of Sousa's major inspirations was Canadian athlete Terry Fox. In 1980, Fox set out to run across Canada with one leg amputated to raise cancer awareness and funds for research, and averaged a marathon a day until the cancer spread to his lungs and forced him to quit.
Now, Sousa hopes to use his endurance background and the platform his story has provided to pay that kind of inspiration forward to others he may never meet.
"For me it's intoxicating when you can build fitness back, because it's a simplistic cause-and-effect relationship that is part of living for me: 'OK, I'm using this body that I have for this finite time, and the work I put in, I get a return.' I like that," he says. "Now it's my turn to give back and help, and be there for others."
Jennifer Kirby is a freelance writer, copy editor, and fan of summer afternoons who lives in Southern Pines, North Carolina, with her husband and their two preschoolers. Find more of her work at http://www.JenniferDareKirby.com and http://www.JenniferDareDesigns.com.