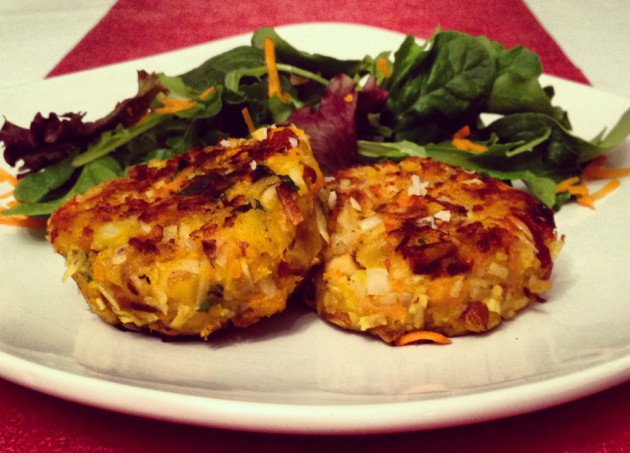 By Brandon McDearis
This month's recipe is a little something different. These Caribbean cakes take quite a bit of prep, but they are fairly easy to assemble, and their unique, tropical flavor is worth every minute of work. They work great as a vegetarian entrée, but they are light enough to accompany a protein at mealtime. They can also make for the perfect appetizer. The fact that they consist of mostly vegetables high in antioxidants and other anti-inflammatory properties is an added bonus. The recipe serves 12.
Ingredients:
3 pounds carrots, shredded
2 pounds mashed butternut squash or sweet potato
1 tablespoon olive oil
1 cup finely diced yellow onion
1 tablespoon minced garlic
1/4 cup chopped cilantro
1/2 cup toasted coconut
3/4 cup chopped toasted almonds
1/2 cup curry powder
1 tablespoon kosher salt
1 teaspoon black pepper
2 tablespoons all-purpose flour
Preparation:
Peel and dice butternut squash or sweet potato, toss in olive oil and roast in a 400-degree oven until soft in the middle, about 20 minutes. Mash in a bowl with a potato masher.
Lay coconut and chopped almonds separately on greased sheet pans. Put into a 400-degree oven until lightly toasted, about 3 minutes for the coconut and 5 minutes for the almonds.
Add all of the remaining ingredients into the bowl with the butternut squash/sweet potato and mix thoroughly by hand (this can be done in a mixing bowl with the paddle attachment).
Form into cakes about 2 inches in diameter. Either bake in a sheet pan at 400 degrees for about 15-20 minutes until golden brown (cooking time will vary depending on your oven), or fry in a skillet in 2 tablespoons of olive oil at medium-high heat until golden brown on each side.
Nutrition Facts:
Calories: 180 / Fat: 8g / Saturated Fat: 1g / Carbohydrates: 26g / Fiber: 4g / Protein: 3g
# # #
Brandon McDearis is a personal chef working in the Charlotte area. He currently owns and operates Your Way Cuisine, www.yourwaycuisine.com. In addition to his culinary training, Brandon also holds a bachelor of science degree in foods and nutrition, with a concentration in dietetics. He primarily focuses on healthy cooking and addressing specific dietary needs of everyone from professional and amateur athletes to busy families and elderly people. Brandon is also one of the board of directors for Wellspring International Outreach (www.wellspring-outreach.org) and works with a group of others to raise money for the abandoned children of Peru.