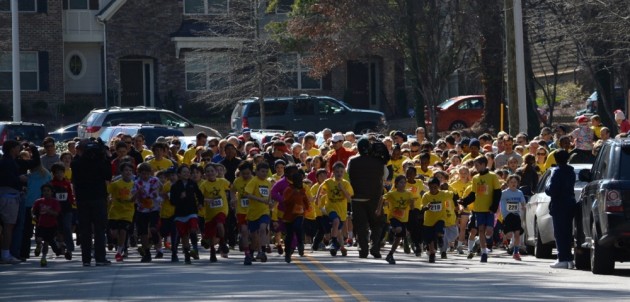 The J.Y. Joyner Elementary School Healthy Choice Marathon, Run Club & 5K Run/Walk, now in its third year, aims to teach students positive lifestyle choices while raising money to fund programs for its 700-plus student body by promoting health and wellness and helping kids make mindful choices through healthy eating, exercise and reading every day. The 5k run/walk is the grand finale of the 26-day "Healthy Choice Marathon," in which students are coached on making positive lifelong habits beyond just physical activity. The program challenges students to one healthy food choice, 20 minutes of reading and 20 minutes of activity each day.
In addition to the Healthy Choice Marathon, students and their parents have the opportunity to join and volunteer for the school's Run Club, which helps prepare them for the run/walk, which has seen more than 600 participants – almost all students, staff, and parents and siblings – in each of its first two years. Run Club has grown from 150 participants in its first year to more than 300 participants last year – nearly half of the student body.
Run Club volunteer Rob Autry is one example of how the event has inspired not just students, but parents as well. Although Autry was never a runner before, he volunteered to help the club when his son, who was in kindergarten, wanted to join. Autry tackled his first two-mile run ever while helping the third-graders one week. In what he described as an eye-opener for himself, Autry noticed that all the kids were having fun, whether running or walking. "The conclusion I came to," he says, "was that there were no expectations implied on these kids. The energy and excitement during the running club happened all on its own. That experience and my son both inspired and continue to inspire me to keep running." Autry has gone on to complete races up to 10 miles, including the Tar Heel 10 Miler.
Proceeds from the event are used by the JYJ PTA to support many activities, including the First in Fitness program as part of the Presidential Fitness Program, a science go-round bringing local scientists to the school for presentations to the students, the Healthy Choice Marathon, character education that encourages students to participate in community service activities, teacher grants for specific classroom needs, books for the media center, technology in the classrooms, and music programs. In two years, the event has raised more than $35,000 for the school. For more information about the event, please visit www.joynerpta.com.