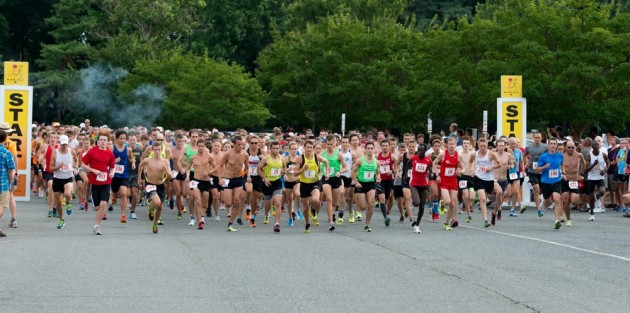 Reebok-sponsored Bobby Mack, 28, of Raleigh, N.C., won the men's Beat the Heat 5k race in Winston-Salem on July 20 with an impressive time of 14:35. Nearly a minute faster than the time of second-place finisher Brock Baker, Mack's time was 22 seconds off his 2012 record of 14:13, ending his streak of four consecutive years of Beat the Heat 5k course records. The win earned Mack 3 points in the overall series, but leaves him in a distant second to Baker, 28, of Chapel Hill, whose second-place finish boosted his commanding series lead by 8 points. Baker runs for Fleet Feet Carrboro and sits atop the men's series leaderboard with 11 points. Twenty-four-year-old Peyton Hoyal of Banner Elk, N.C., finished third just 7 seconds behind Baker. Mathematically, Mack can still win the series championship, but only three races remain.
In the women's race, Blowing Rock's Esther Erb, 27, won with a time of 16:44. Erb, who runs for ZAP Fitness, set a marathon PR at the 2012 Olympic Trials in Houston and set a new PR of 2:36:24 at the Twin Cities Marathon. Less than a minute behind with a time of 17:11and in second place was high-school phenom Alana Hadley. At just 16 years old, Hadley has set a 1:16:41 PR and Myrtle Beach Half Marathon course record. She is a member of the 2016 U.S. Marathon Trials Project and just completed 10th grade at Ardrey Kell High School in Charlotte, N.C. Raleigh's Kim Meeker, 32, finished third with a time of 17:37. The win launched Erb into a three-way tie for second in the championship series, just one point behind Caitlin Bullock, 27, of Charlotte, and Ginny Cronely, 23, of Greensboro, who are tied for first with 4 points.
In the masters races, 48-year-old Per Kristian Moerk of Kernersville bested Charlotte's Bill Shires by more than a minute for a victory and 16:36 finish. Shires, 48, took second with a time of 17:45 and 52-year-old John Anderson of Pfafftown took third with a 17:47. Shires' second-place finish leapfrogged him over John Hinton, 51, of Chapel Hill, for the overall lead in the masters men's championship series. Shires leads the masters men with 6 points and Hinton is now in second with 5.
Jennifer Curtain, 45, of Raleigh, won the women's masters race with a time of 20:00. Fifty-three-year-old Lori Mowen of Winston-Salem took second with a 20:36 and Cary's Mary Szymkowski, 50, took third with a 22:54. Curtain's win enabled her to break her first-place tie in the overall masters women's series and build a 3-point lead over Deb Ryan, 46, of Southern Pines.