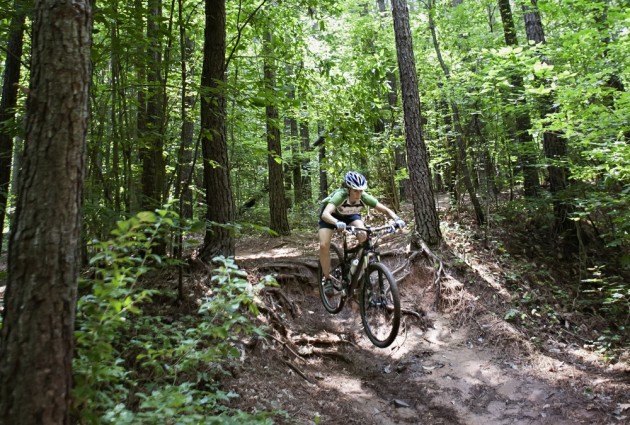 Endurance Magazine caught up with Dirt Divas' co-vice president, Patty Smith, recently at the U.S. National Whitewater Center, which has more than 20 miles of scenic woodland trails, river views, challenging climbs and exciting descents for riders of all ages and skill levels. It's one of Smith's favorite places to ride, and it's a great place to explore the trails and discover the passion that has brought so much joy to her life. If you're a woman, Smith's Dirt Divas club is a great resource for getting started. Smith estimates that about 25-30 percent of the club's members are racers, 25-30 percent are casual slow pace riders and then there are some intermediates. While it's a women-only club, anyone can ride, including males and children.
Dirt Divas offers members incredible biking experiences all year long, including weekly group rides, regional day trips, biannual weekend trips to the North Carolina mountains, volunteer opportunities, skills clinics, monthly meetings, some road rides and social gatherings. They also form teams for road and mountain bike races.
They know how hard it is to find a good riding partner, and how frustrating it is trying to keep up with a boyfriend, husband or any guy as you are working on your skills. You'll never be left behind on the trails with the Dirt Divas.
With fun and fitness in mind, Dirt Divas rides encourage a safe and supportive environment for women. They also strive to protect the environment by participating in regular trail maintenance and continually grow their involvement in the community with bicycling advocacy.  The Dirt Divas created Project Angel as a way to give back and help support young riders by providing bicycles to children throughout the Charlotte-Mecklenburg area who otherwise would not have one.
Come ride with the Dirt Divas and experience an unintimidating and fun atmosphere that's perfect for any level of cyclist. Visit www.DirtDivas.net, follow them on Twitter at @DirtDivasCLT or find them on Facebook for more information about membership and upcoming rides, skills clinics and weekend trips.