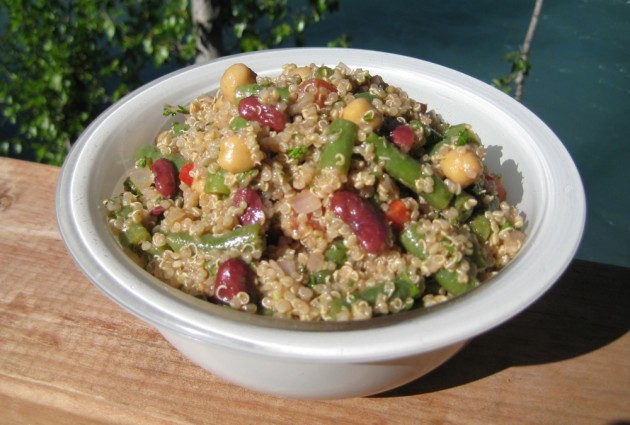 By Brandon McDearis
Ingredients:
Dressing
1 clove garlic, minced
1 T dijion mustard
2 T honey
1/4 cup balsamic vinegar
1/4 cup water
1/4 cup olive oil
1 teaspoon salt
1/2 teaspoon black pepper
Salad
1 cup quinoa
2 cups fresh green beans
1 T olive oil
1/2 red onion, diced small
1/2 red pepper, diced small
1 carrot, diced small
4 cloves garlic
1 cup red kidney beans
1 cup garbanzo beans
1/4 cup white wine
1/2 cup fresh diced tomatoes
1/4 cup fresh chopped parsley
Preparation:
To make the dressing, put the first 5 ingredients in a bowl or blender and either blend or whisk while slowly adding the oil in a steady stream. Adjust seasoning if needed.
Cook quinoa according to package directions. Remove from pot and cool in a bowl in the refrigerator.
Meanwhile, bring a pot of salted water to a rapid boil. Drop the green beans in for 2 minutes, until tender but still bright green and crisp. Strain and shock by running cold water over the beans or by putting in an ice bath for 1 minute. Cut the beans into 4 to 5 pieces each and set aside.
In a large sauté pan, heat the oil at medium heat and sauté the onion, pepper and carrot for about 2-3 minutes until soft and translucent. Add the garlic and continue cooking for an additional minute. Add the beans and toss for about 2 minutes, until heated through. Add white wine and cook down until most of the liquid is evaporated. Remove from pan and cool down in the refrigerator.
Once everything has cooled, simply mix the bean mixture with the quinoa and green beans. Add the dressing and mix thoroughly. Let sit in the fridge for at least 1 hour before serving.
Nutrition Facts:
Calories: 292 / Fat: 11g / Saturated Fat: 1.5g / Carbohydrates: 37g / Fiber: 9g / Protein: 11g
# # #
Brandon McDearis is a personal chef working in the Charlotte area. He currently owns and operates Your Way Cuisine, www.yourwaycuisine.com. In addition to his culinary training, Brandon also holds a bachelor of science degree in foods and nutrition, with a concentration in dietetics. He primarily focuses on healthy cooking and addressing specific dietary needs of everyone from professional and amateur athletes to busy families and elderly people. Brandon is also one of the board of directors for Wellspring International Outreach (www.wellspring-outreach.org) and works with a group of others to raise money for the abandoned children of Peru.