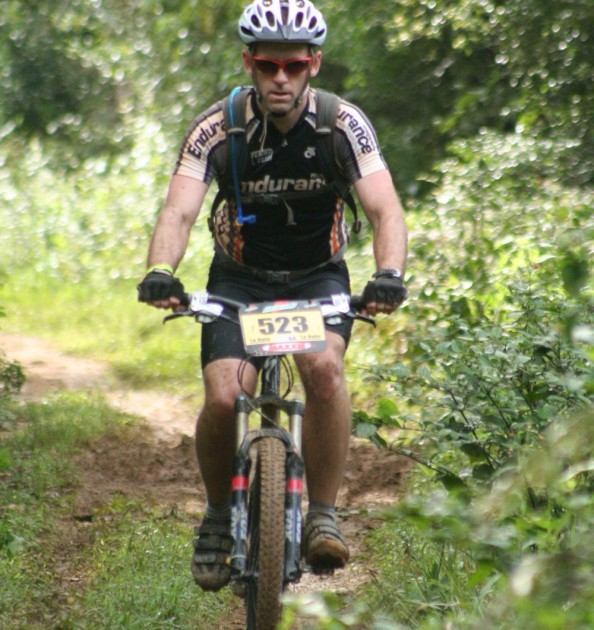 By Joe Nuss 
The typical triathlete may not love mountain biking as much as I do, but those that do are familiar with the challenge of trying to fit a little mountain-bike racing and riding into the summer training schedule. But in looking back over all of my race reports I found that my best year of triathlon racing came while I was training for the infamous La Ruta de los Conquistadores – a four-day mountain-bike race across Costa Rica.
That summer was my first venture into the sport of mountain biking. I loved it! La Ruta was in November and I started training for it over the summer while also participating in some of my favorite triathlons. After La Ruta, I continued mountain biking throughout the winter but gave it up in the spring in favor of "dedicated" triathlon training. As the season wore on, my performances declined. I was burned out on triathlon training.
If you're the type of triathlete who takes pleasure in hammering out the same workout week after week, this article is not for you. If you love triathlon and are interested in experimenting with a less scientific method of training that allows you to get in some trail time, then I've got a few tips based on my experience.
Intervals 
I'm not a coach, but I've been racing long enough to know the importance of intervals, and mountain biking is a great way to do intervals. Again, if you love routine, hop on your trainer and hammer out some intervals in front of the TV or you could try the open road, but good luck finding suitable flat terrain for any significant distance without a stop sign or intersection. Me, I'm not a fan of the trainer and need variety. If you need variety too, you might try intervals on your mountain bike. When training for La Ruta, I would routinely ride repeats of the same loop at Umstead Park and hammer the hills. Even though I was riding the same hill over and over, it always seemed like I could find a better line the next time around. Next time you need to knock out some Vo2 Max intervals, try the trails.
Intensity 
Without a power meter it's difficult to gauge how hard I'm pushing myself when riding alone. Even when riding with a group, I find I have a hard time pushing myself when I'm pulling the group because I'm worried about being either too fast or too slow for the people I'm riding with. Then, there's always traffic. Finding a good time to peel off the lead with cars zipping by makes me nervous, so I'm often focused more on traffic than on leading the group. As such, I tend to draft in group riding and lose the intensity I get when pulling. But on the close circuit of a park, I don't have to worry about cars and often have no choice but to ride with intensity. If intensity lags on a hill, I have to walk, and walking your bike is lame (at least around here; in La Ruta it was often a necessity!). If you want even more intensity, try a mountain bike or cyclo-cross race.
Distance 
Having completed an epic race like La Ruta, I can't say a six-hour day on the saddle of a mountain bike equates to the physical benefits of a long ride on your road or triathlon bike. But I can say the mental benefits of an epic trail ride will do a lot to break up the monotony of weekend after weekend of generally the same long ride near your home. The International Mountain Biking Association designates certain trails as "epic." What does epic mean? According to the IMBA, it means these rides will blow your mind! Enough said. North Carolina has two such rides: Tsali Trails in Bryson City and Dupont State Forest in Brevard. Mix up your triathlon training this year and try riding at one of these great spots for your next long ride.
If you're the classic Type-A triathlete looking for a top-10 finish or qualifying spot at Kona, this off-the-wall approach to training might not work for you. But if you're a seasoned triathlon veteran trying to keep things interesting while making some unexpected gains in fitness, this might be just the thing to augment your current training. You'll bolster your skills as a cyclist no matter what type of racing you plan to do.