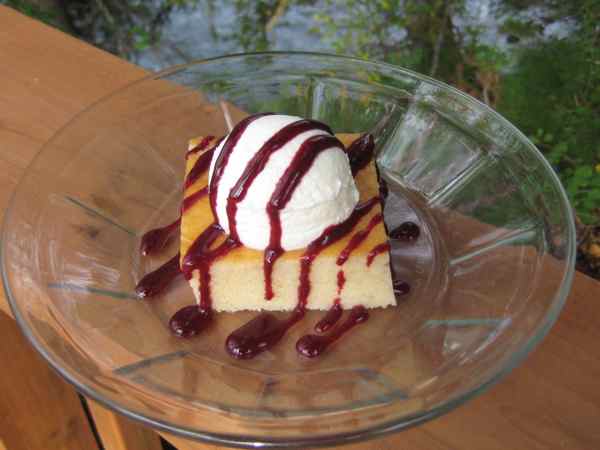 By Brandon McDearis
Rarely do I see my vegan friends splurging on desserts. And when they do decide to surrender to their sweet tooth, they more often than not temporarily surrender their veganism. While I'm not one to judge, a bit of credibility is usually lost when people decide to label themselves a certain way and then get busted crossing back over to the other side. Deciding to go vegan for whatever reason can be quite challenging and dessert, for better or worse, may never be the same. However, this month's recipe gives those who are animal-free hope for those special occasions when dessert is practically mandatory. This vanilla vegan cake holds up quite well and tastes surprisingly good, while still being lighter than most traditional cakes that use butter and eggs. The berry couli is the perfect accompaniment, along with a scoop of one of the very decent vegan ice creams that are on the market today. A scoop of Greek yogurt goes well with it too. That is, if it's not beneath you to go back to the other side every now and again.
Cake Ingredients:
1 1/2 cups all-purpose flour

1 cup sugar

1 teaspoon baking soda

1/2 teaspoon salt

1/2 cup vegetable oil

1 cup soy or almond milk

1 tablespoon vanilla extract

1 tablespoon white wine vinegar
Berry Couli:
2 cups frozen mixed berries

1/4 cup agave

1/2 teaspoon vanilla extract
Preparation:
1. Whisk together the first 4 ingredients in a bowl. Then in a separate bowl, whisk the next 3 ingredients together. Whisk the wet ingredients into the dry ingredients until smooth.
2. Add the vinegar, whisk for about 5 seconds, quickly pour into a well-greased cake pan, and bake at 350 degrees for about 30 minutes until cooked all of the way through.
3. Let cool for 10-15 minutes before inverting onto a rack.
4. Meanwhile, melt the mixed berries, agave, and vanilla extract together in a small sauce pot. Bring to a simmer and then blend using a blender or food processor. Putting the couli through a strainer will make it smoother, but it is not absolutely necessary.
5. Serve cake with a scoop of vegan ice cream and the berry couli drizzled on top.
Nutrition Info:
Calories: 165 / Fat: 7g / Saturated Fat: 3g / Carbohydrates: 32g / Fiber: 1g / Protein: 2g
# # #
Brandon McDearis is a personal chef working in the Charlotte area. He owns and operates Your Way Cuisine, www.yourwaycuisine.com. In addition to his culinary training, Brandon also holds a bachelor of science degree in foods and nutrition, with a concentration in dietetics. He primarily focuses on healthy cooking and addressing specific dietary needs of everyone from professional and amateur athletes to busy families and elderly people. Brandon is also one of the board of directors for Wellspring International Outreach (www.wellspring-outreach.org) and works with a group of others to raise money for the abandoned children of Peru.