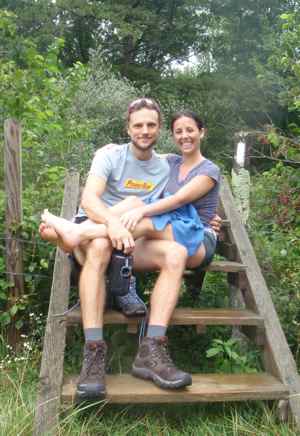 Appalachian Trail Reality
By Joshua Stevens
On paper, it seemed very doable: hike 60 miles in six days through the Mount Rogers National Recreation Area in Virginia. In hindsight, we were in over our heads. I have a feeling the Appalachian Trail forces many into this realization. We completed only 18 miles and two days, but it still felt monumental.
We began at Mount Rogers headquarters near Marion, Va. It was about 5 p.m. We would be getting a late start and probably would hike into the darkness that evening. At the headquarters trail shelter, we met "Snacks-A-Lot" (her trail name) and her companions. Snacks-A-Lot told me everyone on the Appalachian Trail has a trail name and "Josh" would not suffice. She was a lean talkative woman in her 60s who boasted of snacking often and hiking upward of 14-17 miles daily with a loaded pack. Her daily hiking average would impress me more as our hike unfolded. We headed out into the evening as it began to rain lightly.
The trail from there was rolling and pleasant. We were full of energy and easily covered the eight miles before coming to our campsite for the night. We prepared dinner and settled in for our first night in the woods. We awoke to a brewing thunderstorm. We decided to quickly cook some oatmeal and get on the trail before it started to rain. The rain continued most of the morning, but cleared as we found ourselves approaching a cow pasture full of blackberry bushes. We changed into dry clothes and snacked a little (not a lot!) on the berries and Clif bars. We then wound our way up our first ascent, a tough two miles, and took a break at the top.
This is where Andrea, my trail mate, got stung by a couple of yellow jackets. She was in pain, allergic, itching and swelling fast. The antihistamine was helpful but by then, we were done. We bailed on the remainder of our 60-mile hike because our legs felt like hamburger after 10 miles covered at the end of day two. Day three would have been 10 miles, mostly uphill. I've felt better after Ironman races. Andrea's allergic reaction to the sting really took the excitement out of the trail, too.
We limped the next three miles to our destination for the night. The next day we caught a ride from the campground host, Barbara, at the Hurricane Campground, which was a car camping area that coincides with the Appalachian Trail. We drove the humbling 20 minutes back to our starting point at Mount Rogers headquarters and headed to the Chetola Resort in Blowing Rock, N.C., for some much-needed relaxation.
The lesson learned here, obviously, was to plan training accordingly. Though fit for running or biking with the best of them, we were woefully unprepared for walking or backpacking to any degree. Our training specificity was way off the mark. While on our trek it occurred to me that the section of the Appalachian Trail we hiked offered little in the way of views, even though the elevation is around 3,000-4,000 feet. We were "treed-in" the whole time. It was as if we were on a railroad track with few distractions: no views or waterfalls or wildlife, really. The Appalachian Trail can be unrelenting in this way. For this, too, we were not prepared.
After reading last month's Endurance Magazine article on Appalachian Trail thru-hiker Jennifer Pharr Davis' record attempt of fewer than 47 days at almost 50 miles covered in a day I was floored. Unbelievable. Much respect to her!
# # #
Joshua Stevens, D.C., is a holistic chiropractor in Chapel Hill and Durham, where he utilizes chiropractic, acupuncture, detoxification, nutrition and cold laser therapy with patients. A two-time Ironman finisher, he focuses on racing cyclocross and mountain bikes – much easier!