By Brian Beatty
This exercise builds leg and torso strength. Moving while holding a weight overhead will challenge your ability to find and hold your center over your feet. By focusing on slow, controlled movement, you help refine and strengthen how the core organizes the whole body to transfer the strength of legs into your ability to move with balance, power and control.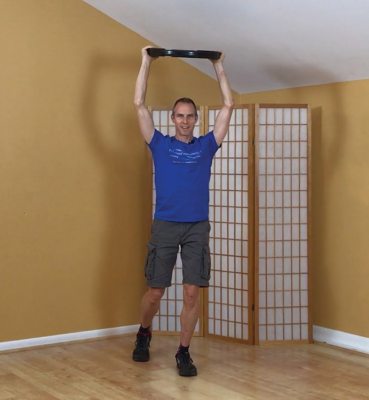 Exercise:
Start by bringing a weight directly over your head. It can be a weight plate, med ball, dumbbell, or any heavy object. Allow your shoulders to relax down and wide with a slight bend in the elbows.
Shift your weight onto one leg, moving into a slight squat.
Once you are balanced on one leg, smoothly step the other leg forward. Moving as slowly and smoothly as you can, shift to stand on the forward leg. Focus on a smooth, controlled movement. Use the load above you to help refine your ability to feel how your whole body is moved between your legs/feet as you walk forward. If done correctly, there will be work occurring through your entire torso/core, but not single point of strain or collapse.
Continue walking slowly and smoothly for 20 steps, or until you begin to lose confidence in your control.
Stop the exercise before it stops you. Respect that you have a heavy weight over your head and need to reserve enough strength to safely bring it back down.
---
Brian Beatty, PT and the Balanced Movement team are hard at work turning decades of Endurance Athletics experience into online learning platforms. Visit balanced-movement.com/online-landing/ for more Running Strength and Skills.