What is Cyclocross?
Lynn: Cyclocross is its own specific type of bike racing that combines elements of road cycling, mountain biking, and cross-country running on courses that often include pavement, grass, mud, sand, steep hills, and man-made obstacles or barriers. Racers navigate many short laps of 1.5-2 miles and typically race between 30 and 60 minutes. Cyclocross races are unrelenting and rely on aerobic fitness, good bike-handling skills and efficient bicycle mounting and dismounting. Races are in the fall and winter and are known for happening in all kinds of weather and conditions including mud, snow, rain and freezing temperatures.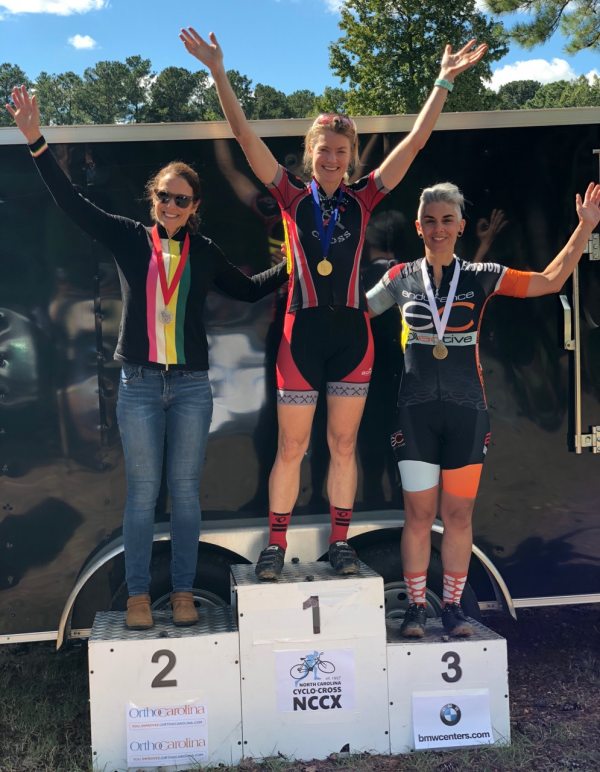 Cyclocross is a very old sport that began in the early 1900's when European road racers would participate in off-season 'Steeple Chase' competitions to stay in shape and hone skills during the cold, wet winters. Cyclocross made its way to the US in the 1960's and a national championship event has occurred here every year since the mid-70's. Today cyclocross is very popular throughout Europe, and its popularity in the U.S. increases every year.
Cyclocross bicycles are similar to road racing bicycles in that they are lightweight, with somewhat narrow tires and drop handlebars, but they also have knobby tires with greater clearances for mud, stronger frames, and a more upright riding position.
One of the things I think is really cool about cyclocross is that both mountain bikers and road bikers participate in races. The mountain bikers usually excel in the more technically challenging races or course sections and the road riders excel in courses that have long, grassy sections that require more power.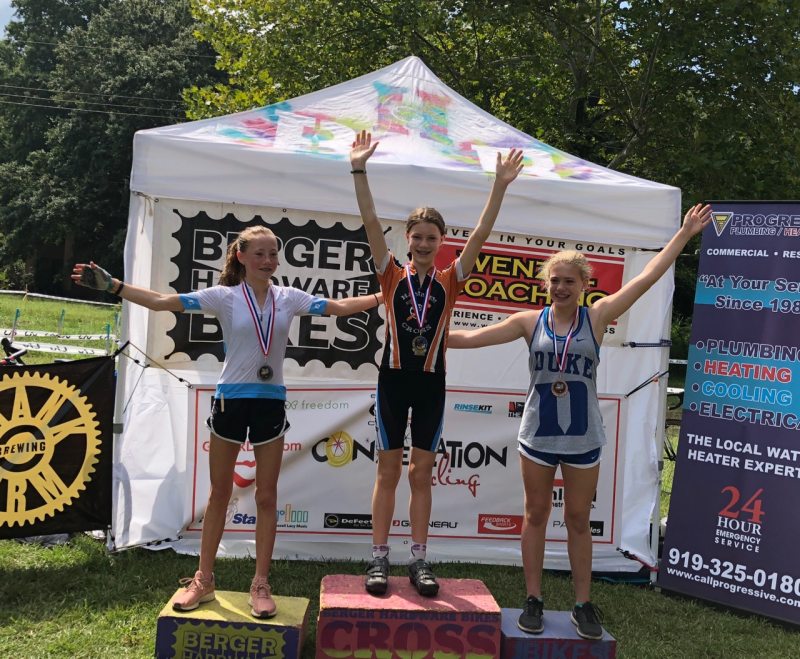 Cyclocross is a great spectator sport because the races are so short and easily visible to spectators, as well as being interesting with riders hopping over barriers, pushing their bikes up hills, sprinting down straightaways, and sometimes riding impossible sections of off-camber mud, often in ridiculous weather. The atmosphere at races is festive with friends, family and teammates showing up to cheer and "heckle" each other, ring cowbells, blast boomboxes, and offer donut or beer "hand-ups."
One of my favorite things about cyclocross is the supportive atmosphere for juniors, with parents and spectators cheering for every child. It is impressive to see the determination the smallest juniors have to get their bikes over barriers and slog through mud for 30 minutes as well as the camaraderie and support between teams and friends. This year the junior race fees for the 2018 NC Cyclo-Cross series are all being covered by several teams and organizations across the state, which is an amazing way to encourage more juniors and grow the sport.
How did you both get into Cyclecross?
Lynn: I started mountain biking in college and did some mountain bike racing. Mountain biking has been a big part of my life ever since, but I also love all kinds of bikes, so when I discovered a cyclocross clinic 13 years ago I went on a whim and then did a few cyclocross races on my mountain bike. I found out I was pregnant with Luca during that season which put cyclocross on the back burner for the next decade. When Luca was 11, we heard about a youth cyclocross team in Chapel Hill, Team Hammercross, and thought she might like it. I took her to the first practice and saw a group of parents doing skills drills with their own coach and was so excited that I could ride too! We raced the statewide series that winter and were both hooked.
Luca: I rode a few times with the KOBRA group (Kids On Bikes Riding Around) in Chapel Hill. The leader, Brian Engle, invited me to try out cyclocross. I went to some of the practices and enjoyed it. Mom and I went to a race and we haven't stopped!
How long have you been competing? How often do you compete?
Lynn: I have been competing for three seasons now. I generally go to 12 – 15 races a season and travel all over the state to compete.
Luca: This is our third season competing together. Races are every weekend. Sometimes we have one race a weekend, sometimes two. The racing season is about 4 months long.
Tell us about the mother/daughter aspect of competing? Do you always compete in the same competitions? What's it like to be doing this together?
Lynn: The best thing about cyclocross for me is that I get to do it with Luca! I feel so lucky that she loves cycling and that this is a sport that we can participate in together. We go to practices together twice a week and all of the races have junior and adult categories. Luca's race is usually in the morning and mine is in the afternoon, so we can cheer each other on during our races. I love the extra time with her in the car driving to races when we get to talk without other distractions. I also have a great appreciation for the effort she puts into her races because I know how hard each race is. Last year we had 2 races in a foot of snow, mud, and freezing temperatures. I was so in awe of her ability to persevere through those conditions when she could easily have pulled out of her race and spent the day cozy inside.
Luca: We are both pretty busy so cyclocross is a great way to connect and hangout, just the two of us. It's lots of fun to have a sport that we do together, and Mom is a big role model for me in cycling. We never race in the same category, as I usually race with the juniors, earlier in the day.
Luca, what is the most exciting part of competing for you?
Luca: I like the fast paced, but short races. I have technical skills from mountain biking, so I prefer courses with sand, trails, or other technical sections. My favorite part is the community and inclusive atmosphere. Everyone cheers when they aren't racing, and I hang out with kids my age after our race.
Do you train together? How often do you train?
Lynn: We do some skills training together, but I generally train on my own. When I'm training for cyclocross I ride on the road 3-5 times a week to build endurance and strength and then work on skills on my cyclocross bike one or two days a week. Sometimes we practice our race starts together and this year Luca is beating me every time!
Luca: I go to Hamercross team practices two to three times a week and ride on my own, or with friends, when I can. During practice, Mom is coaching so we don't train together often.
Where have you traveled to compete?
Lynn: We have traveled all over NC to race. In September we do the Berger Hardware Bikes' Cross Central series which is the Triangle's local cyclocross race series. This series is a bit more casual and is a really fun way for kids and adults to try out cyclocross. Then we do the NC Cyclo-Cross series (NCCX) which has races all over the state from October to January. This year we plan to go to Cyclocross Nationals in Louisville, KY.
What is the competition like for girls your age?
Luca: Unfortunately, there aren't a lot of girls my age competing but the category is growing rapidly!
What do you do when you're not riding and competing?
Lynn: When I am not racing cyclocross bikes, I am usually on a mountain bike, trail running or enjoying the outdoors in some other way with Luca, my husband, and my 9-year-old son. I spend a lot of my time "off the bike" working to get more kids on bikes, especially girls and youth of color. I work with a local youth program, Triangle Bikeworks, that develops youth leaders through history-based road cycling adventures. I also volunteer as a mountain bike coach with the NC Interscholastic Cycling League and I coach the Hammercross Cyclocross team.
Luca: Other than biking and school, I spend a lot of time hanging out with friends, usually outdoors. I take piano lessons one a week and enjoy playing with our six chickens.