I am honored to write the Editor's Note for the Spring Issue of Endurance Magazine. I am no stranger to this publication as I have been employed here for the last 10 years working on all our incredible and inspiring events including the Tar Heel 10 Miler and Fleet Sports 4 Mile Run and the Bull City Race Fest and Food Truck Rodeo.
And the word inspiring is exactly what graces our cover this month! Shalane Flanagan. If you don't know who she is, you should! This past November she became the first American woman to win the New York Marathon in 40 years! What's even more exciting is that she is a Tar Heel. She graduated from the University of North Carolina, Chapel Hill in 2004. During her years in Chapel Hill Shalane competed in track and field as well as cross country events and set several records for the university. She began running marathons in 2010 with much success (2nd place at the New York Marathon for her debut).
Now that the dust has settled after her New York win, Shalane will join more than 500 other runners from the Tar Heel State to run the Boston Marathon on April 16. It is her hope to become the first American woman to win that race since 1985. For Shalane it's even more meaningful as she was raised just outside Boston and feels Boston is her hometown race.
So that brings me to what what Shalane and I have in common: we're both from Boston and we're both running the Boston Marathon this April! Though, to be honest, that's probably where our similarities end. I grew up on Mile 24 of the Boston Marathon (literally) and Marathon Monday was always a big day for us locals. If we were lucky, we might have a little spring fever and we'd camp outside for hours on Beacon Street watching the elite runners go by and we got super excited when the first woman came by. We stayed until it was dusk and the crowd of runners dissipated and we forever wondered why men's nipples were bleeding. It was a special day in Boston.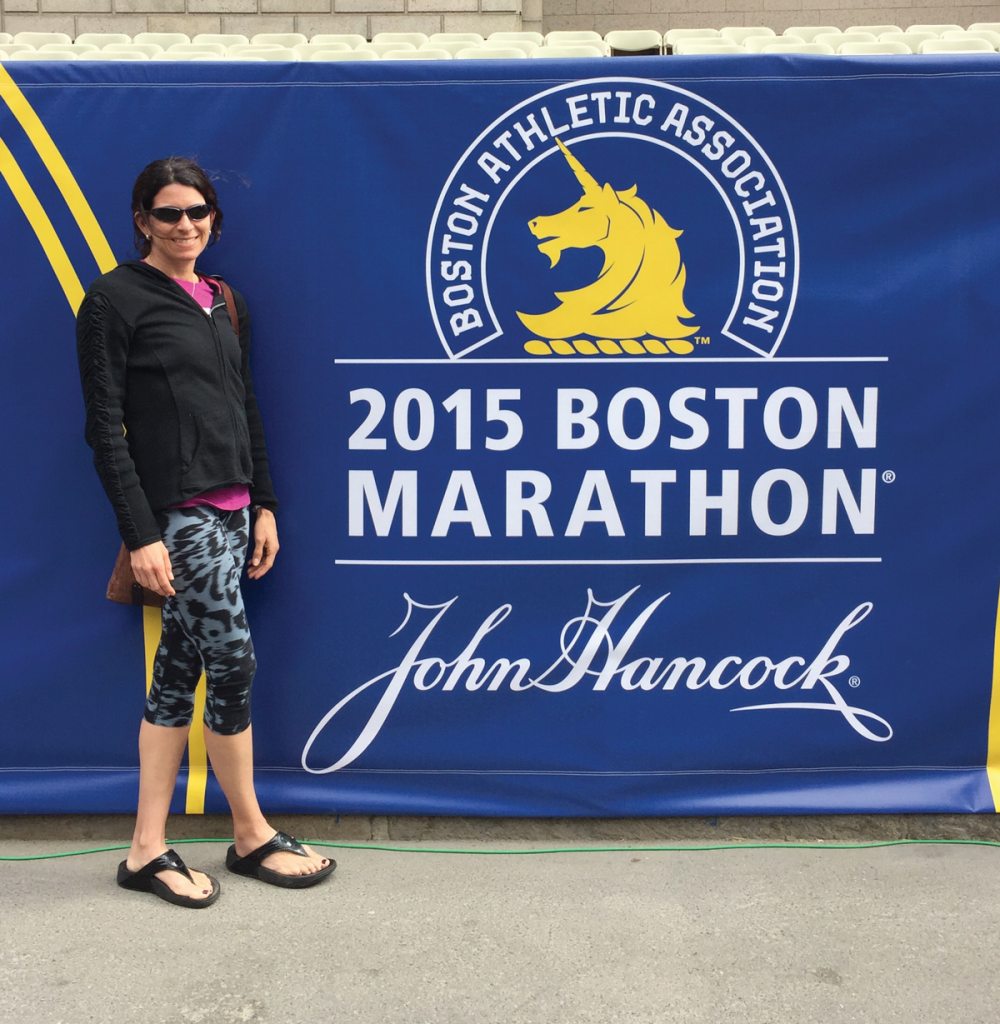 I ran my very first Boston Marathon in 1995 as a 'bandit'. This was a real thing back then. I didn't know what 'qualifying' was. I just knew I wanted to run a marathon (bucket list) and figured why not Boston? It's convenient and I don't have to drive far. So I actually called up the Boston Marathon and asked if I could run unofficially and they said "we don't encourage it" and I persisted and asked again. It was clear that this practice was "allowed". So here I was, a naive 25 year old who just wanted to run this "local" race in my front yard. So I did. In fact, I was well supported along the way with water and Gatorade and even a separate finish chute for bandits like me. I got a Mylar blanket too! This was before I knew what a "BQ" was or that it was a thing to "Run Boston." It wasn't until I moved away from Boston that I learned that there actually was something unique and special about our hometown race and that in order to run it officially, you had to be fast! So, I set my sights on running Boston officially. And I did just that. Six times.
I will be back in Boston this April running officially, but I did not qualify for this year's race. I have the honor of running this year's race as a charity runner* for the Dana-Farber Cancer Institute (DFCI) in Boston. I chose this charity because when I ran my last Boston Marathon in 2015, I was a cancer patient being treated for breast cancer. This year I will run as a survivor! DFCI sponsored the clinical trial I was lucky enough to take part in at the UNC Lineberger Comprehensive Cancer Center. I can't wait!
What is it about the Boston Marathon that is so thrilling? In this issue we highlight the journeys of a handful of the runners who are among the 500+ from North Carolina heading to Boston this April.
We hope you enjoy their stories and feel inspired.
Amy Charney, Event Manager
Endurance Carolinas
*The Boston Athletic Association invests in the community through its Official Charity Program by providing thousands of invitational entries to the Boston Marathon to select non-profit organizations. Organizations use these entries to recruit individual runners who pledge to raise funds for their cause. For more information visit: www.baa.org