One of the premiere ultra marathons in the world, the Western States Endurance Run tests the endurance, dedication, and mental toughness of the best trail runners on the planet and any one else lucky enough to gain entry. The grueling 100.2-mile race begins at the crack of dawn in Squaw Valley, CA, and winds its way along the historic Western States Trail, covering some 18,000 feet of elevation gain and nearly 23,000 feet of descents, before finishing in the Auburn, CA. The race traces its roots to 1974 when Gordy Ainsleigh attempted to finish the historic Western States Trail Ride for horses to see if he could complete the same course on foot. Twenty-three hours and forty-two minutes later he did it! A few other men attempted the same feat in the following years until 1977 when the first official Western States Endurance Run was held. Of 14 participants, only three finished. The prize for finishing is the iconic Western States Endurance Run belt buckle. To earn one, most runners have to be lucky enough to get in via lottery. Lillington, NC, resident Lisa McFadden was just so lucky and ran the historic race in 2015. We recently got the chance to talk to Lisa about her experience and passion for ultra running.
When did you start running and why? 
I started running when I was 29 years old. I began running to get back into shape after having my first two children. I quickly discovered that running was also the best stress reliever.
Why did you start doing ultra-marathons? 
My marathon times were not getting any faster. I decided if I could not go faster, I might as well go longer.  Sunmart 50-miler (Dec 2007) was my first ultra-marathon.  
What was your first 100-mile run?
Umstead 100 in 2009. I completed it in 22:23. 
What was a typical training week like for you leading into Western States? 
With a full-time job, 4 kids, and working on my Masters' degree, I was not able to train as much I should have. For the six months leading up to Western States, I averaged about 39 miles a week. 
Describe your thoughts and emotions at the starting line of Western States. 
I was excited and felt extremely lucky to be able to run such a historical race. It meant a lot to have my husband, sisters and friends there to share the experience with. 
At what point did you realize you might not make the cutoff and what were your thoughts and emotions at that point?
After I crossed the river at mile 78, I stopped to put on dry shoes. I heard the cut-off warning horn blow on the other side of the river.  I knew then I had to pick up the pace.  I had awesome pacers, and they knew what to say and how to say it to keep the pace. Around mile 95, I ran past the course sweeper sitting on their horses at the aid station.  That was when it started to sink in that I really had to move quicker when my blistered feet and chaffed thighs did not want too.
Describe your thoughts and emotions when you finished. 
Running (okay barely shuffling) around the track with my entire crew was the best part of the race.  I was so excited and I could not stop smiling.  I was so happy.  However, three minutes after I crossed the finish line, I was in the medical tent hanging on the side of a trashcan throwing up.  Vomit and dry heaves still could not take the smile off my face. 
Where is the best place to train for Western States here in North Carolina? 
Not in Lillington! If I had the time, I would have trained in the mountains in the western part of NC. Uwharrie State Park would probably be the best place to train for those who live in the eastern part of the state.
What is a typical training week like for you now?  Now that I am training for another 100-miler, I am running about 45-50 miles per week.
How did you prepare mentally for a 100-miler? 
I divide the race into segments.  For looped courses like Umstead, I think about it as 8 loops instead of 100 miles.  For Western States, I broke it down by the number of aid stations.  I knew I had to run through 21 aid stations.  You have to go into a 100-mile race with more than a Plan A, B, and C.  You need a Plan A – Z+.  Anything can happen during a 100 miler, so you cannot let a blister, chaffed butt crack, broken hydration bladder, upset stomach, or a lost pacer throw off your race.  You have to be mentally prepared for anything.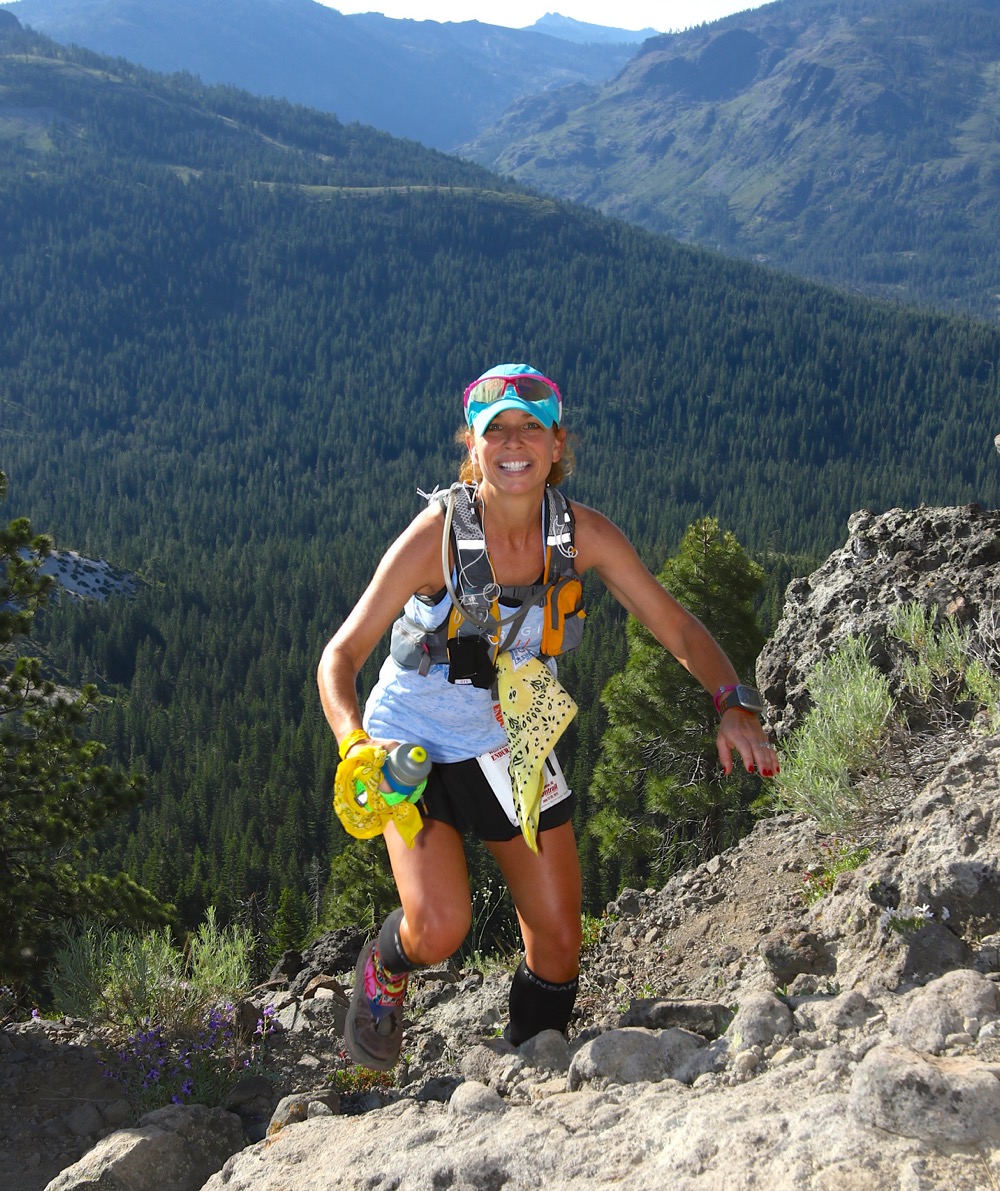 What is your nutritional philosophy and how do you fuel during races? 
I wish I had a nutritional philosophy.  I love food.  But during ultras, I generally stay away from high-sugar drinks and foods (except for doughnuts…  I love those.)  I typically drink only water and V8 if they have it.  I will also take a few shots of pickle juice.  I eat mostly chips, salted potatoes, peanut butter and jelly sandwiches, watermelon, and soups.   
Any pre-race superstitions? 
No real superstitions, but before a 100-miler, I always get a manicure and have my nails painted red.  Red makes me happy.  I will also make and eat potato soup for 3 days before the race.   It my version of carb loading.
Any post-race rituals? 
Epson salt baths and no running for at least a week.
Any tips for someone tackling their first ultra?
Learn to eat and run.  Practice walking in the middle of your long training runs. When you do walk, walk with a purpose.  Always thank the volunteers.  Make friends with other ultra-runners. We love to share our experiences and valuable lessons learned with random strangers. 
Any tips for someone tackling their first 100-miler?
Blake Norwood's three golden rules of ultra running – "Eat before you are hungry, drink before you are thirsty, and walk before you are tired."
What is you favorite "must-have" gear? 
Hoka shoes and a Nathan's hand held water bottle. I injured the tendons in my left foot during the 2010 Umstead 100 and had to wear a boot for 6 weeks afterwards. Following that, I began running in Hokas and have not worn anything else since. I MUST have my Nathan's hand-held water bottle at all times.  Even if I am going for a 2-mile run, I will take it with me.  For me, it is part of my running attire. 
Any Final words and thoughts on ultra running? 
The ultra running community is like a family.  Everyone looks out for each other on the trail.  If you are walking or appear to be in distress, the runners around you will make sure you are okay, attempt to help you, or will offer advice to help you get through the race.  For many ultra runners, it is about the experience and completing the journey.  While running a 100-miler, you will learn so much about yourself… you will learn what you are able to endure in order to achieve your goal.