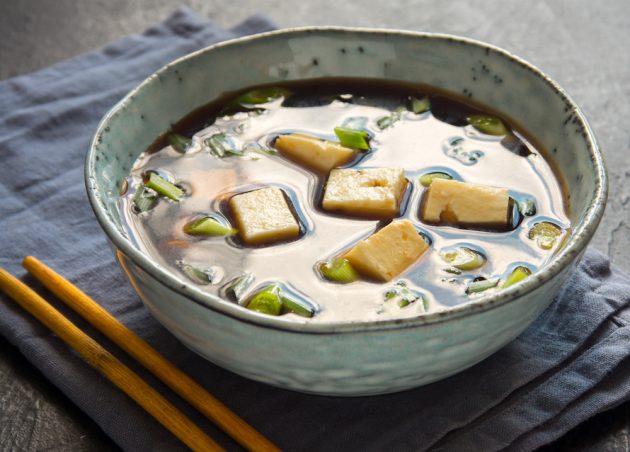 By Brandon McDearis
These days, miso is not as unfamiliar to most Americans as it was even a decade ago. With the increased popularity of sushi bars and authentic Japanese and Chinese eateries around the country, miso soup is more than recognizable to most patrons. While the fermented soybean paste is somewhat high in sodium, and some of its health claims have been recently exaggerated and contradicted, studies have shown that miso can aid digestion, strengthen the immune system and even lower cholesterol. It is also a complete protein containing all nine essential amino acids, making it a nice addition to a vegetarian diet.
This month's recipe takes the traditional miso soup and adds some sustenance by enhancing it with vegetables and buckwheat (soba) noodles. Both the veggies and the noodles add a sufficient amount of protein and fiber, making the soup filling enough to be a complete meal.  The final product yields a light, but satisfying dish that offers a significant amount of vitamins and nutrients, along with a healthy amount of antioxidant and anti-inflammatory properties. Enriching this soup with additional vegetables of the cook's choice is never discouraged. I also recommend the addition of hot chili for those who enjoy a kick.
The recipe serves 6–8. It makes about 4 quarts.
Ingredients:
4 ounces buckwheat (soba) noodles

2 Tbsp. coconut or olive oil

2 leeks (white part only), split, rinsed, and sliced

1/4 cup miso paste

1 medium bunch Swiss chard

4 medium carrots, peeled and diced

2 cloves garlic, minced

1 cup edamame (fresh or frozen)

1 block extra-firm tofu, cubed

2 scallions, finely sliced
Directions:
Prep all vegetables accordingly. Remove the stalks and stems from the Swiss chard and coarsely chop; set leaves aside. Meanwhile, bring a pot of water to a boil and cook buckwheat noodles according to package directions (about 3 minutes or until tender). Strain noodles through a colander and run under cold water; set aside.

Set another large pot on the stove over medium heat. Add oil and heat for 1 minute. Add leeks, chard, carrots and garlic to the pot. Stir/cook often for about 5-8 minutes, until vegetables begin to soften.

Add 2 ½ quarts water to the pot. Increase heat and bring to a boil. Reduce the heat to low, whisk in miso paste and allow to simmer for about 10 minutes until vegetables are tender.

Add edamame and chard leaves. Simmer until chard leaves are wilted and edamame is cooked through, about another 2 minutes.

Divide buckwheat noodles into bowls for serving. Ladle miso/vegetable soup over top. Garnish with tofu and scallions and serve.
Nutrition Facts:
Calories: 141 / Fat: 3g  / Carbohydrates: 20g / Fiber: 4g / Protein: 9g
# # #
Brandon McDearis is the owner of Your Way Cuisine, www.yourwaycuisine.com, a personal chef and nutrition consulting business. He is also a professional wanderer that spends much of his year trotting the globe and working in places such as Alaska, Australia, and Antarctica.