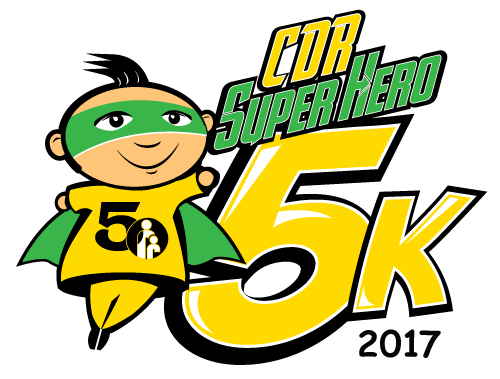 Child Development Resources presents the CDR Super Hero 5K. This Colonial Road Runners Grand Prix Event is a scenic 5K through one of Williamsburg's most beautiful neighborhoods. It boasts 800-plus attendees, with 5K walkers and runners of all ages, fun runners, volunteers, enthusiastic families and supporters! It has become a favorite among the running community with the Super Hero theme and a costume contest! This race raises funds to help the 1,100-plus young children that are served annually by the organization.
Here you'll find fun for the entire family— with children's activities, music, food, Ben & Jerry's ice cream, a bike raffle, and awards. Grab your cape, lace up your tennis shoes, and enjoy the CDR Super Hero 5K on Saturday, August 12. Registration includes t-shirt, food, ice cream, activities, and chip timing.
Create a Team and increase the fundraising! It's always more fun to run with friends.
The One Mile Fun Run/Walk begins at 8 a.m., and the 5K Run/Walk begins at 8:30 a.m. All will be followed by post race raffle, food, and an award ceremony.
CDR serves young children and their families to ensure that all children, no matter what their challenges are, reach their full potential.
To register or start a team, go to 5K.cdr.org. For information about CDR, visit cdr.org.