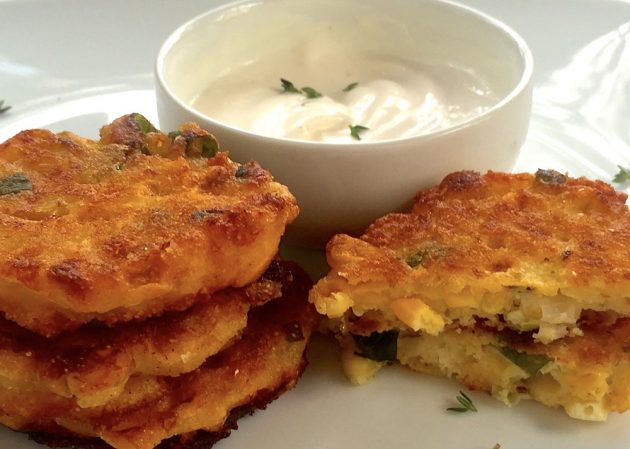 By Brandon McDearis
This month's recipe is simple and cheap to prepare, and it is also a great way to rid yourself of any spare corn that may be hanging out in your kitchen. Whether you have a surplus of fresh corn in the summer time or a bag of frozen corn that needs to get eaten before freezer-burn takes charge, this recipe is a resourceful way to put that corn to use.  You may even have a can of corn sitting in the cupboard right now, and you do not even know it. Regardless if its state, I would suggest that anyone with an excess of corn in their home give this corn cake recipe a try.
These corn cakes are very easy to prepare, and they can be eaten at any time of the day. They taste great on their own for breakfast with a little maple syrup, but they also work well at dinnertime as a side. These corn cakes can even be used as an appetizer by garnishing them with sour cream and chives. As with most recipes, there is plenty of room to play a bit with the flavors here too. You can add some finely chopped jalapeno for spice or a handful of your favorite cheese to enhance the flavor. The recipe makes about 16-20 corn cakes.
Ingredients:
1 ½ cups self-rising cornmeal mix

½ cup all-purpose flour

1 tablespoon sugar

1 2/3 cup buttermilk

3 tablespoons butter, melted

2 eggs, lightly beaten

1 tablespoon fresh thyme

2 tablespoons green onions, sliced

½ teaspoon garlic powder

½ teaspoon onion powder

pinch of salt and pepper

dash of hot sauce

1 cup whole corn
Directions:
Whisk together cornmeal mix, flour and sugar. Then, gradually whisk in the rest of the ingredients one by one until batter is smooth and everything is thoroughly incorporated.

Pour about ¼ cup of batter for each cake onto a lightly greased griddle or nonstick pan at medium heat. Cook for 3-4 minutes or until tops are covered with bubbles and edges look dry and cooked; turn and cook other side 2-3 minutes or until cooked all the way through.
Nutrition Facts:
Calories: 153 / Fat: 5g / Saturated Fat: 2g / Carbohydrates: 25g / Fiber: 2g / Protein: 2g
# # #
Brandon McDearis is the owner of Your Way Cuisine, www.yourwaycuisine.com, a personal chef and nutrition consulting business. He is also a professional wanderer that spends much of his year trotting the globe and working in places such as Alaska, Australia, and Antarctica.