From competitive to recreational to luxury tour, there is not shortage of unique cycling events to satisfy all levels of cyclists here in the Southeast. Each of these special events are interesting in their own right but, all have one thing in common— great scenery and good times!
The Assaults | May 15 | Spartanburg, SC
A bucket list ride for cyclists, The Assaults is one of the most intense, premier cycling experiences in the Southeast. It draws a group of nearly 900 cyclists from around the world each year. The Assault on Mt. Mitchell is a 102.7-mile self-paced ride from Spartanburg Memorial Auditorium in downtown Spartanburg, SC, along the scenic Blue Ridge Parkway, to the summit at Mt. Mitchell State Park in North Carolina —a total vertical ascent of more than 10,000 feet, reaching the highest point east of the Mississippi.
The Assault on Marion is a 74.2-mile self-paced ride starting from Spartanburg Memorial Auditorium and ending at Tom Johnson Rally Park Pavilion in Marion, NC. The Assault on Marion began to allow more cyclists to participate with those riding to Mt. Mitchell. Although it does not include the 28-mile trek to the top of the mountain, this event is just as enjoyable and engaging with rolling hills, multiple climbs, and compelling North Carolina scenery.
For more information and to register for The 2017 Assaults, please visit TheAssaults.com.
Le Tour de Shore  | June 17 | Onancock, VA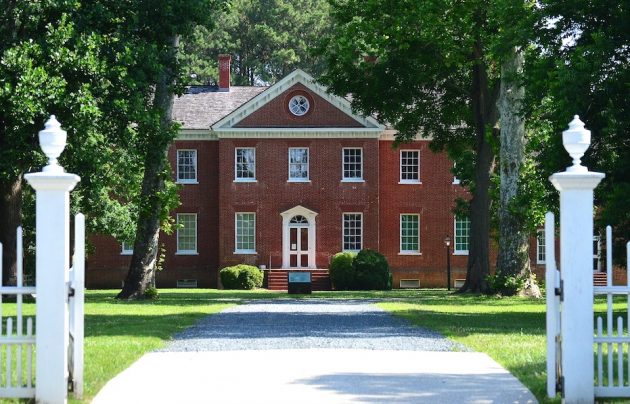 Revel in the relaxed beauty tucked between the Chesapeake Bay and the Atlantic Ocean. This land between two waters is sprinkled with quaint towns of picturesque streets lined with historic homes, museums, art galleries and shops. This countryside ride, sponsored by the Eastern Shore of Virginia Chamber of Commerce, features miles of farmland as well as country roads on Virginia's Eastern Shore. The ride starts and ends in the Town of Onancock (www.onancock.org) at the Town Square & Gazebo just a short distance from the Onancock Marina. Choose routes from 100 miles, 100k, 50k and 25k. There will be designated rest stops with rest rooms, beverages and snacks along the course. After the ride enjoy a delicious BBQ Chicken lunch served by the local Rotary Club. There's also a Friday Night fun ride that starts at the Onancock Town Square & Gazebo beginning at 3:30 and ends at the Naomi Makemie Presbyterian Church were there's a spaghetti dinner. After the ride take in Shore Made Music Festival at the Historic Onancock School starting at 2 p.m.. For more info check out www.onancockschool.org.
For more information or a registration form please visit www.esvachamber.org or email: info@esvachamber.org Or by calling (757)787-2460.
Hot Doggett | July 8 | Mars Hill, NC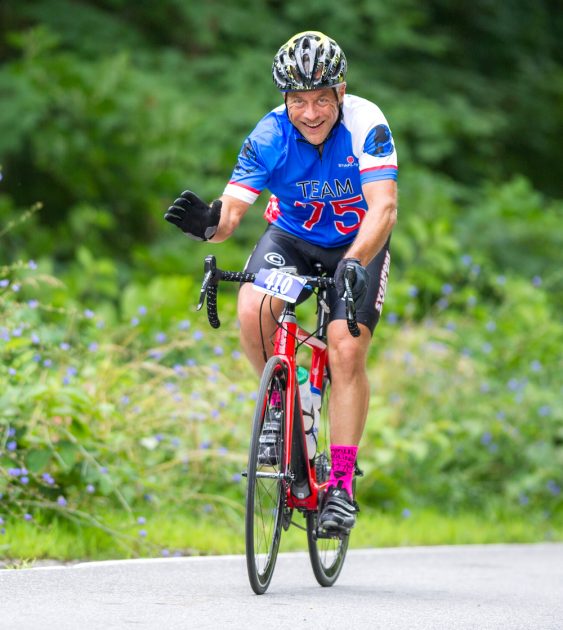 Three rides, each with their own unique character, make up the Hot Doggett.  This cycling event, named after the first steep climb up Madison County's Doggett Mountain on the 100 mile Doggett Mountain Challenge, has something to offer experienced riders of different abilities. The cautions at the top of each ride description on the website are not there for effect – they are serious! From the 100 mile ride with approximately 10,000 feet of rise and four grueling hill climbs, to the aptly named Devils Fork Metric (6,650 feet of rise and three tough hill climbs), to the more genteel Big Laurel Grind (60 km, 3,850 feet of rise and just one grueling hill climb), these rides are ready to test the endurance and tenacity of the most competitive recreational riders in the Southeast.
The Rotary Club of Madison County, NC stages this event in early July each year (hence the 'Hot' in Hot Doggett). Set in the quiet picturesque countryside of this Western North Carolina community, the three closed-loop rides use some of the least-travelled roads riders will find in an organized ride.  The courses are well-marked and are patrolled by a team of SAG vehicles; the community even sweeps the gravel off the roads in the days leading up to the event. From the start to the finish on the beautiful campus of Mars Hill University, riders are treated to well-stocked rest stops and an imaginative (vegan, vegetarian, and gluten-free options) post ride meal.
Some riders return year after year and some just come out to ride it once.  Complete information can be found at www.hotdoggett100.org. Registration is open on Active.com.
Velo4Yellow | July 15th | Wake Forest, NC
Velo4Yellow 2016 is a special event, as it is the ride's 6th Anniversary! With the support of the Velo4Yellow community, organizers have contributed $30,000 to LiveStrong in the event's first five years. Help make their 6th Anniversary a smashing success and join them on Saturday, July 15th at the Wake Forest Carolina Ale House.
Once again the event offer 3 routes: 30, 60 and 100 miles along the scenic country roads of Northern Wake, Granville, Person, Durham and Vance counties. Enjoy the ride with stocked rest stops, SAG vehicles and mechanical support. A buffet lunch provided by Carolina Ale House accompanied by live music from Joe Hero will make for a festive post ride party.
Proceeds from Velo4Yellow will benefit LiveStrong in the fight against cancer. LiveStrong fights for the 28 million people worldwide living with cancer, giving people the resources and support they need to fight this disease head-on. LiveStrong raises awareness, funds research and ends the stigma that many survivors face. Anyone, anywhere can join the fight against cancer at LiveStrong.org.
The Gyros Cycling Club sponsors Velo4Yellow as a way to give back to the community. With the prevalence of cancer in society, LiveStrong is a great choice of benefactor. The goal of Velo4Yellow 2017 is to sustain and grow both ridership and their LiveStrong contribution. The Gyro's philosophy is to provide a high quality event generating tons of excitement while making the entire day fun! So far, it's working. Velo4Yellow took top honors as Endurance Magazine's "BEST" Charity Ride and "BEST" Century Ride in the Triangle from 2013 to 2016! Whether you ride, volunteer or donate to the cause, please help make Velo4Yellow another great event in 2017.
Get all the details and register at www.velo4yellow.com.
Gran Fondo Asheville | July 23 | Asheville, NC
Discover alluring Asheville, from the unique perspective of your handlebars. Mark your calendars for the 4th annual Gran Fondo Asheville, a fun and festive ride on Sunday, July 23, 2017. Road cyclists will take in the natural beauty of Western North Carolina as they cruise along a well-marked course with the option to push themselves for brief timed periods, competing to win. Beginner and avid cyclists alike will find challenging rides to meet their individual goals with courses covering 30-, 60- and 100-mile journeys.  Gran Fondo Asheville is a part of the Giordana Gran Fondo National Championship Series (GFNCS) and benefits Friends of Great Smoky Mountains National Park.
Your ride begins in funky art deco downtown and quickly moves along winding roads out into pastoral countryside and up to mountain ridge vistas. At the end of the ride as you descend into the heart of town you will be afforded a spectacular cityscape view and be greeted by fellow riders and families to enjoying the vendors, massage therapists, and fun happening at New Belgium Brewing Company, and of course– food and beer!
For more information and to register please visit https://www.granfondonationalchampionshipseries.com/gran-fondo-asheville/
Mountain Mama Road Bike Challenge | August 5 | Monterey, VA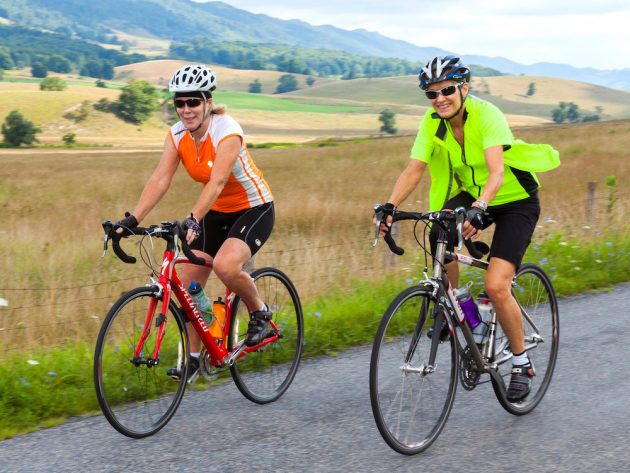 The 2017 Mountain Mama Road Bike Challenge is scheduled to take place on Saturday, August 5th in beautiful Highland County, Virginia.  The yearly event features 2 States, 3 Counties, 9 mountains, 105 miles, and over 10,000 feet of climb.  The challenge features 4 courses of different ability level, they include:
Blue Grass Valley Ride: 27 miles of rolling valley hills
Two State Short Ride: 53 miles and 4 mountains to climb
Two State Long Ride: follow the century ride for 54 miles then add the Blue Grass Valley ride for a total of 67 miles with 4 mountains to climb
Century: 2 States, 3 counties, 9 mountains, over 100 miles and over 10,000 feet to climb
For more information and to register please visit http://highlandcountyrecreation.org/mountain-mama-road-bike-challenge.html
Cycle to Farm | September 2 | Asheville, NC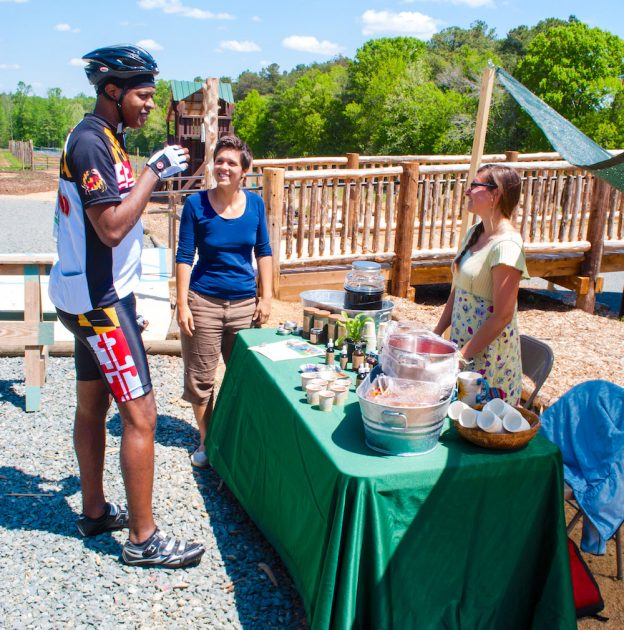 Cycle to Farm® Bicycle Tour is an intimate experience that encourages and promotes local farmers, local farms and agritourism by bicycle in Asheville NC. You may have heard of Cycle to Farm before— for years it was a large group ride, held in a variety of locations (10 times!) and very popular. Over time, the event attracted thousands of cyclists and provided 29 farms with the opportunity to sell their products. For 2017, the event morphed from a large group ride into a luxury tour of just 10 riders at a time. Same great concept, but an intimate experience that proceeds at the rider's pace. The Cycle to Farm metric century length was also eased to a mere 43 miles… But this is Asheville, so the route is still challenging with plenty of climbing. And the farms are still beautiful with tasty samples!
As you ride from farm to farm, you'll be offered tasty snacks sourced from the farms you are visiting — and the opportunity to buy their products, produce and wares. The Cycle to Farm folk will carry your purchases in the Velo Girl Rides van while you ride. Just as it was done in the original version of the large group ride.
The ride begins at one of the local farms favored by long-time Cycle to Farm participants: Hickory Nut Gap Farm. After a tasty snacks, off the journey begins on beautiful country roads. After stopping off at the farms for a rest, snacks, and shopping, the tour returns to the Hickory Nut Gap Farm for a luscious and delicious farm-to-table meal.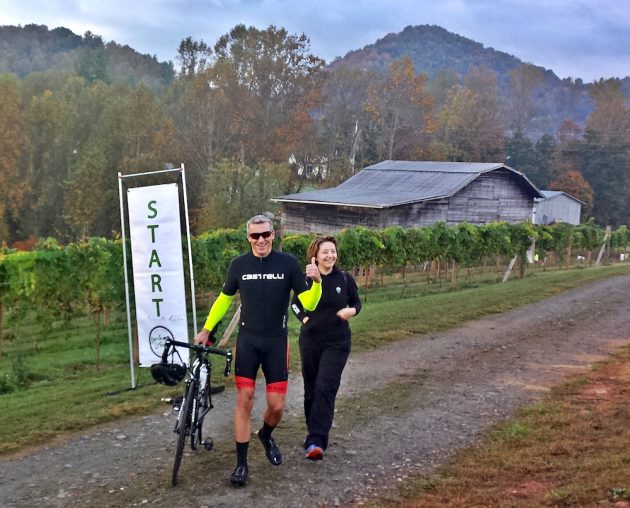 Registration of $275.00 per rider includes all support, farm samples, and food, as well as a goodie bag with the famous CTF comfy T-shirt and handcrafted pottery from a local artist. Arrangements can be made for non-riding partners that want to meet their rider at the Farm for the celebratory meal; children love the Farm with plenty of activities so this is also a family option.
For more information and to register please visit http://CycleToFarm.org. And if none of the dates work for you— or you have your own group of 10 riders and want your own Cycle to Farm— contact the creator of Cycle to Farm, Jen@VeloGirlRides.com as she can often accommodate other dates.
Bobby Labonte Charity Bike Ride  | September 9 | High Point, NC
The Bobby Labonte Foundation, launched in 2003 by 32x NASCAR race winner, 2000 Monster Energy NASCAR Cup Series Champion and 1991 NASCAR XFINITY Series Champion Bobby Labonte, is a non-profit organization dedicated to supporting the needs of local families and children throughout the Triad of North Carolina.  The Bobby Labonte Charity Bike Ride (formerly the Bobby Labonte Tour de Reason) is now aligned with the High Point Cycling Classic, confirmed on the Carolinas Cycling Association calendar, to be sanctioned by USA Cycling and scheduled to return to the city of High Point, North Carolina in September of 2017.
For more information and to register visit http://bobbylabontefoundation.org/.
Bookwalter Binge | October 28 | Asheville, NC
Cycling Pro Brent Bookwalter invites everyone to join him for a challenging Gran Fondo in beautiful Asheville, NC, Saturday October 28, 2017. Brent and Jamie Bookwalter are stoked for you to join them for a Gran Fondo ride that is a relaxed end-of-season "party on wheels", and at the same time also challenging— with racing on timed segments of tough climbs. The route is stunning, beautiful, and perfectly timed for the Fall colors in Asheville. Three routes of varying length traverse some of the most beautiful roads in the Blue Ridge Mountains near Asheville, North Carolina:
Gran Route – 7,400 ft of climbing in 83 miles
Medio Route – 5,500 ft in 62 miles
Piccolo Route – 2,500 ft in 29 miles
This is an unusual opportunity to ride alongside female and male pro cyclists as they celebrate the end of their season racing all over the world and the country. The pro's ride out from the start with all participants, and along with Jamie and Brent, are on all three routes, accessible and eager to chat.
When you return after the ride, there is great food and beer, which is typical of the Asheville region— big climbs, great eating and great beer!
There are prizes for top categories, and a raffle for awesome swag. Proceeds support Southern Appalachian Highland Conservancy, a non-profit that is protecting land throughout the region.
The Binge has a special offer, new for this year: Teams, which can be formal or informal, qualify for discounted registration… and unique team prizes. A group of riding buddies qualifies, as does a college team. The website has details for the team registration.
For more information and to register please visit http://BookwalterBinge.com.