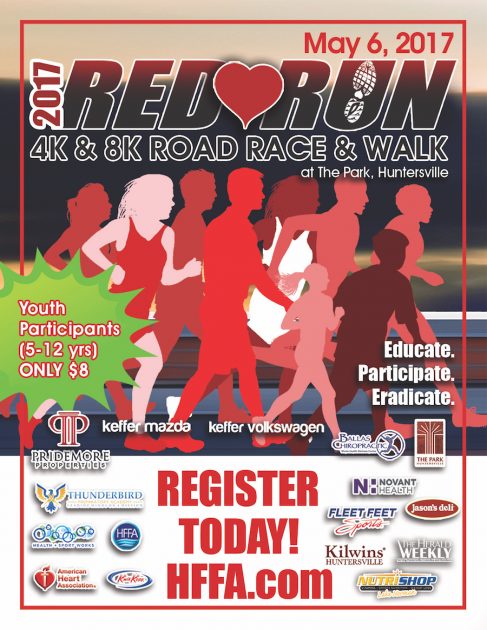 Did you know heart disease is the #1 killer in The United States? Join the fight on 5.6.17 for the 2nd Annual Red Run/Walk 4k & 8K! We have added an 8k this year for the more seasoned runner, and also encourage men, women and youth to all participate. Heart disease impacts more than women. Together with the American Heart Association we want to increase awareness and education in our community.
By participating in the Red Run, YOU can make a difference! Plus, did we mention great swag, awards and random giveaways from local businesses just for participating? This is a fundraising/educational event you won't want to miss!
COURSE INFO
Race Location: Huntersville Business Park
Red Run 4k & 8k: This is a run/walk loop course that starts & finishes on Kincey Ave. (between Novant Health and The Reed Building). PARKING Available at the Reed Building ONLY. These are open roads with a lead cyclist, course markers and police assistance for temporary road closings at heavy intersections. This is NOT a certified race course.
SWAG/GIVEAWAYS
This event is more than a run/walk…We'll have many fun giveaways for all participants including red boas, red visors, dark chocolate hearts at the half way mark, random gift certificates from local businesses. Who wouldn't want the chance to win free stuff just for walking or running?
FUNDRAISING
The sole purpose of this event is to educate! Knowledge is Power! It is our hope that you will register for this event and will commit to setting up a fundraising page or making a donation that will go directly to support the American Heart Association's research efforts.