By Joe Nuss
While his younger brother's Tyler and Ben achieved basketball stardom in college, Greg Hansbrough's life has been a slow-developing play in success of another nature. Before he was 8 years old, Greg's life was diverted to a path he never expected to be on, a path that made not just a collegiate or professional career in basketball impossible but, one that could have ended his life.
At 7 years old, Greg was already shooting baskets left- and right-handed. He would even switch hands while eating dinner but, one night he couldn't do it. He couldn't pick up the fork well enough to eat and it set off an alarm for Greg's father who was a doctor. After a few simple tests, Greg's dad drove him to the hospital for CAT scan to see what was going on. The CAT scan revealed a tennis ball-sized tumor in Greg's brain.
The Hansbrough's drove straight through the night from their home in Poplar Bluff, Mo., to St. Louis to get it checked out at Barnes-Jewish Hospital, the largest in Missouri. The prognosis was the worst that could be expected."They told my dad that they couldn't do surgery," says Greg. "They told him that I had just two months to live."
Greg's dad didn't give up and found a surgeon at the Mayo Clinic in Minnesota who would perform a new experimental surgery to remove the tumor. Greg's parents were told he had a 10% chance of survival. Fortunately, the removal of the tumor was successful and also revealed it to be benign.
"I was pretty lucky, to be honest," says Greg. "From that standpoint, I didn't have to experience the chemo treatments. I didn't have to lose my hair from all of that. So, from that aspect I was pretty lucky."
But, after surgery, Greg couldn't walk.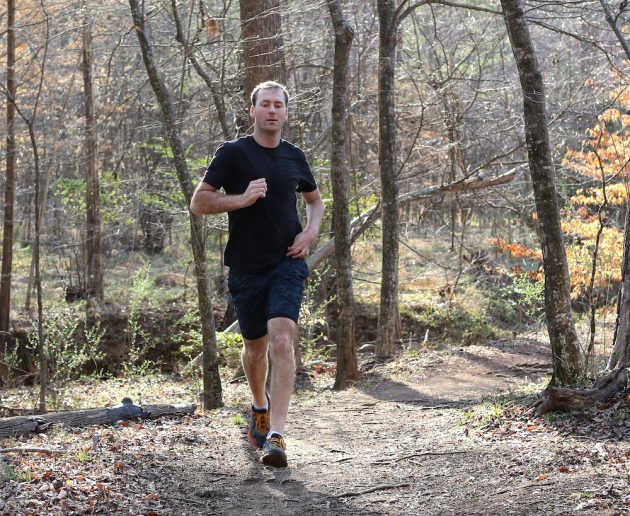 "That was the first time it hit me. 'Oh no… this isn't right.' Something's really wrong I thought. Because I'd been thinking, 'Well, I'm getting out of school. This is kinda cool, I'm missing school for this.' It was like it was the flu or something. But, after I woke up from that surgery, my head felt lighter. It still felt tender to the touch. The pounding headache was gone but, I couldn't walk. That scared me."
Greg would get incredibly dizzy just from sitting up. He soon found he could stand up on his right leg but, had to hop to get around because he couldn't use his left leg. He also couldn't use his left hand. He was scared and worried he might never walk again.
But, he did. At seven years old, Greg started physical therapy in a wheel chair. Once Greg began to regain the use of his left hand he and his therapist were ready for the more challenging task of walking.
"First, she put the foot rest up on my wheel chair and I'd walk myself around the section in the chair. After doing that for about a week, she had me stand up. My legs were kind of wobbly," Greg added. "It took me a few days to learn to put my foot down and walk. Then, after I started taking steps, she taught me how to swing my arms and I walked with her from around the little activity room to around the corridor. Each day, we just went further and further. She would also tweak my gait and the way that I walked so that, by the last few times we had physical therapy there, I was able to walk around the whole hospital section with her just kind of watching and talking with me. It was almost like I enjoyed going further and further each time at physical therapy."
Greg's first difficult steps during physical therapy certainly weren't his last. There would be many more challenges over the years to come. From making the high school basketball and cross country teams to running his first marathon in college, Greg continued to push his limits further and further. It was not without a struggle and not without the help of his family and friends. Over the past few years, Greg has taken up ultra running and has completed several races with the help of his training partners and fellow "Trail Heads", a local non-profit aimed at promoting the sport and an appreciation of the outdoors. Greg admits, he wouldn't be enjoying the passion and strength he has developed from running without the support of his family and fellow Trail Heads.
In his new book, "Enduring Strength" Greg writes about those hardships he endured and how those trials gave him a set of tools that have enabled him to accomplish goals he never thought possible. He explains how it was more than just learning how to walk again; how it was the unexpected consequences of having that tumor removed that lead to struggles with disappointment and depression along his journey. But, through hard work, he built his passion for running and took it to a level no one thought possible.
"Part of the reason I wrote my book," says Greg, "is so that people can see that when you're going through difficult situations, even though they're really hard, it's almost like an "outlier" situation in disguise. The book "Outliers," where it talks about people becoming super successful, all has to do with their situation, like the reason Bill Gates is super successful was because of the timing and how he was able to get into some of these computer labs and do coding before anyone else could and learn the different techniques. It's the same thing with me. I would probably never be a trail runner or an ultra marathon runner had I never had a brain tumor. If it weren't for the people and the things in my life, I would never be who I am today. In fact, if I didn't have my brothers or an athletic family, I may not have ever pulled out of the things that I was, out of that depression or I may not have ever become an athlete in the first place, so I may not have ever experienced all the things that I have in my life."
Greg hops that his story will help other people who are going through hardships and difficult situations.
"Yes, you're going through it now but, you're gonna be much stronger for it at the end," says Greg. "When you become the person you're supposed be, you're gonna look back on it and say, 'Hey, that was really difficult, but that made me the person I am today and I'm very proud of who I am today.'"
You can find a copy of Greg's book, "Enduring Strength" on Amazon at https://www.amazon.com/Enduring-Strength-Story-Hansbrough-Brother/dp/1890586579

---
Helping Kids with Brain Tumors
The Pediatric Brain Tumor Foundation works to eliminate the challenges of childhood brain tumors. As the world's largest nonprofit solely dedicated to the pediatric brain tumor community, their mission is to care for and cure the kids.
To accomplish their mission, the foundation aims to:
Fund research to find the cause of and cure for pediatric brain tumors

Increase public awareness about the severity and prevalence of the deadliest childhood cancer

Aid in the early detection and treatment of this disease

Provide educational and emotional support for patients and families
The PBTF has invested more than $29 million in scientific discovery at more than 50 centers worldwide. The research they fund has paved the way for more focused efforts to understand the cellular and molecular biology of childhood brain tumors. This has opened avenues for the discovery of new diagnostic and treatment approaches to increase survivorship and improve quality of life.
The foundation is building a community with pediatric brain tumor families through support programs, educational materials and engagement activities. These include college scholarships for brain tumor survivors, financial support for families in crisis, a toolkit for newly diagnosed families, brain tumor family camps, peer mentoring and participation in Ride for Kids, Starry Night 5K and other signature events. Their chapters and Vs. Cancer's local hospital partnerships also enable on-the-ground support across the country.
Starry Night 5K is an evening walk/run followed by food, music, activities for families and a powerful lantern lighting ceremony to honor our Stars – children diagnosed with a brain tumor. PBTF supporters, donors and Star families shine their light on childhood brain tumors and our shared hope for a cure. The Starry Night Triangle 5K takes place September 30, 2017. Find out more about the PBTF and their events: www.curethekids.org.