By Robert Bickerstaffe
"Write an article on why you ride, just 500 words, should be easy" I was asked. Initially I believed it would be easy too.
The usual answer of keeping fit sprung to mind, or maybe helping my recovery from stage 4 cancer was my reason. After a few moments of thought, I realized I had no clue why I spend every waking moment, and often sleeping moments, thinking about cycling.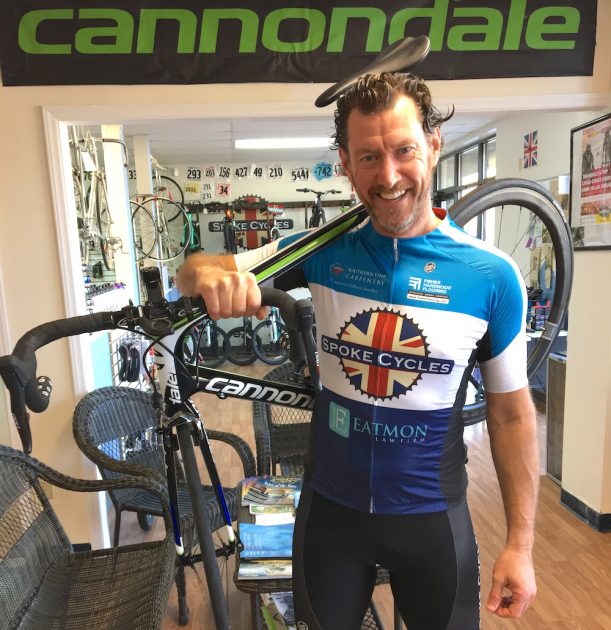 This brought me a dilemma, how do I write about why I ride if I have no clue?
After several days of soul searching I came up with a scary realization, I am a cycling-adrenaline junky. I needed the excitement of rolling up at the start line of a race and not knowing if it would be last position, first position, broken thumb or collar bone! I realized that every ride had to be a step closer to rolling up to the start line.
My cycling addiction started back in my home country of England when I was 10 years old. I headed out to complete 10 miles of a 50-mile charity ride. After getting separated from my friends, I found refuge with a large group of cyclists who dragged me along for the full 50 miles! I was exhausted, cold, wet, and hungry but mostly high on the exhilaration that I had achieved something that no one but me could prevent. I was the only one who could stop me from riding, plus I found out I was pretty good at it.
Through the ages of 10 to 16, I trained every moment available and raced whenever possible. Unfortunately, for my cycling career, I needed a job and realized that life could give me other highs in the form of the opposite sex and beverages that made me temporarily irresistible to all woman and absolutely hilarious, even if I say so myself. Yes, in the UK you could easily spend your time in pubs at 16.
Many years passed with me never wanting to throw my leg over the saddle of a bike until I moved to North Carolina in 2006.
The open roads, amazing weather, and many hours of free time gave me the idea to buy a bike. I visited my local bike store and was amazed to learn about all the technical advancements that had been made in the last 20 years I spent away from the bike. I pulled out my credit card, shaved my legs, donned all the unflattering attire, and ventured out for a ride.
That was when 20 years of stagnation disappeared. I rode solo initially as I regained my "form", then I dared to join the beginners group of a local cycling club (thanks Mike, for your patience). Quickly the beginners wasn't enough, I increased pace to the "B" riders, then the "A-" and eventually the "A+" group. Reaching the fastest group in a club left only one other step, I had to join a racing team and compete again.
Every day now I think about riding to keep my fitness so I can venture out and test myself against other cyclists and, although I don't fit into size 30" jeans anymore, I still need to line up on the start line of a race. I still need the feeling of not knowing if it would be last position, first position, broken thumb or collar bone!
Current injury count: 1 broken thumb, 2 fractured ribs, 2 dislocated fingers, lots of road rash, 1 ruptured back muscle, 1 divorce, 1 life savings to buy a bike shop (Spoke Cycles in Wake Forest) and lots of sleepless nights reliving what I should have done in a race… pure bliss!