By Dana Ayers
When I trained for my first marathon, I used cycling as my cross training activity of choice. However, cycling is still a cardio activity. What I lacked – and what I assume many runners and triathletes may lack – was solid strength and flexibility training. I've recently learned to embrace both, in addition to my running, and here are my tips for others who struggle to get out of their cardio comfort zone:
Find your motivation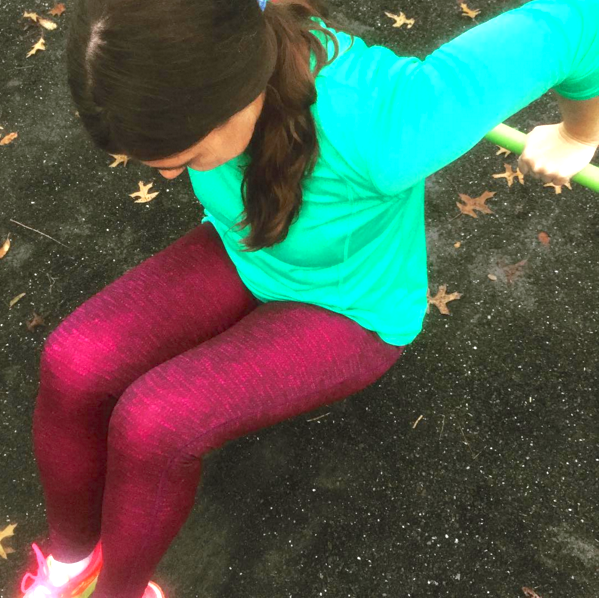 I have never used a personal trainer, until this year. Mainly because I was too cheap to pay for one, but also because I hate being forced into a schedule. What if I set my training up for every Tuesday, and next Tuesday I don't want to bear crawl across a dirty gym floor at 7 am? What if I want to sleep in and grab a mocha before work instead? (Spoiler alert – I will always want to sleep in and grab a mocha instead of working out… exactly why I need a schedule.)
My turning point was this past spring when I was perched on a stool at a coffee shop working on my computer. I could feel my stomach pooching over my waist band and realized I'd spent the first part of the year willing my body to shrink and get stronger, instead of actually working at it. I packed up my things right then, marched into a gym, and basically barked out, "FIX ME."
Exactly how to "fix me" was the big question. I was still cheap, so I wasn't ready to plunk down a ton of cash each month. I worked out a deal where I would man the front desk for the gym in return for free group classes. I paid full price for a personal trainer, but given how much I was saving on group classes, I felt like I could make that sacrifice. Lesson: where there's a will, there's a way. Even if training costs scare you – try to negotiate something with your gym. Chances are they'll work with you because they want you to succeed.
And it turns out parting with money was exactly what I needed to push me to finally improve my fitness. Once there was money on the table, I was much more motivated to actually show up to the gym and get what I paid for (or worked at the desk for). Find what motivates you and use it to kick start your new strength training regimen.
Set your team
Next, I had to pick my trainer. I went through several days of Goldie Locks-esque trial runs with all the trainers to see who I clicked with: "this one's too tough," "this one's too nice," "this one scares me," (that came after I walked in to find the client before me on the ground with his feet up and the trainer smiling maniacally at me as he told me that's what I had to look forward to. I thought he meant it was an exercise. I learned the hard way it's the position you end up in after class when you're desperately trying not to throw up or pass out. Needless to say, I did not choose that trainer.)
I finally found one that was "just right" and we launched into a relationship that supported my goals. Decide your goals and find the trainer, friend, or accountability group to be the team that helps you achieve them.
Bake it into your life
As much as I balk at having a set schedule, I see why it's a key to success. I've had to change my day or time with my trainer, but just having a placeholder on my calendar each week – even if I have to make adjustments – has helped me make it to my training appointments more consistently than when I was falsely hoping I'd just "feel" like going to the gym. Now when I review my weekly calendar, I automatically account for gym time at least three days. After all, I'd be leaving money on the table if I didn't!
Even if you have to tweak the time occasionally, go ahead and schedule strength workouts for the next several weeks. Soon, it will become a habit you don't even have to think about anymore!
# # #
Dana Ayers is the author of the #1 Best Seller "Confessions of an Unlikely Runner (A Guide to Racing and Obstacle Courses for the Averagely Fit and Halfway Dedicated)." Dana accidentally became a runner over 10 years ago and has logged a vast array of average finish times since. She is a former White House staffer, and current military reservist.