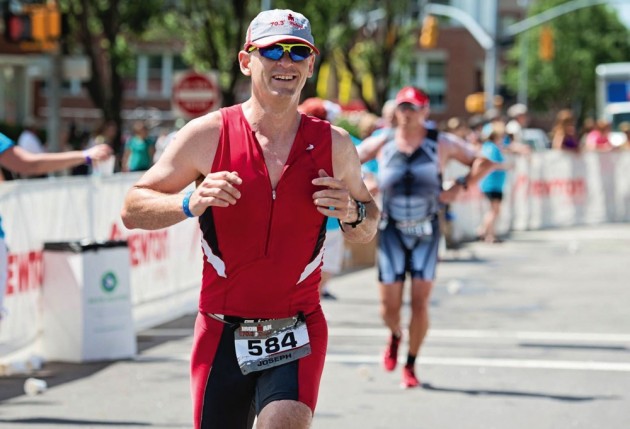 Reviewing my two big fitness resolutions from last year, I realized that I accomplished only one of the two resolutions. My first goal was to focus on what I love most, which is swimming. There is no doubt that spending more time in the pool made me a happier person last year not too mention keeping me in decent shape to not get winded the few times I worked in a surf session at the beach. My other goal was to get more race shirts in 2016. Unfortunately, I came up empty last year in terms of race shirts.
While I plan to continue to focus on what I love (swimming, surfing and maybe another downhill mountain biking trip) I plan to get some race shirts this year. In fact, I've already signed up for Ironman 70.3 Raleigh. As I edit this issue— our annual event guide— I plan to put at least one olympic distance triathlon on my calendar prior to Ironman 70.3 Raleigh and hopefully a few more events throughout the year. I hope you find this issue just as much a resource for finding great events to race as I do!
This issue is also a great source for diet and nutrition advice as well. In this issue, nutritionist, Tracy Owens offers us some great advice on meal planning. In the past few years there has been a huge shift in eating habits with so many people expressing an interest in making healthier, homemade meals made from wholesome, locally-grown, organic ingredients. But no matter our good intentions these healthy and homemade meals often never get made. Check out Tracy's article, "How to Make Healthy Homemade Meals in a Snap" to learn what you can do to make sure all those healthy food actually make it on your plate before they go bad.
Our recipe this month won't actually make it on your plate but, it will make it in your bowl. Brandon McDearis heats things up this winter with his Southwest Black Bean Soup. It's an easy to prepare soup with hints of spicy southwestern flavors. Low in calories and fat and high in protein and fiber, this soup can be a great first-course or can be the center of the meal by itself. Instead of seeding the jalapeño keep in the seeds if you want to turn the heat up a notch!
If you're looking to turn up the your adventure and excitement level this summer you will definitely want to check out this month's featured destination— Winter Park, Colorado. I had the fortune of traveling there last summer and had absolutely amazing time at the Trestle Bike Park. While some of the hills I tackled while mountain biking in Costa Rica a few years ago featured some significant downhill sections, I never experience the downhills of the exciting Trestle Bike Park and the Winter Park Resort. Throw in some awesome bucket-list hiking in the Rocky Mountain National Park and you have got yourself a perfect family summer vacation. Check out my article in this month's "Destination" section.
We also feature two great features this month as well. First, in celebration of Black History Month, we feature the new running organization called Black Men Run including one of it's members Jason Knight. Read about what inspired Knight to lace up and start running with this awesome group. You can also find out where and how to connect with a Black Men Run group in your area, as well.
Finally, we feature the inspiring story of Martha Nauman who overcame a life-threatening illness only to lose her legs to complications. How Nauman fought her way back to health is a lesson to us all on the power of perseverance and surrounding yourself with a team of health care professionals can help us overcome any type of injury. Read about Nauman in the article, "From Athlete to Amputee".