By Brandon McDearis
Sweet potatoes usually show up as the star of one of these recipes at least once or twice a year. They are not only very versatile for cooking (their uses and preparation methods are endless), but they are consistently ranked by various food and nutrition publications as one of the healthiest foods on the planet.  Sweet potatoes are rich in beta-caroten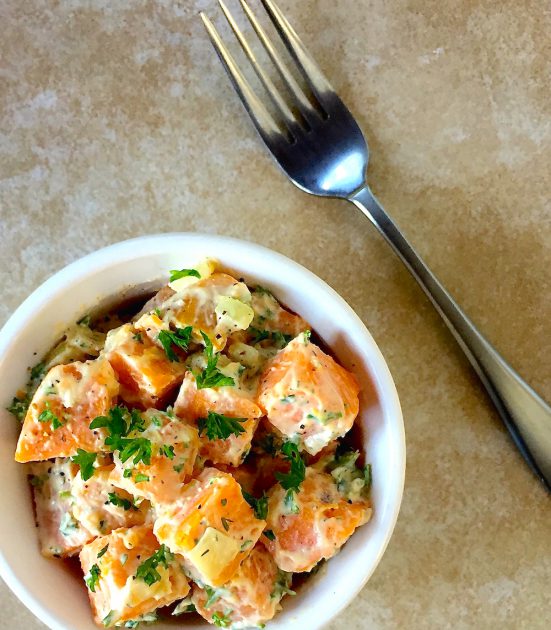 e, vitamin C and dietary fiber. As a complex carbohydrate they fall low on the glycemic index, making them beneficial for controlling blood sugar.
This month's recipe is a lighter take on the classic potato salad. The sugariness of the sweet potato adds some extra, unique flavor often lacking in the traditional version, and the added nutrition turns a guilty pleasure into a wholesome side dish. There is always plenty of room to play around with this recipe. It can be prepared with a mix of red and/or yellow potatoes to allow for more flavor contrast, and more mayo and sour cream can be added for a richer and denser final product. The recipe makes about 10-12 half-cup servings.
Ingredients:
5 large sweet potatoes
1 small to medium-sized onion, diced
½ cup mayonnaise
½ cup sour cream
Pinch of salt and pepper
½ teaspoon of garlic powder
½ teaspoon of onion powder
½ teaspoon of dried dill
Shot of hot sauce
2 tablespoons of fresh chopped parsley (optional)
Directions:
Dice sweet potatoes into medium-sized chunks.

Boil a pot of water and drop your potatoes into the boiling water. Cooking time will vary depending on the potato, but let them boil for 5-10 minutes until cooked all the way through, but not to the point of mashed potatoes.

Strain the potatoes and lay them on a sheet pan to cool. They can go in the freezer for 10-15 minutes to cool faster.

Meanwhile, heat the oil in a skillet at medium heat and cook the onion for about 5-10 minutes until soft and beginning to brown.

Add it along with the rest of the ingredients to a bowl. Mix everything together.

Taste to check the seasoning and adjust it accordingly to your preference.
Nutrition Facts:
Calories: 116 / Fat: 4g / Saturated Fat: 1.5g / Carbohydrates: 17g / Fiber: 4g / Protein: 3g
# # #
Brandon McDearis is the owner of Your Way Cuisine, www.yourwaycuisine.com, a personal chef and nutrition consulting business. He is also a professional wanderer that spends much of his year trotting the globe and working in places such as Alaska, Australia, and Antarctica.