By Brandon McDearis
This month's recipe is a quick and easy meal that can be prepared with ingredients that you likely already have in your kitchen. Stuffed peppers are a filling and nutritious meal on their own when served with vegetables or a salad, but they also make for a healthy and satisfying side dish. There are many variations of stuffed peppers found across the world in the cuisines of Spain, Mexico, India, and the Middle East, to name a few.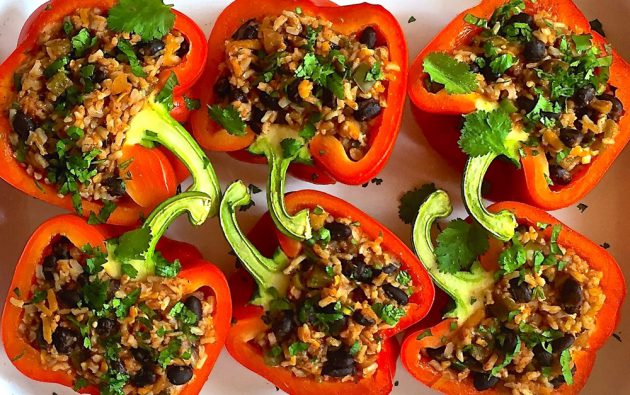 This recipe is a classic vegetarian version with southwestern and Mexican flavors. It is meant to be light, but there is always room for more cheese to add to the density, and additional spice and seasonings are welcome. I advise using a hot salsa and/or adding a few shots of hot sauce to the mix if you prefer a little heat. Brown rice can be used to increase the amount of fiber, and chopped cilantro as a garnish adds a bit of flair to the finished product. A little extra salsa, picante sauce or hot sauce also makes for nice condiment when serving. The recipe makes 4-6 servings depending on the size of your pepper.
Ingredients:
4-6 large red or green bell peppers – tops, seeds and membranes removed

2 cups cooked rice

1 14oz can black beans, drained and rinsed

1 16oz can salsa

2 green onions, thinly sliced

1 teaspoon salt

½ teaspoon black pepper

1 teaspoon chili powder

1 teaspoon garlic powder

½ teaspoon cumin

½ teaspoon onion powder

½ cup shredded Monterey Jack cheese
Preparation:
Preheat oven to 350 degrees.

Mix ingredients together.

Stuff each pepper with the rice and bean mix.

Place them in a sprayed/greased baking dish and cover with foil. Bake for 20 minutes.

Remove foil, top the peppers with extra cheese, if desired, and return to the oven uncovered for another 5-10 minutes or until the tops start to brown and the peppers are soft.
Nutrition Facts:
Calories: 175 / Fat: 5g / Saturated Fat: 3g / Carbohydrates: 24g / Fiber: 5g / Protein: 5g
# # #
Brandon McDearis is the owner of Your Way Cuisine, www.yourwaycuisine.com, a personal chef and nutrition consulting business. He is also a professional wanderer that spends much of his year trotting the globe and working in places such as Alaska, Australia, and Antarctica.