By Joscelyne Hauserman
Ah, fall— the time of year where the kids are back in school, the temperatures are dropping, and the smell of pumpkin spice can be found almost anywhere you go. Summer excitement has wound down, fall sports are in full swing, and the weather is quite comfortable. Autumn is a wonderful season full of opportunity, reflection, and fun. It's also one of the best times of the year for running outdoors.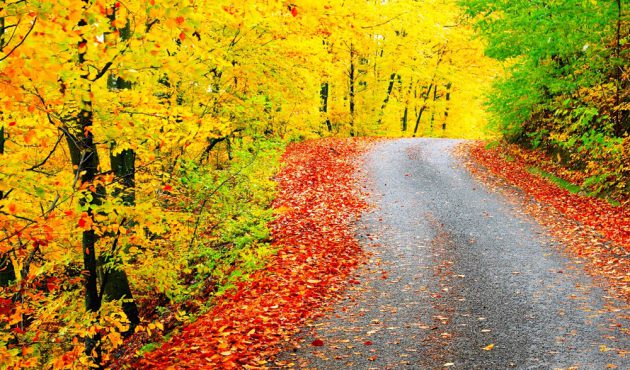 If you're like me, your favorite part of this season is the food… the warm, inviting, don't-worry-it's-a-holiday, food. Pumpkin-spice this and apple-cinnamon that, ciders galore, seasonal craft beer, hot chocolate with marshmallows, cookies and pies— it's all so delicious, I'm getting hungry just writing about it! However it's not just the food that makes this season so great. Fall is also the time for jeans and sweatshirts, boots and leggings, flannel shirts, and fleeces. It's the time for scarves and endless accessories that take your outfit to the next level of being on-fleek and chic. Fall colors— rich hues of orange, brown, deep red, and gold— are just so warm and comforting. After all these reasons, it's no wonder a study done by YouGov found that fall is the favorite season of most Americans.
Other than delicious food, comfy clothes, and pretty colors, the weather is just so much better. The humidity levels drop significantly and the sun is much more bearable. Mornings and evenings are cool and crisp, providing perfect conditions for outdoor activities. This leads me to one conclusion: autumn is hands-down one of the best times for outdoor running.
The Food (Again)
Remember a little bit ago how I mentioned all the great food that comes with this time of year? Well, it also comes with a price— and I'm not just talking about the $6 you spent on that pumpkin spice latte. Unless you are some sort of super-human (in which case please contact me and let me know your secrets), you can't just indulge in all those delicious treats without exercising and not expect to put on some "extra layers," if you know what I mean. The good news is running for 30-40 minutes per day a few times each week can torch about 900 calories or more, thereby significantly reducing the likelihood of gaining that seasonal pudge. Plus running outside during the autumn months can be breathtakingly beautiful—especially if you are on a trail or mountainside. There's just something about the colorful fall foliage, cool air, and crunching of leaves under your feet that make running outside this time of year the best treat of all.
Fun Runs & Festivals
Another awesome aspect about being a runner this time of year is the increase of fall fun runs and festivals. Just think— Oktoberfest, zombie runs, turkey trots, hot cocoa 5K's— there are so many exciting and entertaining activities in which to partake! For those who like shorter distances, keep an eye out for local brewery festivals and fun runs. Most breweries will provide 1 mile, 3 mile, and 5 mile options for the participants. For those who like longer distances, join me as I run my first half marathon this fall during the Novant Health Charlotte Marathon (formerly Thunder Road) on November 12th.  No matter the distance, fall fun runs and festivals can provide some of the best experiences of the year.
A Time of Reflection 
Throughout autumn, we are reminded to acknowledge the impermanence of everything in life. Fall is a time of natural change and can be used to metaphorically represent our lives. Just as the leaves let go and fall from their branches, we are encouraged to let go of the things in life that have been holding us back or weighing us down. It's a time for us to remember that nothing lasts forever—good or bad. With that in mind, we should take extra care to genuinely cherish the good moments we experience. Also keep in mind that the struggles we go through are temporary, and they will eventually drift away like the fallen leaves on the ground.
Next time you head out for a run, breathe in that cool, crisp air. Feel the leaves crunch under your feet. Run from zombies, trot like a turkey, and don't feel bad for eating that slice of pumpkin roll! Autumn truly represents the path of change and discovery. Where will it lead you?
# # #
Joscelyne Hauserman recently moved to Charlotte from central Pennsylvania. She graduated from Penn State University with a Bachelor's of Science in Marketing and a minor in Communications. She lives in Ballantyne with her boyfriend, Steve, and cat, Juniper. Joscelyne loves running, climbing, and anything outdoors!