<photo credit: Juan Carlos Briceno>
My photographer, Juan Carlos Briceno, and I rolled into Black Mountain, NC, a half hour ahead of schedule and ready to get a bite to eat. Parked on the main street, we asked two women, who happened to be visiting as well, where to eat. While they knew the name of a restaurant they weren't able direct us to it, so we started walking. Restaurants and sandwich shops were just starting to open their doors in the sleepy mountain town but, none were open yet, at least none that we could find. So, we grabbed some coffee and energy bars at the local coffee shop and proceeded to our meet up location for the shoot— White Horse, a cool performance and event center right in the heart of downtown, which wasn't open either. Right behind White Horse, though, was the Acoustic Corner, another unique Black Mountain business, which was open and just so happened to be the busiest place in town mid-morning.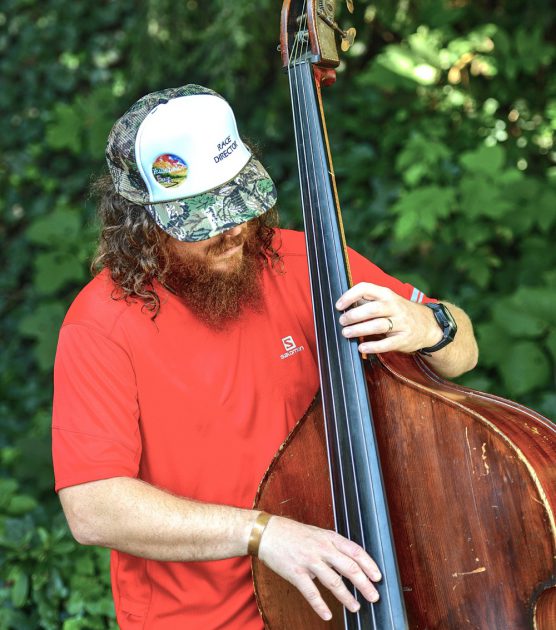 I called Charles Humphrey III, stand-up bass player in the blue grass band Steep Canyon Rangers, to let him know we were at the meet up spot. Charles was on his way. Born and raised in Greenville, NC, Charles went to UNC Chapel Hill from 1996-1999 where he met Woody Platt and Graham Sharp.  That's where they started the Steep Canyon Rangers. They all moved to Asheville, NC, in 2000, and it's the place Charles still calls home today.
I loved the fact that a guy who makes his living playing blue grass music is also a runner— not that it surprised me. I have been to and helped produce enough running events to know that there isn't a such thing as "typical" runner. Certainly non-runners might think of typical runners as clean cut skinny men and women. I get that. But, I also "get it" when I see one of our Tar Heel 10 Miler race shirts on a guy on a tractor plowing a field in the country where I often ride my bike. Charles would be a great opportunity to showcase the variety of people who define themselves as runners.
The Steep Canyon Rangers were already a critically acclaimed band when they drew the attention on comedian and blue grass musician Steve Martin, who invited them on tour with him. After that their career really took off and the band's sound evolved into a more progressive blue grass sound, although Charles says people in the West still consider them traditional. Those familiar with the Grateful Dead, however, will be able hear its influence on the band, who has been know to cover the iconic concert band. Charles included the Allman Brothers, Phish, Bob Marley, Peter Tosh, and Willie Nelson as some of his other influences.
"Ninety percent of what we do is original material so the music is songwriter oriented," says Charles. "The recent addition of our percussionist has really allowed us to explore some new territory sonically and rhythmically. Being a bass player and songwriter I can get behind that."
Charles can also get behind what he calls a "killer running community" in the Asheville area.
"I just love being in nature and getting up high with friends. I play music every weekend so the majority of my running is done during the week for fun," says Charles. "I get a lot of time to think out there on the trails and often get some of my best song ideas! My favorite route for inspiration is 'Rattle My Heart'. It's a loop in Black Mountain that is about 30 some odd miles. It has one section— Heartbreak Ridge— that is 7 miles of climbing with 3500 feet of vertical gain. You don't see too many people out on the route during the week, maybe some bears."
As Juan and I were going over our ideas for the shoot, a late-model maroon GMC Suburban rounded the corner. Before I could see Charles and his long red hair and beard, I knew it must be him. What else would an ultra-runner-blue-grass-musician drive but, a beat-up old Suburban?
I helped Charles get his bass and guitar out his truck, which was also filled with some supplies for a race he and local runner Peter Ripmaster produces called the Steep Canyon 50K Ultramarathon & Relay Hullabaloo. The primary goal of the event is to raise money for Oskar Blues' CAN'd Aid Foundation and not surprisingly marries ultra running with music.
"We want to turn the runners on to some cool bands and turn the music lovers on to running!  2017 will be the third year of the event and we are very please with the growth," said Charles. "It's very much a boutique event that will sell out and is extremely magical for numerous unique reasons."
As we were setting up for a few pics in front of the Acoustic Corner, Charles ran into a friend and Steep Canyon 50K sponsor, Terry Foxworth who was coming out the store. Before we knew it, Charles had his bass set up and was lost in himself playing in front of the Acoustic Corner. That he truly loves his craft was evident for sure!
After the brief session, we loaded up our cars to head to Lookout Mountain where the real photo shoot was to take place. I hopped in Charles' beat-up Suburban plastered with bumper stickers like "We Still Pick Old-Time 3tring Music" and shut the door, nearly pulling the vinyl and plastic hand rest off the door! Either Charles didn't notice or didn't care as he pulled out of the lot while I pulled the door shut once more holding onto the door itself rather than the handle. Despite the open windows Charles' old Suburban was filled with that old car smell— a blended aroma of dried autumn leaves, old sneakers, fresh mowed lawn, expired pine tree air freshener and exhaust.
As Charles drove, we talked about some of his favorite places to run locally which include the Mountains to Sea Trail in Asheville, Mt. Mitchell and it's surrounding peaks, as well as Black Mountain. Charles lists Pitchell, SCAR, and the Foothills trail as some of his favorite regional running challenges. He also enjoys the route on Lookout Mountain where we were to shoot our feature and cover photos that day.
Hiking up the trail to the top of Lookout Mountain we chatted a lot about typical runner stuff. Favorite brand of running shoe: Solomon and Saucony. Favorite brand of watch: Suunto. Favorite brand of race vest: UltrAspire. Favorite races: he seldom gets the chance to race but, usually finds one weekend to do a Western States 100 lottery qualifying event.
"I gotta keep that dream alive!"
Once we reached the top of Lookout Mountain, Charles turned towards the valley and opened his arms wide like he was hugging the mountain peaks on the other side. It was obvious that in addition to music, Charles really loved the outdoors, too. While he grew up close to the coast and always loved surfing, it is no surprise he ended up in the mountains.
"It must have been the bluegrass and songwriting that drew me here," say Charles.
Traveling with the Steep Canyon Rangers and also with Steve Martin has afforded him the opportunity to run in a ton of awesome places, too. But, you can tell that wherever Charles is, he'll find a place to run.
"It could be the Northeast, Canada, Florida, the Northwest, basically anywhere," he says. "If the bus stops I'll be out the door looking for the tallest thing I can find to run up. I realize that I'm very lucky to have a job where I can run a ton. As long as I'm back in time for soundcheck, it's all good!"