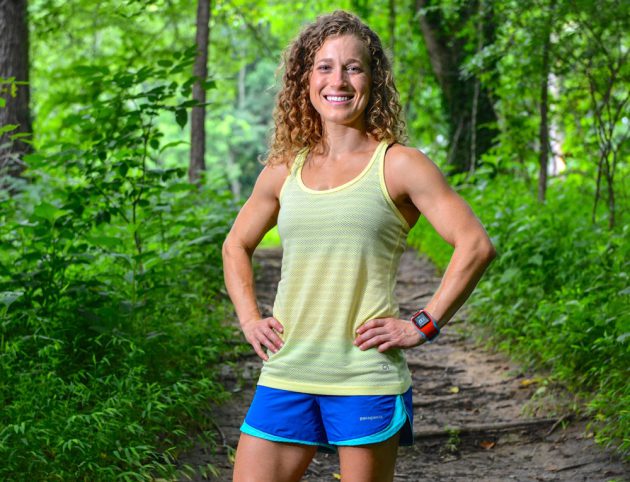 <PHOTO CREDIT>Photos by Juan Carlos Briceno for Tamara Lackey Photography
I was super-stoked to see Chapel Hill, NC, resident Joy Cox on NBC's "Spartan: Ultimate Team Challenge" this summer. Cox, a step-sister to Rob Lindauer, owner of Surf & Adventure Co. in Virginia Beach, participated in the event which was inspired by Spartan Race. The new team challenge saw groups of friends, families, co-workers and more work together as they raced across specially designed Spartan courses, engineered to test their determination, endurance and will. Teams of five competed on demanding courses pushing through the pain in hopes of winning $250,000. Joy, who is the Project Coordinator/Manager at the Nutrition Obesity Research Center at UNC–CH Gillings School of Public Health as well as an instructor at Progression Climbing in Chapel Hill, lived that out for real when she came off an obstacle wrong and sprained her foot. Refusing to give in to the pain, Joy pushed through the course and with the help of her teammates won their semi-final event. I caught up with Joy on a trail run in Chapel Hill to learn more about the Spartan team challenge and her passion for trail running and rock climbing.
— Managing Editor, Joe Nuss
EM: We enjoyed watching you on the NBC's Spartan Ultimate Team Challenge. How did you become involved with that?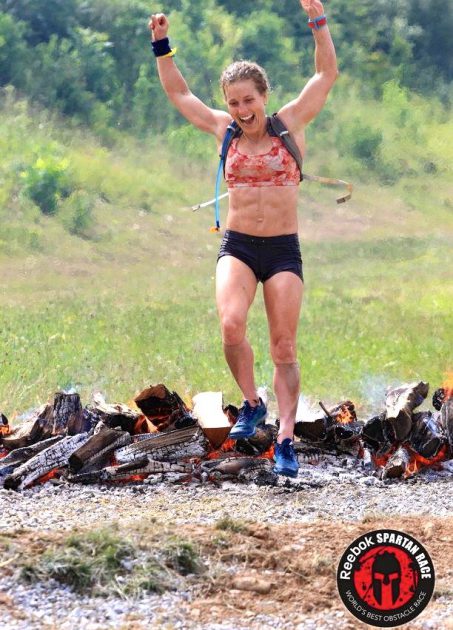 My teammate, Neil Craver ("Crazy Craver" from NBC's American Ninja Warrior) and I met several years ago through rock climbing around Winston-Salem, NC. He contacted me to audition for a team with him and I thought it sounded like a great opportunity.  We didn't have a lot of details about the show before we auditioned, it was challenging to go into something having (literally) no idea what you were going to be asked to do!  I had heard of obstacle course races, such as Spartan, before the show but had never done one myself. I am very grateful to Neil and the NBC producers for taking a chance on me and our team – it was an incredible experience!
EM: I read that you were first a trail runner and then became a rock climber. When did you start trail running and what was your inspiration for it?
I started trail running in 2004; I spent that summer as a nanny for an amazing woman, Joan Nesbit-Mabe who inspired me to start trail running. Her enthusiasm for trail running was infectious and after showing me around a few local trails, I was exploring the trails as often as I could. 
EM: What do you like most about trail running now?
The trails give me a place to find solitude and quiet. I love being able to hit the trails and only hear the sound of myself, or perhaps a running partner, breathing. This has become even more important to me in recent years, when it seems like being accessible to the world via technology 24/7 is the norm. While I'm on a trail, I'm unplugged and I wouldn't have it any other way.
EM: What was your most memorable trail run or race and why?
Race: Bel Monte Endurance 25K in Lyndhurst, VA; the scenery was breathtaking and I learned to never ever leave the start line without a pair of gloves again (my hands were absolutely numb almost the whole way); my son also ran the last quarter mile of the race and crossed the finish line with me.
Run: I recently went up to Pisgah National Forest and ran the John Rock trail followed by the Looking Glass Rock trail; the views and climbing on both of the trails were amazing!  I had so much fun pushing it until my legs were on fire!  The feeling of looking out over the NC Mountains once I had reached the top was really incredible.  Although, I've reached plenty of summits via climbing the wall, this was a new experience for me and will absolutely be back for more!
EM: When did you start rock climbing and what was your inspiration for that?
I started rock climbing in 2010; a fellow trail-running friend told me to give it a shot and from day one I was literally hooked! My first experience in the gym was a lot of fun but the first time I climbed outside I knew this was something I wanted to pursue as much as possible.   
EM: What do you like most about rock climbing now?
Rock climbing is an amazing sport that challenges not only your body but your mind as well. I love that each time you climb it is a different experience, no two climbs are the same and you are constantly learning more about your body, your strengths, and your weaknesses each time you climb.
EM: What has been your most memorable climbing experience and why?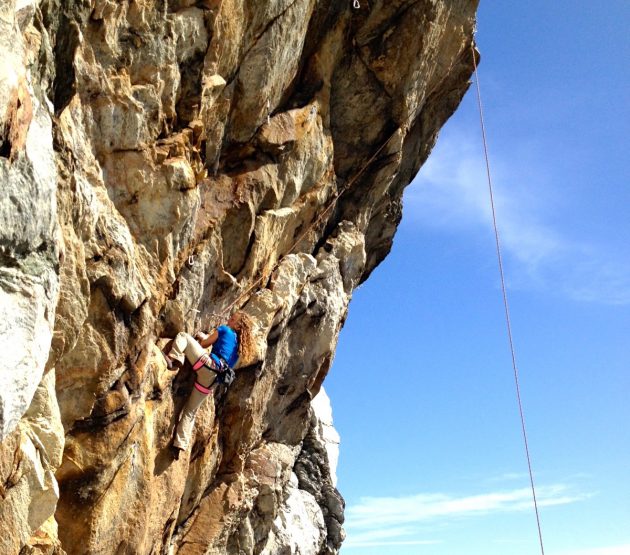 This one is especially difficult as it is so hard to pick just one! I think my most memorable experiences have been when I was able to accomplish a climbing goal or grade with other climbing girlfriends of mine. Climbing can be a very male-dominated sport and working on climbs with other females is a very rewarding experience. There is a different feeling of accomplishment and satisfaction when you climb with other females, I love the camaraderie and motivation that happens in that setting. 
EM: Where is your favorite place to climb in North Carolina and why? 
My favorite place to climb in North Carolina is Boone for bouldering (without ropes) and Cook's Wall for roped climbing. Boone has top-notch bouldering and I love the scenery of being in the high country of North Carolina. Cooks Wall is a well-kept NC secret that I had the unique opportunity to learn about over the past few years. The climbing is remarkably steep and tall for North Carolina; the developers of the area definitely kept it spicy and this place will no doubt keep you on your toes!
EM: Where is your favorite place to climb in Virginia and why?
Grayson Highlands is a state park with really unique bouldering and has remarkable hiking and running trails. The Appalachian Trail runs through the park and there is actually a half marathon there that I'm hoping to do next spring!
EM: You seem to enjoy a lot of outdoor activities. What draws you to the outdoors?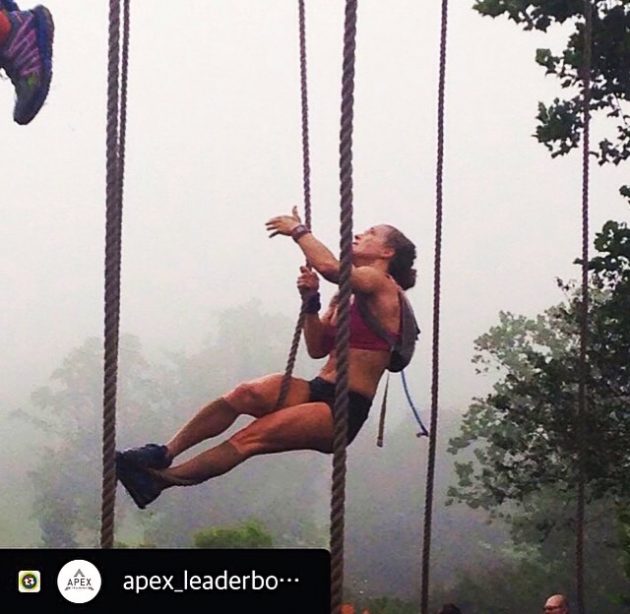 As I described earlier with the trail running, the importance of being able to 'unplug' and be 'off the grid' for at least some small part of my day is crucial.  I need time in my day when my phone is not vibrating or I'm not looking at emails or a screen in general to recharge and breath. Being outside, on a trail, rock face, or even fishing with my son, provides me with that mental break and relaxation. 
EM: What other outdoor activities do you enjoy?
Water-skiing is my jam!! I don't get to go as often as I like since I don't own a boat but I'm always looking for friends that don't mind pulling me around – my Dad taught me how to waterski when I was six years old in Bath Creek, NC.
My son and have recently started to fish more together and learn about the sport – it's a lot more complicated than I thought! We have been fishing together in local lakes around North Carolina as well as in Tennessee and Virginia this summer – he was able to catch his 'species goal' of a gar in Virginia, it was very exciting!
I also enjoy gardening although my garden this summer has taught me that I have a lot to learn. My herb garden turned out well though so that is a start!
EM: Did your parents encourage you to spend a lot of time outdoors as a child? How has that impacted your desire to do so now?
My father spent a lot of time with my younger brother, sister, and I outdoors. He lives on the water in Blount's Creek, NC and whether it was fishing, biking, or running he always encouraged us to take advantage of the space we had around us. My sister and I used to go for long bike rides and I can remember running with my Dad over the bridge there. We would stop at the top and look out over the Pamlico River before heading back home. Memories such as those inspire me to make sure that I am able to give my son, Aidan, some of the same experiences as he grows up.
EM: As a single mom, how challenging is it to manage a career, raise a child, and still have time to exercise and meet your fitness goals?
This is one of the biggest challenges that I face – it takes a lot of logistics and creativity.  It also takes a large support group and an understanding partner, which I thankfully have. I have to be flexible and willing to move around a lot in order to get everything accomplished that I need to in a day. My son has actually taken an interest in Spartan races and has run two so far; this has been a lot of fun since some days we are actually able to train together!
EM: If you had to give just one reason why you run, what would that be?
I run because it makes me happy, although that seems overly simple to write, it is the truth. Running gives me the space and time to think, be alone, and regroup so that overall, I am a happier and more grounded person.