By Brandon McDearis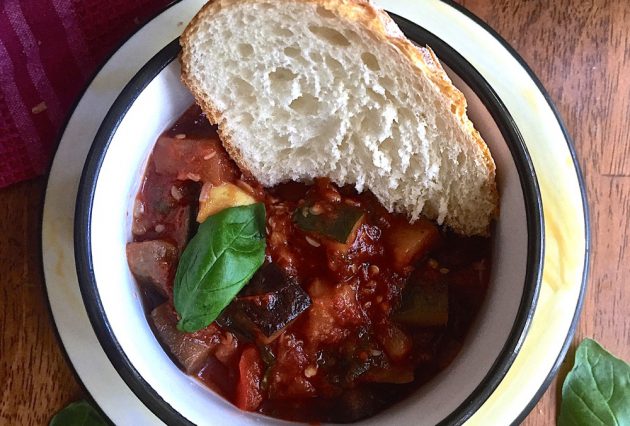 This month's recipe may sound familiar, yet many people do not know what ratatouille is other than a French culinary term, and a popular children's movie. Ratatouille is really nothing more than a stewed vegetable dish that originated in the Provencal region of France. It has been regarded as a go-to summer meal throughout the Mediterranean coast. Traditionally, ratatouille is prepared by sautéing each item separately before being layered in a dish and baked. However, recipes have evolved so that it can be prepared faster and easier with less cooking time that in turn retains more of the nutrients in some of the vegetables. This recipe is an excellent side dish with any meal. It is also ideal to have in the fridge as a leftover to be mixed in with pasta, quinoa or soup. It can even make for a nice topper or garnish for your favorite protein dish.
The recipe makes about 8 servings.
Ingredients:
2-4 tablespoons olive oil

1 large yellow onion, medium-large diced

1 eggplant, medium-large dice

1-2 red bell peppers, medium-large diced

1-2 zucchini, medium-large dice

1-2 yellow squash, medium-large diced

4 cloves garlic, minced

½ teaspoon dried thyme

1 tablespoon kosher salt

1 teaspoon black pepper

1 tablespoon tomato paste

¼ cup white wine

1 (28oz) can of diced or crushed tomatoes

1 bay leaf

2 tablespoons balsamic vinegar

1 tablespoon thinly sliced basil

1 tablespoon chopped parsley
Preparation:
Heat 2 tablespoons of olive oil in a large pot at medium-high heat and add the onion. Cook for about 2 minutes, stirring constantly.

Add eggplant and bell peppers and continue cooking for another 3-4 minutes until vegetables begin to soften.

Add zucchini, squash and garlic and more olive oil at this point, if needed. Continue stirring and cooking for another 2 minutes.

Add thyme, salt, pepper and tomato paste and stir together thoroughly.

Add white wine and stir until most of the liquid is evaporated, about 1-2 minutes.

Add canned tomatoes and the bay leaf, then reduce heat to medium-low. Let simmer for about 10 minutes. The vegetables should be soft, but not mushy.

Turn off the heat or set to very low and add the balsamic, basil and parsley. Stir together.
This can be served immediately, but letting it sit for longer allows the flavors to develop more intensely. Remove (or just avoid eating) the bay leaf.
Nutrition Facts:
Calories: 136 / Fat: 8g / Saturated Fat: 1g / Carbohydrates: 13g / Fiber: 4g / Protein: 3g
# # #
Brandon McDearis is the owner of Your Way Cuisine, www.yourwaycuisine.com, a personal chef and nutrition consulting business. He is also a professional wanderer that spends much of his year trotting the globe and working in places such as Alaska, Australia, and Antarctica.