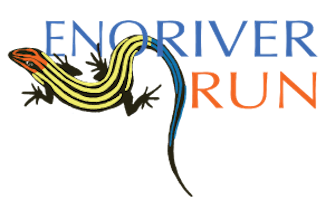 The 5th Annual Eno River Run is slated for October 22 at the Eno River State Park (Fews Ford Access Area) in Durham. The 6 and 11 mile courses feature some of the most beautiful, technical single track trail in the Triangle, a river crossing, and a short section of bouldering along the Eno River. The 6-mile race serves as the USATF-NC Trail Championships. Aid stations will be located approximately every 3 miles for both events. Course maps are available on the race website.
All participants will receive a custom race souvenir (TBA, but always good!) and are invited to enjoy post-race refreshments and music at the Eno!
Awards will be given to the top 3 overall finishers (M&F) and the top 2 masters finishers (M&F) and top finisher in each age group.
This event is proudly presented by Bull City Running Co. in partnership with the Eno River Association.Over the past 4 years, the event has raised nearly $10,000 to support efforts to build, maintain, and protect the trails along the Eno River watershed.
For more information and to register for this autumn Eno adventure, please visit www.enoriverrun.com!