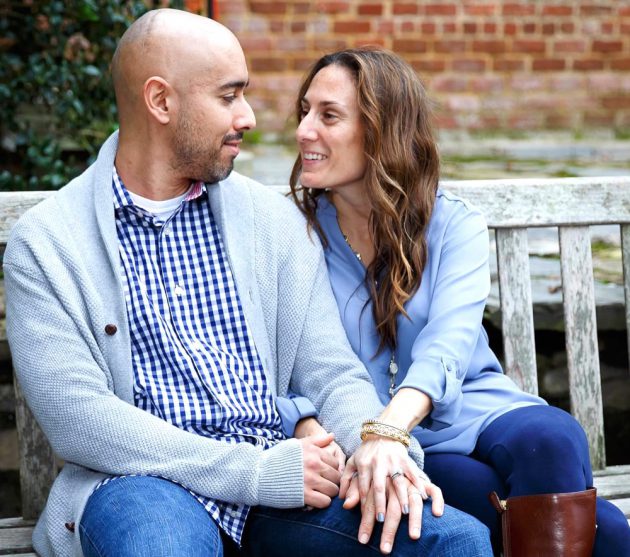 My story begins at one of the strongest and most exciting points in my entire life: spring of 2015. In March I had just completed my first two ultras as part of Bull City Running's "Tough as Trails" series, the Uwharrie Mountain Run 40-miler and Mountains-to-Sea Trail 50K. My wife, Ashley, and I had hiked the Inca Trail to Machu Picchu in Peru for my 34th birthday in May. We were getting ready to close on our dream home. There were lots of personal achievements, one big bucket list trip checked off, and arguably in the best physical shape of my life. You could say I was definitely on a "high" entering the summer of 2015.
That's when the headaches started, food tasted "funny," my vision became double, rotated, and tilted. Out of nowhere, my vision (and my life) literally got turned on its side, and things would never be the same again. Thinking I had an eye problem, I visited my optometrist, who referred me to a retina specialist, who referred me to a neuro-ophthalmologist at Duke Eye Center. To find out what was causing my left eyeball to rotate, the doctor ordered an MRI, scheduled for noon on June 26th; we were supposed to close on our new home at 5pm that day! At 2pm the phone call came: the MRI revealed a "mass" on my right thalamus— go straight to the emergency room. That's when the story gets weird.
As fate would have it, one of my personal training clients is world-renowned neuro-oncologist Dr. Henry Friedman of the Preston Robert Tisch Brain Tumor Center at Duke (yes, the one from the recent 60 Minutes episodes). I inherited him as a client a year prior and little did I know that a year later I would become his patient and he would save my life.
On July 1st, I found myself at Duke Hospital having the first major surgical procedure of my life: a craniotomy to resect as much of the tumor as possible. After a successful surgery came the pathology report and the official diagnosis: I had a Grade 4 glioblastoma multiforme, one of the most aggressive and deadliest forms of brain cancer. Wait, what?! Are you serious?! The roller coaster of my life that had just been chilling at the very top instantly took a very deep and wild dive to a point lower than I had ever experienced. My saving grace was that the other passenger in the car taking this crazy, nightmare of a ride was my amazingly supportive, loving, and beautiful wife Ashley. From the moment we received the diagnosis, she shifted her M.O. to "WE have cancer, and WE are going to do everything WE can to fight it. WE are Team Paonessa!"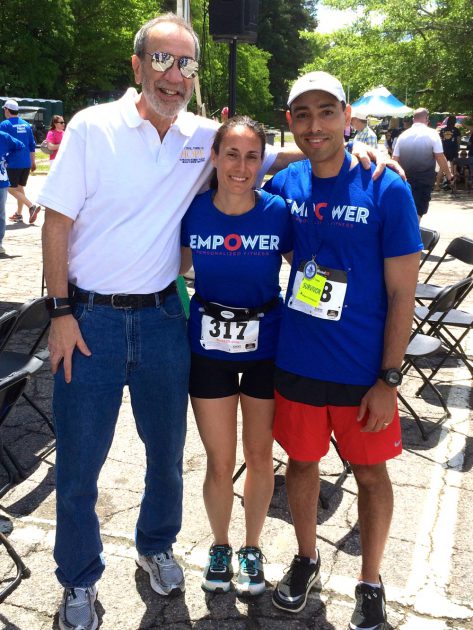 Team Paonessa was not ready, however, for the trials and tribulations of the recovery process. After an entire week in the hospital, I was completely disoriented in space and time. I felt disconnected from my job, people, and the world as a whole. I had lost some strength and coordination in my left side, and went from being an ultra-marathoner to a "Fall Risk." I had to hold onto the railing when going up and down the stairs in our brand-new house (an activity that caused my quadriceps and calf muscles to cramp painfully). I had to hold Ashley's hand while walking down our brand-new street, not just because we were in love, but because she was worried that I might fall and/or get lost in the streets of our new neighborhood. I was told I couldn't climb a ladder or lift anything weighing over 10 pounds, I would start going to all these crazy appointments called Psychotherapy, Physical Therapy, and Occupational Therapy to get my head right, walk, climb stairs again, and to improve strength and dexterity in my left arm and leg. I had viewed PT and OT as rehab for people with real problems, like stroke and car crash victims; but not for me. I'm a personal trainer and an ultra-marathoner for crying out loud – I don't need rehab!!
Boy was I wrong.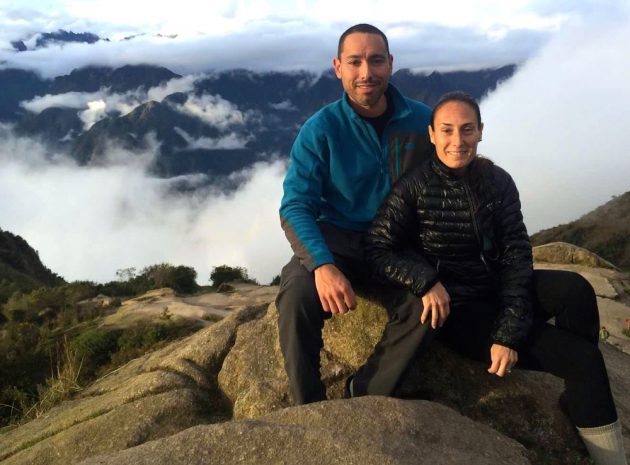 I immediately recognized that my most important appointments at the Brain Tumor Center were my Psychotherapy sessions, I suddenly had a lot of new experiences that I needed help sorting through and making sense of (most of which still don't make any sense to this day, but I've accepted them and moved on).
Perhaps equally important were my OT sessions. During and after my first round of cancer treatment, a combination of daily chemotherapy and radiation for 6.5 weeks, I experienced some significant side effects: patchy hair loss, altered sense of taste, severe fatigue, impaired short-term memory, and a new vision problem (right-sided visual field cut) that would prevent me from driving a car for another 5 months. This further solidified my reliance on Ashley for literally everything in my daily life.
Not being able to drive a car and losing my independence at age 34 was starting to eat away at me. Shortly after I started running 1 or 2 miles again, we decided to discontinue the PT and focus primarily on OT so I could work towards my goal of driving again. At OT, I completed exercises and activities to develop strategies for overcoming the visual field deficit, while re-building my hand-eye coordination. Being a pianist since age 5, losing any bit of hand-eye coordination and dexterity was frustrating, demoralizing, and devastating.
Overwhelmed by the outpouring of support from friends, family, clients, coworkers, and our community, I put all of this support to work as a "thank you" to Dr. Friedman and the Brain Tumor Center at Duke. In an email I tapped out on my phone one sleepless night, I challenged my company to help me assemble the biggest team possible for 2016's Angels Among Us 5k benefiting the Brain Tumor Center. An EMPOWER client coined the phrase #NESTORSTRONG on Facebook, EMPOWER put it on a t-shirt, and our team was born. We shattered our goals with 100+ runners and walkers and $12,000+ raised for brain cancer research with a grassroots-style fundraising effort (no corporate donations). We laid a solid foundation to improve upon in the coming years.
I've always been goal-oriented and have my best energy when I have a "carrot" to keep me focused and consistent with my exercise and training. For this reason, I committed to training for and running the Umstead 100 Mile Endurance Run in April 2017; a goal I became obsessed with immediately after completing Tough as Trails. If I can actually pull this off and finish a 100-miler with a brain tumor, I will consider my cancer cured. Ashley is quick to remind me that, even if I don't finish, I can still beat cancer and nobody will care that I didn't do the 100 except for myself. Yeah, well, I'm still going to do it. I'm sure other runners will understand.
I have been told by countless people that my high level of physical fitness is only going to help me fight it more effectively. Exercise is medicine. I believe this and am approaching my training for the 100 as just another form of treatment. It makes sense to me that if I can keep my physical fitness at a very high level, I can keep fighting cancer at a very high level. I recently had three consecutive MRIs that showed shrinkage, more shrinkage, and then stability of the remaining tumor. Whether or not it's some combination of the treatments and my relatively healthy and active lifestyle, I can't know for sure, but something is working and I plan on staying the course as long as I can.
I could not have gotten through this entire ordeal alone, and credit Ashley for being with me and helping me every single step of the way. Before cancer, she was my support crew and number one fan during Tough as Trails, the hardest personal challenge I had ever taken on. Throughout surgery, recovery, and cancer treatment, Ashley has been my primary caregiver, my primary source of strength and support, my nurse, my secretary, and my Uber driver. For next year's 100-miler, she will reprise her role as my race crew, and she already told me that she wants to be a pacer for me.
For others dealing with cancer themselves or caring for a loved one with cancer, I hope my story reinforces the importance of a strong support system. One lesson I learned was to lean on my social support system for help. As one who took pride in being independent and never wanted to be a burden, it was humbling to find myself accepting help and even asking for help with daily life.
I feel like somebody took an entire season of my life away, and signed me up for the longest, hardest trail race of my life without a map. Thanks to Ashley and my community, I have my power back and am ready to accomplish more goals, starting with this pesky 100-miler. Ashley and I are also planning our next big bucket list trip: trekking Mt. Kilimanjaro and an African safari. After that, and pending no more chemotherapy, we plan to finally start a family and fill this new house of ours.