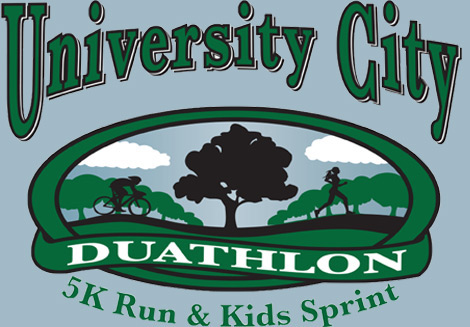 When it comes to race venues, you'll be hard pressed to find one with the natural beauty and challenging terrain of University Research Park, home to the 6th annual University City Duathlon. This year's event is on Saturday morning, May 7th. The run-bike-run event includes a 5K run on forest-shaded greenway trails, a 19K bike ride with thigh-busting climbs and breathtaking descents, and a final 3K dash to the finish line.
"Many people driving past the park on I-85 have no idea there are gravel paths through the woods or that the park's two-lane roads are very nice and quiet on Saturday mornings.  It's like a little oasis," says Shane Hockensmith, owner of Bike Line of Charlotte and co-founder of the Duathlon with Chris Elkins of the Run For Your Life – University running store. The event also includes a 5K run and Kids Sprint.
For more details, photos, and to register for the 2016 Duathlon, please visit www.UniversityCityDuathlon.com.