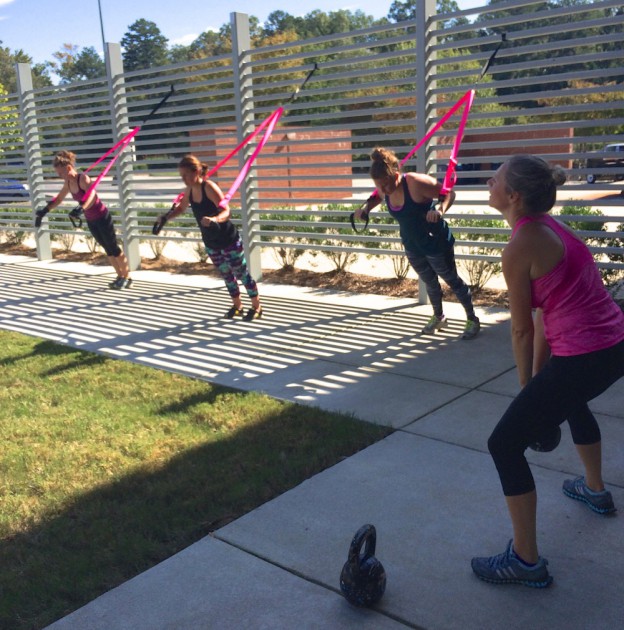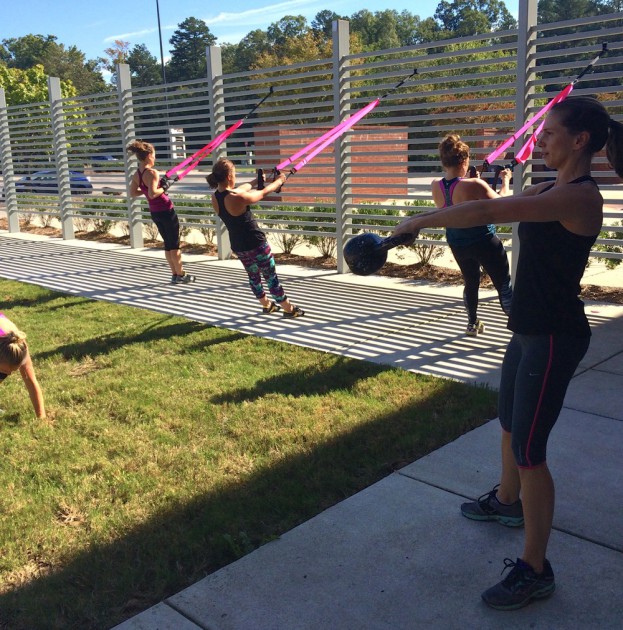 By Carolina Camaro
The Tar Heel 10 miler is one of my favorite local races. I was honored to be featured on the Endurance Magazine December cover representing local female athletes. I am very excited to be joining the Endurance Magazine team as a contributing author on women's health. Readers will be hearing from me regularly on topics specific to the female endurance athlete.
As founder of Inspire Fitness, an outdoor fitness and nutrition program offering small group classes, personal training and nutrition coaching, I love inspiring people to live healthy lifestyles. I work with a lot of families, who struggle to find the time to stay fit. As a stay-at-home mom, competitive athlete and small business owner, I know a thing or two about being busy and have struggled with a lot of the same challenges.
I started Inspire Fitness in June of 2015. As a new mom, staying fit became a challenge and at the same time a bigger priority in my life. It's no secret that motherhood is tough and maintaining a piece of my identity, managing stress and getting outside for some fresh air really helped me stay sane. Like most parents, I struggled to fit it all in and searched far and wide for a program that could offer everything I needed.
Having a strong fitness background in exercise science and nutrition, I was able to use my expertise to develop a comprehensive and supportive fitness and nutrition program, a 360 degree approach to healthy living.  Leading classes outdoors, gets people out of the house and into the fresh air. It's good for the soul.
I've always been interested in health and fitness. However, it wasn't until my first vinyasa yoga class that I realized it was my passion. After a six-month teacher training program, I began teaching yoga classes in Washington, DC and realized I wanted to learn more. I applied to George Washington University's master's program in exercise science and nutrition and enrolled in 2006.
For two years, I studied everything exercise and nutrition while teaching and pursuing other fitness certifications. I became certified in personal training, cycling, Pilates, TRX, CrossFit, USAW Level 1 and Z Health Movement Therapy.  When I graduated, I applied for the fitness director position at the Chapel Hill YMCA and my husband and I found ourselves in Chapel Hill in 2009. After a couple years as fitness director, I realized that my passion was in providing people with the tools they needed to transform their lives. I took two years off from work to be a full-time stay at home mom. As my son grew up, I felt even more propelled towards my dream and with a new found purpose. I understood the struggles of parenthood and maintaining a healthy lifestyle. I also saw the value of being a role model for my family.
What's unique about the Inspire Fitness and Nutrition program is the time I spend with each client. I schedule one on one time once a week with my nutrition clients to focus on overcoming barriers to successful dietary behavior change. I help them develop strategies and employ those to avoid relapses. I offer quick menu analysis of local restaurants to help clients plan for work meetings, social events and even through the holidays! At the end of the day, your diet is a habit, a behavior you've created. Changing that is tough. I'm here to support you.
I offer the same support to my class participants and personal training clients. I maintain a daily dialogue with my clients. I check in on them if they didn't show up for class. I make sure they know I care. Class size is small, averaging 3-5 participants to maintain a more intimate feel. All of my classes are personal training sessions. Everyone receives that level of attention.
Fitness is my life, my passion and my work. I love seeing people transform physically and mentally. Watching my clients and friends become more confident, dynamic, happy people because of their commitment to a healthier life drives my passion. I am excited to share my passion with the readers of Endurance Magazine!
# # #
Carolina Camaro can be reached at carolina.hurant@gmail.com or 202-257-8081. Learn more about her business at www.inspirefitnessbycarolinacamaro.com.