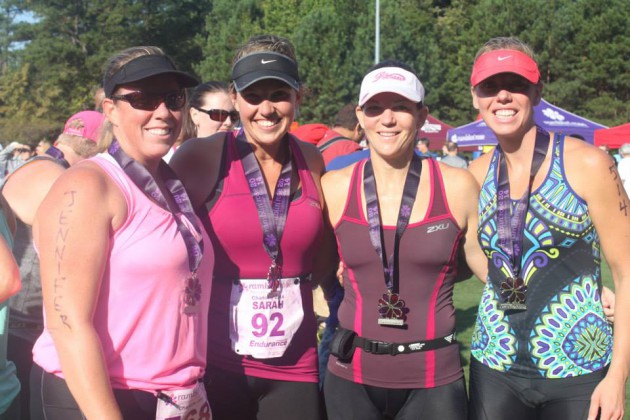 Ramblin' Rose Huntersville | September 18th, 2016
250 yard swim – 9 mile bike – 2 mile run
Registration Information: 1,200 total slots available
Individual Entry:
$75 through May 29, 2016
$80 through August 19, 2016
$85 through Race Weekend*
Relay Entry:
$125 through May 29, 2016
$130 through August 19, 2016
$140 through Race Weekend*
Note: Relays can consist of 2 or 3 individuals.
Inside Out Sports Gift Card Entry* (Limited Availability): $100 through September 15, 2016 at 8:00am.
*Registration fee includes entry to race and $100 Gift Card to Inside Out Sports. Gift Cards will be distributed at Packet Pick Up, September 17th. Note: $100 Registration does not include one-day USAT fee. Promo Codes do not apply to this entry.
Ramblin' Rose Huntersville Triathlon Course 
The SWIM
The swim takes place in the beautiful and spacious aquatic facility of the Huntersville Family Fitness and Aquatics Center. Participants will exit through the side door of the building and take a short run to the transition area.
The BIKE
After cautiously going downhill on Verhoeff Drive, riders will turn right and head north on Statesville Road.  The bike course then goes along Mt. Holly/Huntersville Road into the Julian Clark business park. Upon exiting the business park, athletes will ride along McCoy Road and then Hambright Road to return back to Statesville Road and complete the loop. Be sure to push the pedals hard as you ride up the Verhoeff Drive hill, and before you know it you are back in the transition area.
The RUN
Runners will exit the Transition Area and run up and down Verhoeff Drive (closed to traffic) as well as around the Huntersville Athletic Park. You'll get inspired by Amica's Inspiration Station along the course and have 2 opportunities to hit up the aid station. You'll even have easy access to a restroom along the way to the finish line.
The FINISH
Takes place on the soccer field located in Huntersville Athletic Park. This is perhaps the MOST spectacular and exhilarating finish line of them all.
Huntersville Triathlon Beneficiaries
Ramblin' Rose events are not only about "empowering" the participants, but they also provide great benefit to several very important non-profit organizations. The Ramblin' Rose Charlotte benefits Tri It For Life , Beautiful Together, and Girls on the Run of Charlotte.