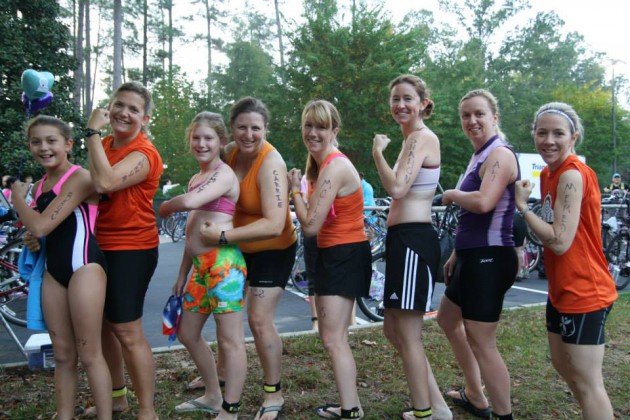 Ramblin' Rose Chapel Hill | 250 yard swim – 9 mile bike – 2 mile run
Registration Information: 850 total slots available
Individual Entry:
$75 through May 29, 2016
$80 through August 19, 2016
$85 through Race Weekend
Relay Entry:
$125 through May 29, 2016
$130 through August 19, 2016
$140 through Race Weekend
Note: Relays can consist of 2 or 3 individuals.
Inside Out Sports Gift Card Entry* (Limited Availability): $100 through September 29, 2016 at 8:00am
*Registration fee includes entry to race and $100 Gift Card to Inside Out Sports. Gift Cards will be distributed at Packet Pick Up, October 1st. Note: $100 Registration does not include one-day USAT fee. Promo Codes do not apply to this entry.
Ramblin' Rose Chapel Hill Triathlon Course
The SWIM
The swim takes place in the 5-lane pool of the UNC Wellness Center.  Swimmers will enter and exit the pool area through separate doors.  Volunteers will be standing at the swim exit to help point you towards the transition area.
The BIKE
Once you mount your bike on Meadowmont Lane, you'll take a right on Sprunt Street and then navigate your way through the beautiful streets of Meadowmont.  Please be careful coming down all hills as there are sharp turns ahead.  Pinehurst Drive will take you along the beautiful golf course and out towards Ephesus Church Road.  After turning right onto Pope Rd and Old Chapel Hill Road, you'll then take a right on Farrington Road, which is straight and fast.  Bring it home via Route 54 and before you know it you'll hear the cowbells ringing at the race site.
The RUN
The out-and-back run course starts and finishes on a lovely greenway.  But the bulk of the run goes through the quiet residential streets of Meadowmont.  Enjoy the tour of the lovely homes, each with large front porches and unique architecture.  You'll have a chance to grab a cool drink at both ends of the run course.
The FINISH
The finish takes place in front of the UNC Wellness Center, where the party will be rockin' and where the sense of your amazing accomplishment will be celebrated by many cheering fans.
Ramblin' Rose Chapel Hill Triathlon – Beneficiaries
Ramblin' Rose events are not only about "empowering" the participants, but they also provide great benefit to several very important non-profit organizations. The Ramblin' Rose Chapel Hill benefits Girls on the Run of the Triangle, Beautiful Together, and Tri It For Life.