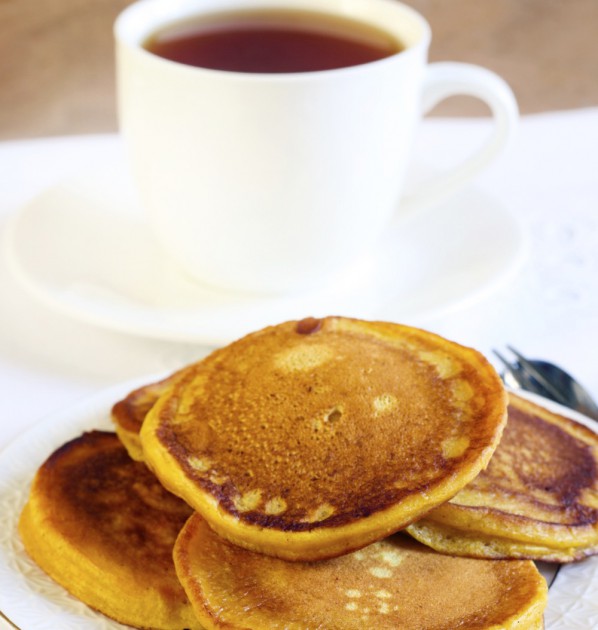 By Brandon McDearis
This month's sweet potato whole-wheat pancakes are a wholesome alternative to a traditional high-glycemic breakfast. The sweet potato adds a bit of nutrients and moistness, along with some extra fiber to start your day. They are quick and easy to prepare and chances are that you already have most of the ingredients in your kitchen. These pancakes are great with some real maple syrup, but they can be a complete meal when topped with Greek yogurt and banana. They also don't have to be eaten in the morning. The leftovers can be a great pre-workout snack, and they are savory enough to pair along side a piece of fish, such as grouper or halibut. The recipe makes about 6-8 medium-sized pancakes.
Ingredients:
1 large sweet potato or yam, peeled and cubed
1-2 cups unsweetened vanilla almond milk
2 eggs
¼ cup olive oil
2 tablespoons honey or aguave
1 tsp vanilla
1 ½ cups whole-wheat pastry flour
3 ½ tsp baking powder
1 tsp cinnamon
½ teaspoon nutmeg
½ teaspoon salt
Directions
1. In a medium-sized pot, bring sweet potatoes to a boil and cook until soft, about 15 minutes. Drain, transfer to a medium to large size bowl, and mash until smooth. (Note: sweet potato can also be baked until soft instead of boiled)
2. Add 1½ cups of the almond milk (reserve the other half cup in case the batter needs to be thinned), eggs, honey/agave and vanilla to the sweet potatoes. Whisk until ingredients are well mixed.
3. In a separate bowl, whisk together the rest of the dry ingredients.  Gradually incorporate them into the sweet potato mixture and whisk about 2 minutes.  The more air you whisk into the batter, the fluffier the pancakes will be.
4. Preheat a lightly greased nonstick skillet or griddle over medium heat. Drop the batter mixture into the pan/griddle with a ladle, flipping with a spatula once the surface begins to bubble.  They will need to cook on each side for 1-2 minutes.
One 4-6 ounce ladle makes one medium to large pancake.
Nutrition Facts:
Calories: 156 / Fat: 5g / Saturated Fat: 1g / Carbohydrates: 26g / Fiber: 4g / Protein: 4g
# # #
Brandon McDearis is the owner of Your Way Cuisine, www.yourwaycuisine.com, a personal chef and nutrition consulting business. He is also a professional wanderer that spends much of his year trotting the globe and working in places such as Alaska, Australia, and Antarctica.