By Carolinas HealthCare System
Improvised explosive device. Known simply as an IED.
This type of roadside bomb, favored by terrorists in Iraq and Afghanistan, is responsible for killing and wounding many U.S. Service Members. Even in an armored vehicle built to withstand such a blast, the bombs are deadly. Surviving a detonation is the stuff of nightmares and life changing, as Johnnie Yellock II, former orthopedic patient of Carolinas Medical Center in Charlotte, NC, can tell you.
"I opened my eyes and everything was orange and I could smell chemicals," says retired Staff Sgt. Yellock II, 31, a Combat Controller with the Air Force Special Operations Command, who had just returned to Afghanistan for a second tour and had been there only 10 days when his vehicle rolled over an IED. "I sat up and looked down. I could see my interpreter unconscious on the floorboard, and I could see the bottoms of both my boots."
Yes, the bottoms of his boots.
Yellock was standing in the back of the vehicle when the blast threw him out of his boots and propelled him to the top of the truck. The impact shattered his heels and ankles. "If you take a GI Joe and turn his ankle joints straight up, that's me," Yellock says calmly giving the details of his last combat mission.
Some would say his nightmare had just begun, and has lasted five years through more than 30 surgeries. But Yellock doesn't see it like that. "I've never focused on where I am, but where I'm going," he says. "When I was wounded, I didn't just stare at my feet. I wanted to do what I could to make myself better and get out of the way of my teammates because they needed to press on with the mission."
Before he tied tourniquets on both legs, he first grabbed his rifle and scanned the area for enemy movement, relaying that information to the team leader. "I was conscious, coherent and calm the whole time," he says. "I was well prepared. Special operations does a good job of getting us ready for whatever may come along."
After he called in coordinates for the medical helicopter, Yellock and the medic had to apply yet another tourniquet to his left leg. An hour and 15 minutes later, the helicopter arrived and Yellock began his long road to recovery.
Yellock says his mental and physical toughness is hard-wired into his genetics. His father served in the Air Force for 27 years and his mother served for 20. Yellock himself enlisted with the Air Force after graduating from college in 2007. He applied for a Combat Controller Team and completed the three-year course at the top of his class.
He was deployed in 2010 to northern Afghanistan, and he deployed again in June 2011 where he executed six missions attached to an Army Special Forces team, before being injured.
He was medically retired from the military in November 2013. Since then, he has been working for non-profit organizations to help veterans – one to build adaptive homes for wounded warriors and the other to recruit veterans for civilian jobs. He travels extensively and does public speaking about serving, teamwork, overcoming adversity, resiliency and financial planning.
His latest surgery, to remove some bone fragments and have a toe straightened, took place at Carolinas Medical Center with a surgeon very familiar with his case, Joseph Hsu, MD. Before coming to Carolinas HealthCare System in 2013, Dr. Hsu was an Army orthopedic surgeon and had performed most of Yellock's surgeries at a Texas military hospital.
"He had horrible injuries to both feet, and he didn't want amputation," says Dr. Hsu. "He had a high level of expectation to be able to do all he was able to before the blast."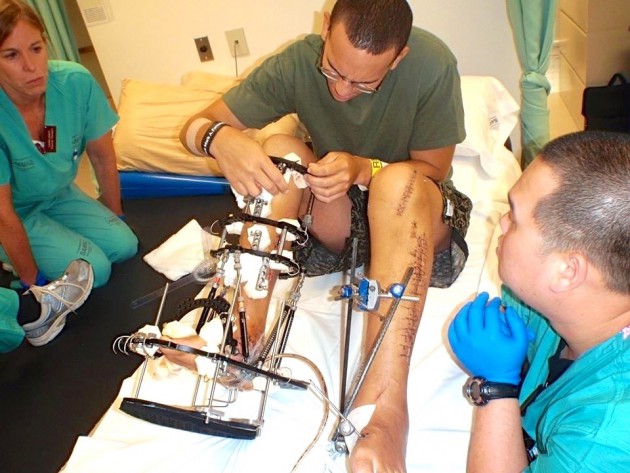 Through multiple surgeries, external fixators, rods, screws and more, Yellock's ankles now are fused permanently at 90-degrees. Yellock became a candidate for special, high-tech braces on each leg. The braces had been developed especially for military personnel with injuries like Yellock's.
Carolina HealthCare System has a "Return to Performance Pathway" to help civilian patients who have similar injuries. The pathway is a companion to the limb lengthening and deformity service that opened in 2014 at Carolinas Medical Center providing advanced surgical treatments for the correction of upper- and lower-limb deformities in adults and children.
"I am able to do almost everything I could once do before," Yellock says. "I'll never go jogging again, but if I had to run out of a burning building carrying a baby, I could do that. That is very comforting to me."
He stays active with exercise on the elliptical, weight training, golfing, swimming, scuba diving and sky diving.
"My personal motivations are my family and my faith," he says. "I want to live a long and healthy life. I work out every single day. Thanks to Dr. Hsu, my injuries have not prevented me from doing what I want to do. I've got nothing holding me back."