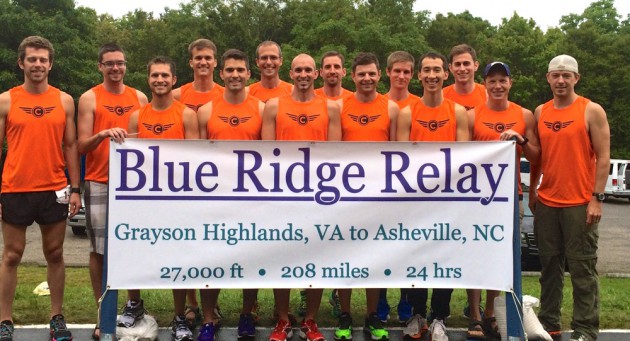 On September 11th, runners from across the country will converge at Grayson Highlands State Park to compete in the annual Blue Ridge Relay, a 208-mile relay race from Wytheville, Virginia to Asheville, North Carolina. The course consists of 36 different fixed routes or "legs," ranging from 4 to 10 miles in length, and teams are allowed a maximum of 12 athletes. The race travels through many small mountain communities who graciously support the runners along their journey.
While some teams participate in the event for the challenge to finish, others enjoy the spirited competition between other running clubs from across the Southeast, most notably the Asheville Running Collective and Knoxville Track Club. However, the majority of the 160 teams that participate come from the Charlotte Metro area, including members of the Charlotte Running Club. CRC teams currently hold course records for the Overall, Women's, and Mixed Team Divisions.
Over the past 5 years, the Charlotte Running Club, Asheville Running Collective, and Knoxville Track Club have traded places in the Overall Open Division with each team winning at least once. CRC's Overall Course record of 19 hours, 58 minutes and 20 seconds (5:46min/mile avg), set in 2013, was the first and only team to ever break the 20 hour barrier.
The Charlotte Running Club wishes all teams participating in the event this year a safe and successful race.  The club looks forward to bringing back another Overall Open Division Title back to Charlotte. The club extends a special thanks to the sponsors of this year's CRC Men's Team: Dr. Cipriani with Performance Rehab Associates (www.pracharlotte.com), Dr. Kollmann with Carolina Sports Clinic (www.carolinasportsclinic.com) and Donny Forsyth with Charlotte Running Company (www.charlotterunning.com).