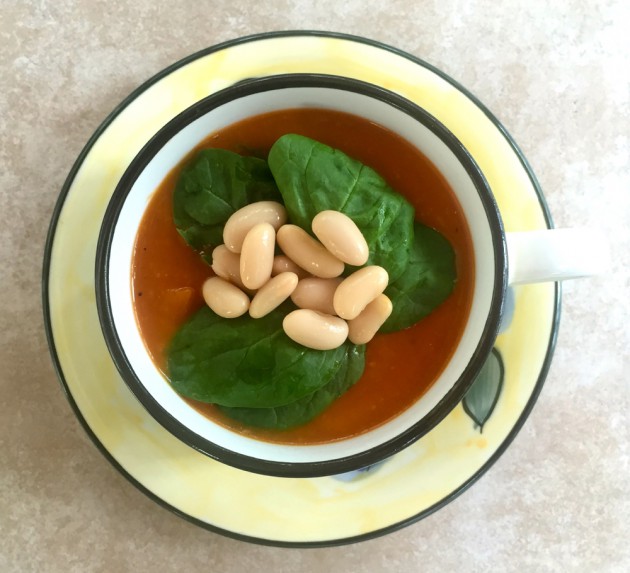 By Brandon McDearis
It's the time of year again to enjoy fresh winter vegetables, and what better way to do that than to indulge in a warm bowl of soup after a crisp autumn day. This month's butternut white bean soup can be prepared in no time, and the results will be quite pleasing. Not only is the finished product filling and delicious, but this recipe is packed with nutrients and anti-inflammatory properties. Enjoy this soup by itself or as a starter to a multi-course dinner.
Ingredients:
2 tablespoons olive oil, divided
1 medium butternut squash, cubed into 1-inch pieces
1 onion, diced
2 garlic cloves, minced
1/4 cup white wine
2 teaspoons grated peeled ginger
1 teaspoon ground curry powder
1 28-oz. can diced tomatoes, drained
2 teaspoons balsamic vinegar
1 1/2 cups cups vegetable stock
Salt to taste
Freshly ground black pepper to taste
Dash hot sauce
1 can white cannellini beans
2 cups spinach
Preparation:
1. Preheat oven to 400 and spray a sheet pan with pan spray. Toss butternut squash in 1-tablespoon olive oil and season liberally with salt and pepper. Spread evenly on the sheet pan and roast until tender all the way through and beginning to brown on top (about 30 minutes).
2. Saute onion and garlic in a large soup pot at medium-high heat until soft and translucent. Add the roasted butternut squash and the white wine and stir for about 1 minute. Add remaining ingredients except for the beans and spinach and simmer for 30-45 minutes. Puree in a blender or with an immersion blender.
3. Pour back into the pot (if necessary) and put heat medium-low. Add beans and spinach. Stir until beans have heated up and spinach is wilted. Adjust seasoning as needed.
This recipe makes 8-10 1-cup servings.
Nutrition Facts: 
Calories: 130 / Fat: 2g / Saturated Fat: 0g / Carbohydrates: 22g / Fiber: 2g / Protein: 2g
# # #
Brandon McDearis is the owner of Your Way Cuisine, www.yourwaycuisine.com, a personal chef and nutrition consulting business. He is also a professional wanderer that spends much of his year trotting the globe and working in places such as Alaska, Australia, and Antarctica.