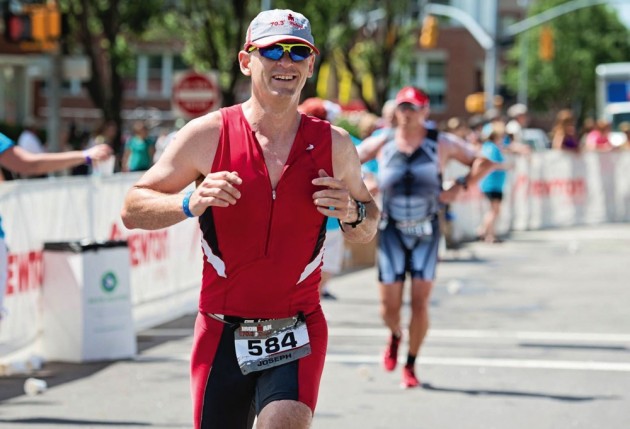 We love to ride bikes here at Endurance Magazine. Our sheds and garages are filled with road, mountain, triathlon and commuter bikes. Like our friend Ivan Gobern, we love to participate in charity rides, too. As the leader of Team Block Islanders, Gobern is a regular participant at the NC Tour de Cure which kicks off in Cary this month. As Gobern raises money to help put an end to diabetes he also celebrates an active lifestyle important to all but, even more so to those like him who have a family history of the disease.
Like Gobern, our cycling columnist Thomas Henson, Jr., is also a regular participant in the Tour de Cure. In fact, Henson's team Henson- Fuerst Cycling has been the leading fundraising corporate team in the NC Tour de Cure for several of the last few years, and since their inception have raised over $100,000 for the American Diabetes Association. Henson, who has had diabetes since age 9, shares his knowledge of fundraising in his article "Everything You Ever Wanted to Know About Fundraising Events (but Were Afraid to Ask)."
Henson, like most of us, doesn't just limit his cycling to the road. He's also an avid mountain biker as well. I myself have a shed full of bikes. So, rather than put together a buyer's guide for road or triathlon bikes, I decided to showcase a variety of bikes in our 2015 Endurance Magazine Bike Showcase. We showcase a few great bikes from fixie for hipsters to a road bike for elite cyclists. You can learn more about each of these bikes and other options by checking in with your local bike shop.
Don't forget to check in with your local running store, too. As we wrap up a winter and spring filled with great long distance running events we look forward to a summer filled with the almost-forgotten distance — the 5K. Often overshadowed by bigger and longer events with huge and hefty medals, 5K's are still one of my favorite events. Sure, there's something to be said about a well-paced 10 miler or half marathon but, there's nothing like going all-out for a 5K. If you completed a distance event this winter or spring then you've already got your bling so, how about some zing! Make a 5K PR one of your goals this summer.
We are also excited to announce the next race in the Endurance Magazine USATF-NC Long Distance Championship Series, the 7th Annual Running of the Bulls 8K. Set for Saturday, May 30, we expect a sold-out field of nearly 2,000 runners once again this year. This unique and scenic course winds through the historic and revitalized business districts and neighborhoods of downtown Durham, finishing with a lap of the warning track inside the Old Durham Athletic Park. I can't think of a better way to celebrate the warm spring weather.
Another great spring time activity is cooking out. With warmer weather, the grill can resume as a key player in your weekly food preparation. In fact, grilled vegetables are always a nice addition to almost any meal, and their uses can be almost endless. A convenient move is to go big on them one night in order to have some left over for another night's meal. This month's recipe takes advantage of those tasty grilled veggies by using them in our Grilled Vegetable Lasagna.
As always, our local experts provide you with a wealth of information on training and recovery. In fact, what runner, cyclist or triathlete isn't interested in reducing longer term muscle stiffness and fatigue? If you're serious about recovery and interested in taking yours to the next level, you won't want to miss our review of the RP Recovery System by Recovery Pump®. Check out the expert review by Cid Cardoso, Jr., and find out if this is the recovery tool which will allow your to resume your intense exercise regime sooner.
Inspire. Perform. Endure. – Joe Nuss