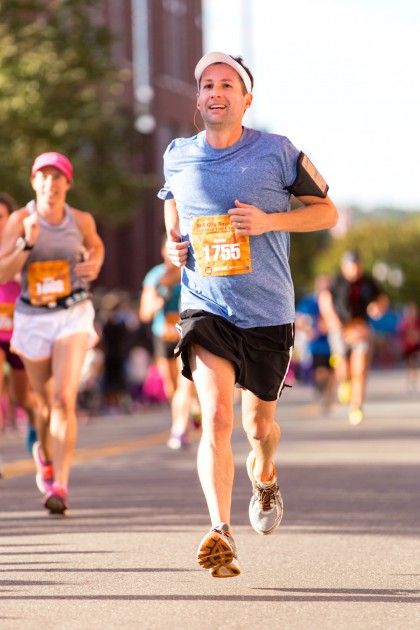 <PHOTO CREDIT – Erin Costa for Tamara Lackey Photography>
Originally from Sudbury, Ontario in Canada, 40-year-old Kevin Murdock is a software engineer who resides in Cary, NC. He's been running for a little more than three years and started as a means to stay healthy. "My original idea was to get and stay in shape as I got older," says Murdock. "Now I find it enjoyable that I am able to think over problems of the day when I run." In fact, he cites his most memorable moment as a runner as the time he realized he could run without actually thinking about the act of running. "At that point I finally felt like I was an active runner as opposed to an overweight guy trying to get in shape," he admits.
While he doesn't race often, Murdock says he never knew how competitive he was until he started racing. The Bull City Race Fest & Food Truck Rodeo in 2013 was his first race at the half marathon distance. Typically, Murdock enjoys a run of 6-8 miles and likes banana and mango as his pre-run or pre-race fuel.
For more information about the Bull City Race Fest & Food Truck Rodeo, please visit.