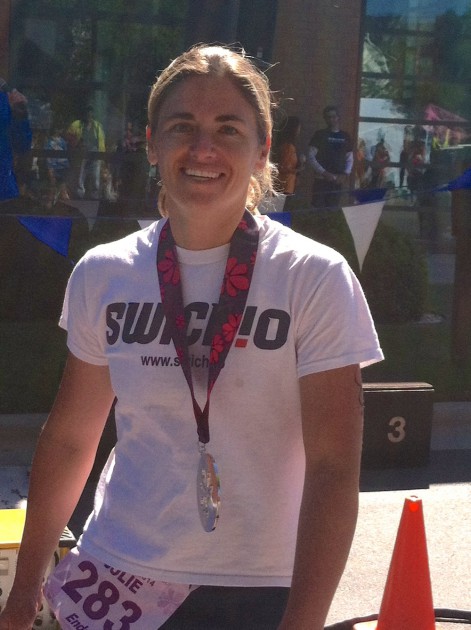 Midlothian, VA, resident Julie C. Julian capped off her 2014 triathlon season in part with a great finish at the Ramblin' Rose Women's Triathlon in Chapel Hill, NC.  "I had heard good things about the triathlon from a friend that had done it in years past," said the Family Nurse Practitioner.  "Also, my college roommate Carla Motteler wanted to do Ramblin' Rose as her first triathlon and I told her I would come down and do it with her."
The 36-year-old triathlete believes that Ramblin' Rose's shorter distances (250-yard swim, 9-mile bike, and 2-mile run) make it a good race for first timers.  Julian cites the camaraderie between all the female participants while waiting for the triathlon to begin as one of the most memorable aspects of the race.  But, the most memorable moment for the experienced triathlete, however, was watching her college roommate finish the triathlon after overcoming many obstacles before and during the race.  "She crossed the finish line with her two daughters, which made it special," added Julian.
Ramblin' Rose also had unexpected impact on Julian.  "I think my idea of fitness has changed and this race, along with several others I did last year, motivated my love for the sport of triathlons," said Julian.  "I am actively training for next season and motivated to do even better on my upcoming races."
This year, Julian is planning to do several of the same races she did last year in the hopes of improving her times and placing on the podium in the overall races, as well as her age group.  "I would enjoy competing at a higher level triathlon to see how I am doing versus some of the best in other states in the US," she added.
Julian credits her husband, Michael Julian, as a tremendous source of support for her training and racing.  "He is my constant training partner, my swim coach, and the one I am always chasing when we train," she said.  "After that my four boys, ages 8, 6, and twins that are 5, constantly encourage me and motivate me.  I want them to learn from my competing that they can do anything if they set their mind to it and work hard."
For more information about the five-city Ramblin' Rose Women's Triathlon Series, please visit http://ramblinroseevents.com.