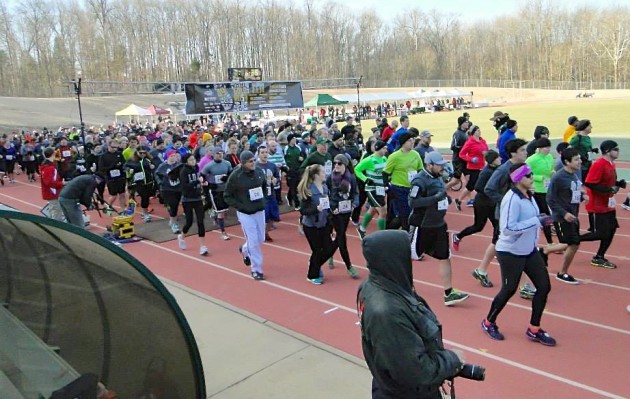 5K run to raise funds for student scholarships and Girls on the Run®
The 49er Gold Rush 5K, presented by Novant Health and UNC Charlotte Recreational Services, will take place at 9 a.m. on Feb. 7 starting at Belk Irwin Track on the UNC Charlotte campus. Proceeds help fund UNC Charlotte student development scholarships and direct donations will be taken for Girls on the Run, a Charlotte-based non-profit that uses running to inspire young girls.
According to race director Kemet Gatchell, "This February event is enjoyed both by year-round runners and Couch-to-5K participants, as the timing coincides well with New Year's resolutions. It's also a great way for the community to experience our beautiful campus and join our students for a morning of fun and fitness."
The 2014 race attracted a record-setting 789 participants, raising $7,500 for UNC Charlotte student development scholarships, with additional donations collected for the American Red Cross.
Everyone is encouraged to participate in the 5K. Online registration is open at http://recservices.uncc.edu/signature/5k. There are no additional fees for online registration.
Participants who register by the Jan. 27 early bird deadline are guaranteed a long-sleeved commemorative T-shirt. There are also numerous age group awards as well as awards for top students, faculty/staff, alumni, and community. Runners and walkers can enjoy both pre and post race refreshments.
For more information, visit http://recservices.uncc.edu/signature/5k